"Mine" (or "Blue Diamond") is a tvN original drama series that released on 8 May 2021 and is available to watch online on Netflix*.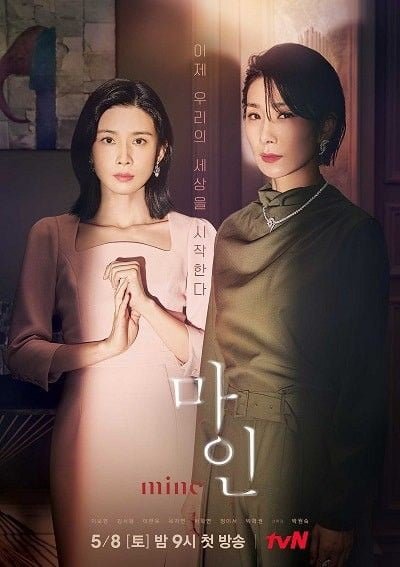 SYNOPSIS
"Mine" kdrama story will center around two strong and married women Seo Hee Soo and Jung Seo Hyun. They both are married in the South Korea's most wealthy family. Having high hopes from life and wanting to break the prejudices in high society both struggles to find their true identity.
Seo Hee Soo quits as an actress after she marries the second son of Hyo Won Group. But she finds it hard to adjust with her in laws, still not losing her confidence.
Jung Seo Hyun is another woman who is married in the same family. She is married to their first son. Jung Seo Hyun is a very clever and intelligent women. She also belongs to a rich family.
GENRE
Thriller, Mystery, Melodrama
MAIN CAST AND CHARACTERS
Lee Bo Young as Seo Hee Soo
Kim Seon Hyung as Jung Seo Hyun
Ok Ja Yeon as Kang Ja Kyung
SUPPORTING CAST
Lee Hyun Wook as Han Ji Yong
Cha Hak Yeon as Han Soo Hyeok
Jeong Hyun Jun as Han Ha Joon
Jung Yi Seo as Kim Yoo Yeon
Park Won Suk as Yang Soon Hye
Park Hyuk Kwon as Han Jin Ho
Kim Hye Hwa as Han Jin Hee
EPISODES
Korean drama "Mine" will have a total of 16 episodes.
NOTES
Lee Bo Young earlier starred in Korean drama "When My Love Blooms" (2020).
Kim Seo Hyung earlier starred in Korean drama "Nobody Knows" (2020).
Ok Ja Yeon earlier appeared in Korean drama "The Uncanny Counter" (2020).
PREVIEW
Teaser
Episode 1, 2, 3, ……., Highlights
---
*Drama is subject to regional availability.