You'll be shocked to see how amazing and intriguing Korean short dramas can be. These small packets of astounding Korean dramas will make your day! Good thing is that most of the short Kdramas in this list can be easily found on YouTube and Viki.
Short Korean dramas are usually one or two episodes long, so they won't take much of your time and still give you an entertaining plot to enjoy.
You don't have to wait up to 10 episodes for the main leads to confess. Although they are short, you would still feel a sense of completion.
In the following list you will find dramas of all kinds. Each has a different and unique storyline. And almost all of them are relatable. With fantasy, friends to lovers, break-ups, Slice of Life, short Korean dramas have it all!
So let's see what dramas are waiting for you in this fantastic short Korean series list. (Watch links included)
---
1. The Red Teacher
It is a KBS drama special that released in 2016, starring Lee Dong Hwi and Jung So Min in the main cast.
Synopsis- "The Red Teacher" drama story goes like this. It is the talk of 1985. A not so likable girls high school teacher Kim Tae Nam (Lee Dong Hwi) finds banned erotic book at the book store. He has never dated in his life and is absolutely hated by his students. But somehow Kim Tae Nam's book gets in the hand of his students. It becomes very famous among girls in the class. But the book ends up with a cliffhanger. A talented student Jang Soon Duk (Jung So Min) decides to write the second part of the book for her friends.
This drama is such an intriguing watch. It will make you curious and at times nostalgic. You will find yourself missing your high school days, friends and secrets. In the drama the book is almost like a big secret among girls that has to be hidden from their teacher at all cost. Everything is so interesting to see. You will feel like you are also a part of them. Jang Soon Duk's character is also very inspiring. It was really cool when she decided to write the second part.
WaTch On: YouTube
---
2. Bomi's Room
It is a KBS drama special that released in 2014, starring Lee Young Ah, Ahn Seo Hyun and Shim Hyung Tak in the main cast.
Synopsis- "Bomi's Room" told the story of a 12 year old girl Kong Bo Mi (Ahn Seo Hyun). She desperately wants to have her own room so that she can get all the freedom. Meanwhile, she has to share the room with her older sister Kong Eun Joo (Lee Young Ah). She is strict with Bomi and always disciplines her. Bomi then decides to marry off her older sister so that she can get the room all by herself. She helps Kim Hyung Shik (Shim Hyung Tak) to impress her sister and even tries to find Eun Joo's first love.
I would say Bomi's Room was a cute watch. It was really cute to see Bomi trying to set up her older sister so that she can watch TV or use computer whenever she wants. If you have a younger sibling then you will definitely relate to it a lot. Not only this, it will change your perspective about them as it tells the story from their point of view. I think it did well here. But in the end everything in the story went upside down. You will be really shocked in the end.
WaTch On: YouTube
---
3. Birthday Letter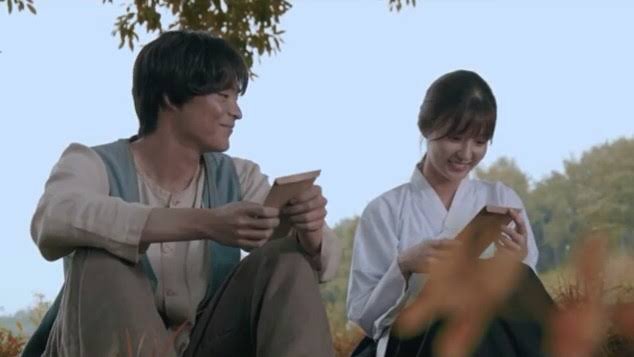 It is a short KBS special drama which aired especially on a Chuseok holiday in South Korea in 2019. It has Jeon Moo Song, Jeon So Min, Jo Soo Min, Jung Young Sook, Kim Kyung Nam and Song Geon Hee in the main cast.
Synopsis- "Birthday Letter" told a beautiful and emotional past love story of two individuals during the Japanese occupation of Korea, Korea's liberation, and the Korean War. It was particularly centered around the painful lives of the youth in those tough times of Korea.
This drama is so beautiful and emotional. It showed a simple story covering a complex issue in a beautiful way. Where two lovers tries their best to live a better life in their most difficult times. The story is not just a plain romantic but also interesting. It is actually sad but you will find it satisfying. You will find yourself pretty intrigued while watching it and it will definitely move your heart.
WaTch On: YouTube
---
4. Review Notebook of My Embarrassing Days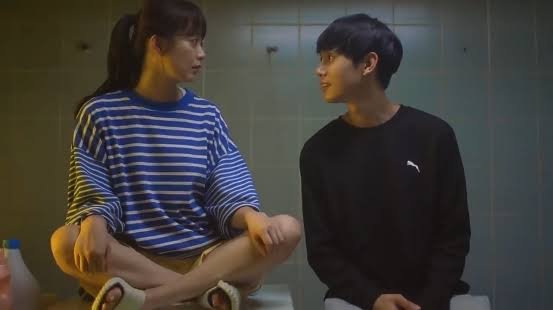 One of the KBS drama special "Review Notebook of My Embarrassing Days" stars Jeon So Min, Park Sung Hoon, Oh Dong Min and Song Ji In in the main cast.
Synopsis- "Review Notebook of My Embarrassing Days" tells the story of Do Hye who has a habit of writing a diary that features her embarrassing moments of life. During her job, she is called upon to review the Maths exam along with other teachers. Unfortunately, Na Pil Seung is one of the security officer in charge. She had an embarrassing moment with him during their college. On top of that, her ex-husband is also there as one of the teachers.
This drama is literally a short melodrama package. It has a very interesting storyline that engages you well into it. One thing you'll see is that the show is centered around making and reviewing a Maths exam. You'll find this fascinating as well. It was my first time seeing the amount of time and effort made into making an exam. I truly enjoyed and learned a lot from it. Here everything balances out well, and you get to see the love, hate, past, first times, divorce, profession and many more in this single episode drama.
WaTch On: YouTube
---
5. Somehow 18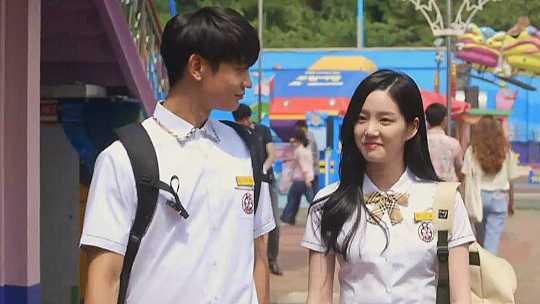 It is a Naver Tv / JTBC web drama that released in 2017, starring Choi Min Ho and Lee Yoo Bi in the main cast.
Synopsis- "Somehow 18" drama story goes like this. Oh Kyung Whee (Minho) works in orthopedics. During his high school days he was bullied and once tried to kill himself. But Han Na Bi (Lee Yoo Bi) saves him. He then begins to like her but few days later Han Na Bi committed suicide herself. This keeps him in shock to this day. One day magic happens and Kyung Whee's life turns back to the time of high school. This time he decides to do everything properly and prevent Han Na Bi from committing suicide.
This drama has an interesting story. It also touched many social issues. You will see that you learned many life lessons while enjoying this short and sweet high school romance story. It also has many twists and it will almost feel like you are watching a movie. The chemistry between Oh Kyung Whee and Han Na Bi is also very cute.
WaTch On: Amazon Prime
---
6. Recipe For Happiness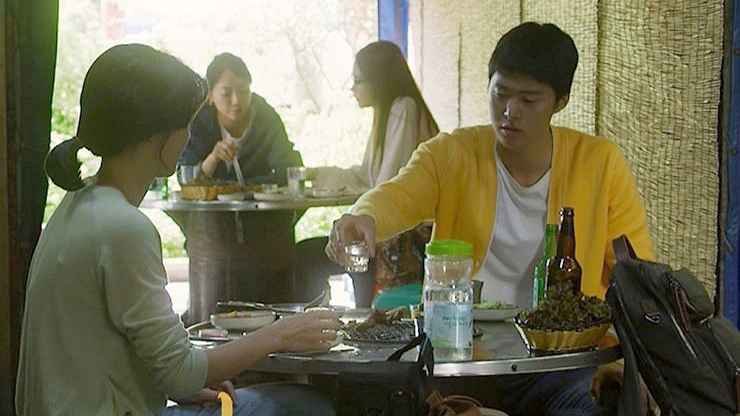 It was actually a movie and has been recently converted into a JTBC drama festa in 2020. Gong Myung and So Jin are in the main cast.
Synopsis- "Recipe For Happiness" will tell the story of low level grade 9 civil servant Namgoong Jin Soo (Gong Myung) and Jung Soo (Sojin). Both have their own unique ways to overcome everyday stress of life. Jung Soo decides to stay single in order to be happy and Jin Soo finds his 12 small sources of happiness.
As the title and the story line suggests "Recipe For Happiness" is a drama full of life. The drama tells you to value the little things in life. Which we often take as granted. It will make you feel good and change your perspective about life. Without a doubt this drama is also very relatable. It is simply a drama that is cheering and relatable.
---
7. Everything And Nothing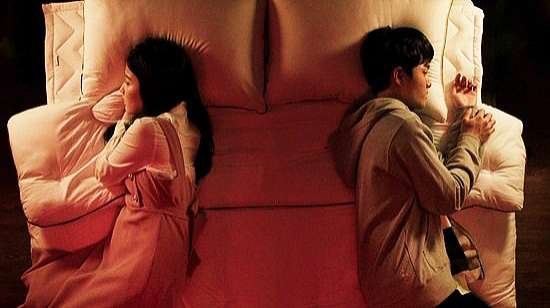 It is a SBS short drama that released in 2019, starring Yoon Chan Young and Park Si Eun in the main cast.
Synopsis- "Everything And Nothing" drama story will focus on the pain and growth a 17 years old go through in life. Min Jae (Yoon Chan Young) and Seo Yeon (Park Si Eun) are both high school students. Min Jae is good in studying and is of sensitive personality. Seo Yeon lives with her mother after her parents divorced. They both study in the same school.
This drama is a lot more than it is described in the synopsis. It's story line is quite engaging and close to reality. You'll relate especially if you're at a age where you neither a kid nor an adult. But be aware, as it is a sad story that will break your heart. It will literally break all the stereotypes you have about life through dramas. The real life is struggling and requires hard work. The drama did an excellent job in depicting all this with a wonderful story.
WaTch On: Viki
---
8. Explicit Innocence
KBS drama special "Explicit Innocence" released on October 30, 2016. It stars Lee Joo Seung and Kang Min Ah in the main cast.
Synopsis- "Explicit Innocence" tells the story of one high school couple who tries to take their relationship to the next level. Cha Joon Ho is in third year of high school. His girlfriend name is Seo Young Kyung. Cha Joon Ho wants to sleep with his girlfriend Seo Young. But he needs to make more effort, as every time she turns him down.
As the name suggests, this short drama shows the innocence of teenagers when it comes to doing it. Besides, it is really a cute drama to watch and everything shown here is for sure relatable to all those teens who are curious about their intimate feelings, which comes with their age. Moreover, it is shown in a fun and relatable way that you'll surely enjoy this miniseries.
WaTch On: YouTube
---
9. Adult Trainee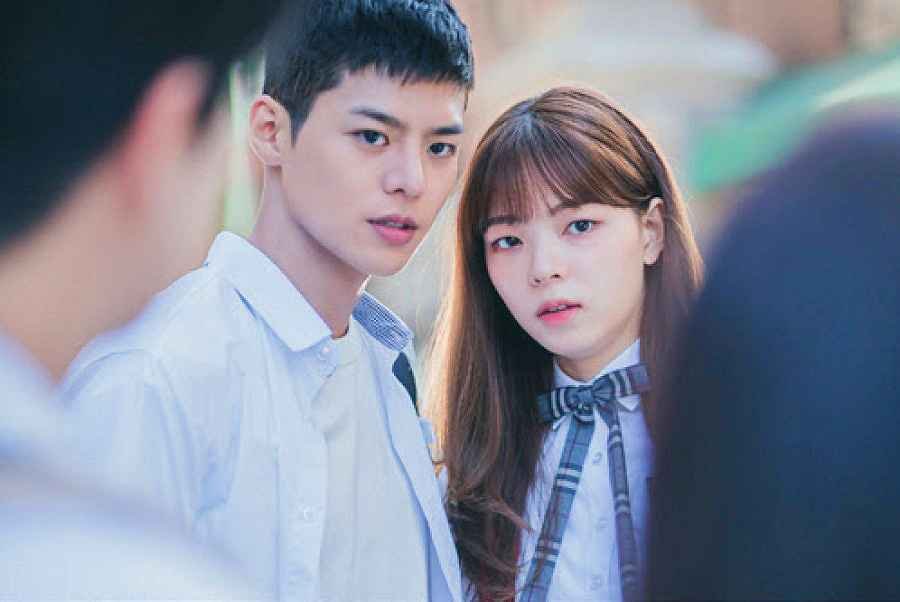 Released on 12 November 2021 "Adult Trainee" stars Ryu Eui Hyun, Choi Min Yeon, Jo Yoo Jung, Kim Min Ki and Ryeoun in the main cast.
Synopsis- "Adult Trainee" follows the three part series, Jaemin, Yura and Naeun. The drama tells the stories of teenagers who are growing up and their struggle with love. The drama is designed in hope that the generation Z can relate to the stories. "Jaemin" will tell the story of Jaemin. "Yura" will tell the story of Yura. And "Naeun" will tell the story of Naeun.
A recent buzz among fans, "Adult trainee" tells the struggle of 18 years olds during their physical growth. The concept is already exciting, and it is somewhat different from the above-mentioned short drama. It is divided into three parts, where each part shows a different story of youth. Although each story is good, but you will like the story of "Yura" the most. The chemistry of the two leads here was so good. You'll find them sweet, cute and funny at the same time.
Watch On: TVING
---
10. The Three Female Runaways
A short KBS drama special "The Three Female Runaways" stars Seo Ye Ji, Jang Hee Jin and Park Has Mi in the main cast. It released on 21 September 2014.
Synopsis- "The Three Female Runaways" tells the story of three females from different age groups who decides to runaway for a while to escape their difficult lives. Su Ji is a high school girl, belongs to a rich family. One day, she decides to skip the school and go somewhere. Kim Yeo Jin works at a hostess bar. Her cruel boss asks her to do overtime, but Yeo Jin doesn't want to do it. So, she escapes from the bathroom. Hyung Ja is a housewife. She is often mistreated by her husband and son. One day, she decides to run away.
This is such an intriguing series to watch. "The Three Female Runaways" especially becomes lovable to watch because it shows the stories of struggle of three women, each from different walks of life, and they all somehow come together. I haven't seen anything like that anywhere, and I absolutely enjoyed it. The way all three went on hiding and escaping from their families was hilarious. Moreover, being a woman, it was inspiring to watch these three women and them helping each other.
WaTch On: YouTube
---
11. Page Turner
A sweet short musical drama "Page Turner" stars Kim So Hyun, Ji Soo and Shin Jae Ha in the main cast. It released on March 26, 2016.
Synopsis- "Page Turner" tells the story of a young girl Yoon Yoo Seul who is excellent in piano, but unfortunately, she becomes blind after an accident. She loses hope in life, but her friend and an aspiring pianist Jung Cha Sik helps her to cheer up and start a new life. Seo Jin Mok who was Yoon Yoo Seul's rival also helps her now.
"Page Turner" is such a beautiful and inspiring drama, with the chemistry between the leads so mesmerizing. As you might have guessed from the synopsis, it is a musical short series showing the struggle of young talented individuals to achieve their dreams. And a sweet romance goes side by side. So, this drama will really fulfill your heart, and you'll have a wonderful experience.
WaTch On: Viki
---
12. You Drive Me Crazy
Released on 7 May 2018 "You Drive Me Crazy!" is a short drama series that stars Kim Seon Ho and Lee Yoo Young in the main cast.
Synopsis- "You Drive Me Crazy!" tells the romance story of two long-time friends. Han Eun Sung is a French interpreter with poor drinking habits. Kim Rae Won is a talented yet unpopular painter. Both have been friends to each other for almost 8 years. But one day when Eun Sung comes to Rae Won's place, she gets drunk. Both ends up sleeping together and their relationship changes.
Friends to lover short series is all you need to see. It gives you all sorts of butterflies. Kim Tae Won and Eun Sung has been very close friends for a very long time. They have seen the best and the worst of each other. So, it becomes really a worth to watch drama to see friends like that become lovers. The chemistry here is on fire as both the lead actors Kim Seon Ho and Lee Yoo Young did a remarkable job portraying their character.
WaTch On: Viki
---
13. Splash Splash Love
Very famous among fans, this super short series "Splash Splash Love" released on December 13, 2015. It stars Yoon Doo Joon and Kim Seul Ginin the main cast.
Synopsis- "Splash Splash Love" will tell the story of a high school student, Dan Bi. She hates Maths and as she is about to give her KSAT exam a rain shower causes her to transport back in time. She has now gone 100 years back in the Joseon Kingdom. It is the height of the Joseon era and is suffering from severe drought. Dan Bi then meets King Lee Do who likes advance Mathematics a lot. Both fall in love with each other.
You never thought that the famous "Time Slip" genre of Korean dramas can also be made into short series. But, you'll be shocked to see that they still made an outstanding story out of it. And it is just 2 hours. You'll have a good time watching it and relate to the female lead as well. The romance storyline of the series is so well written for a short story. It will touch your heart and I promise you'll never regret watching this one.
WaTch On: Viki
---
14. Effect of a Finger Flick on Breakup
A recent KBS drama special "Effect of a finger flick on Breakup" released on 19 November 2021 starring Shin Ye Eun, Kang Tae Oh and Hong Kyung in the main cast.
Synopsis- "The Effect of a Finger Flick on a Breakup" tells a realistic story of Oh Jin and Cha Min Jae. Oh Jin is a school nurse who is in a relationship with Cha Min Jae. She wants to avoid living a lonely life when she sees her mother living like so. However, she decides to breakup from her boyfriend as she is not being loved enough. Cha Min Jae is a successful CEO at MinArt. He is in a relationship with Oh Jin, but he doesn't know how to express his love for her.
This miniseries is just wow! It shows the utmost reality of relationships and breakups. Especially if it is your first relationship. It tells everything a couple goes through during their relationship and what causes them to breakup. It is so good to watch that you'll feel it need to be remade into a complete 16 episode Korean drama. "Effect of a finger flick on a Breakup" for sure is relatable and will open the eyes of many. It will feel almost like a hug if you had just broken your heart.
WaTch On: Kocowa
---
15. Queen of the Ring
Not too short but still short drama "Queen of the Ring" stars Kim Seul Gi, Ahn Hyo Seop and Yoon So Hee in the main cast. It released on March 6, 2017.
Synopsis- "Queen of the Ring" will tell the story of a girl named Mo Nan Hee who always thought she is unattractive as boys would never show interest in her. One day, she finds a magical ring. As soon as she wears it, she transforms into an attractive girl. With her new transformed look, Nan Hee is proposed by the most popular campus guy who only dates beautiful girls, Park Se Gun. He finds Nan Hee quite different from his past girlfriends. Will he love her still?
This one is a little longer than the other dramas in this "super short drama list" but still, it will be worth to watch. This little fantasy romance series has been made stunningly with a hidden message that the story brings. It is filled with emotions and many sweet romantic moments between the couple, makes it a worth to watch at least once.
---
So this was it. I am sure this short Kdrama list will be helpful to you in many ways. So which one you will watch? Do Comment!