Overview: "Happiness" kdrama is a tvN original drama series that released on 5 November 2021. It will tell the story of the future when an infectious catastrophe is about to happen. "Happiness" stars Han Hyo Joo, Park Hyung Shik and Jo Woo Jin in the main cast. It is available to watch online on streaming platform WeTV* and Viki*.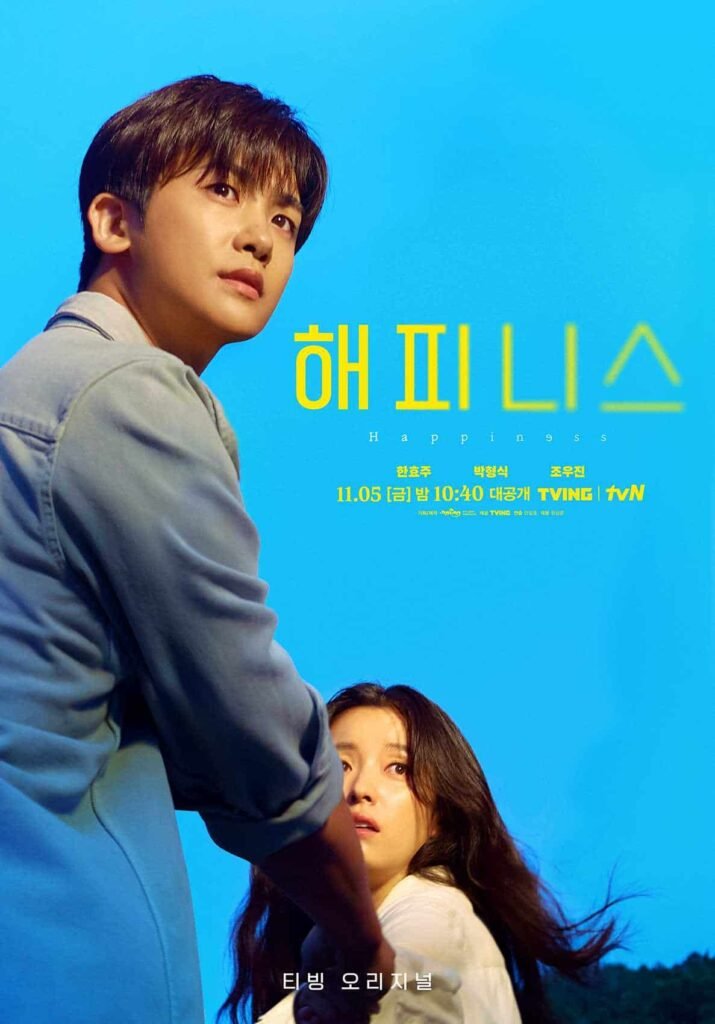 Table of Contents
Synopsis
Korean drama "Happiness" story is set in the future when an infectious catastrophe is about to happen. A newly built high-rise apartment houses people from different backgrounds. However, later an infectious outbreak happens that the high-rise apartment gets sealed. The worst in the people of the apartment comes out as they struggle to survive. Han Tae Suk is the commander of the Armed Forces Medical Command. He searches for the cause and cure of the infection.
Meanwhile, detective Jung Yi Hyun is an honest personality. He has been in love with his high schoolmate Yoon Sae Bom for a long time. Yoon Sae Bom is a tactical agent in the Seoul Police Special Operations Unit. She is quick-witted and is about to move in her new apartment. A crisis bring Yoon Sae Bom and Jung Yi Hyun together.
Genre
Action, Thriller, Fantasy
Main Cast & Characters
Han Hyo Joo as Yoon Sae Bom
Park Hyung Sik as Jung Yi Hyun
Jo Woo Jin as Han Tae Seok
Supporting Cast
Lee Joon Hyuk as Kim Jung Kook
Park Joo Hee as Lee Ji Soo
Baek Hyun Jin as Oh Joo Hyeong
Lee Ji Ha as Ji Moon Hee
Park Hyung Soo as Kook Hae Sung
Han Da Sol as Bo Ram
Park Hee Von as Na Hyun Kyung
Moon Ye Won as Woo Sang Hee
Kim Young Woong as Ko Se Kyu
Na Chul as Na Soo Min
Cha Soon Bae as Sun Woo Chang
Lee Joo Seung as Andrew
Han Joon Woo as Kim Se Hun
Kang Han Saem as Kim Dong Hyun
Bae Hae Sun as Oh Yeon Ok
Seo Hyun Chul as Jung Yi Hyun's father
Jeong Jae Eun as Jung Yi Hyun's mother
Hong Soon Chang
Air Time & Schedule
New Episodes every Friday & Saturday at 10:50 PM KST.
Episodes & Ratings
"Happiness" Korean drama will have a total of 12 episodes.
Still Cuts
Notes & Facts
"Happiness" is the actor Park Hyung Sik's first acting project since his discharge from the mandatory military service.
Park Hyung Shik earlier starred in Korean drama "Suits" (2018).
Han Hyo Joo earlier starred in Korean drama "W" (2016).
Jo Woo Jin earlier appeared in Korean drama "Mr. Sunshine" (2018).
Director: Ahn Gil Ho
ScriptWriter: Han Sang Woon
Where To Watch Online?
You can watch "Happiness" on WeTV here and Viki here.
OST List
Soon updating!
Trailers & Clips
Episodes 1, 2, 3,….., Highlights
You May Also Like
Similar K-Dramas to "Happiness"
Dark Hole
Sweet Home
Kingdom
Doctor Detective
---
*Drama is subject to regional availability.