One Life, Long list of Korean dramas to watch!
Don't worry! I'm here to rescue. When it comes to romance Korean dramas, I know everybody will recommend you "Crash Land on You" or either "Goblin".
Well! These are really fabulous Romance Korean dramas too, but what about the others?
This recommendation list have few fabulous Romance Korean dramas that You shouldn't Miss in this life.
After all we only have one Life to Live and there are 1000 Korean dramas to see. So let's see 🙈 (Watch links included)
1. Princess Hours (2006)
With a number of elements like high school, romance, love triangle and royal mess to enjoy, "Princess Hours" is one of the staple classics in the Kdrama world. It has a beautiful story-line that will play with your emotions. "Princess Hours" tells the story of an alternate historical Korea where an ordinary high school girl named Chae Gyeong ends up marrying crown prince Lee Shin.
Chae Gyeong is a free spirited and naive girl. One day, it is revealed in her grandfather's will that she must marry the crown Prince Lee Shin. Although Chae Gyeong denies in the starting but later on, she decides to do marry so that she can save her family from dept.
Now, Lee Shin is a cold-hearted prince who doesn't express much. Moreover, he is in love with Hyo Rin, a ballerina. After marriage, Chae Gyeong and Lee Shin struggle a lot with each other. When the members of the royal family finds out about their cold relationship, they decide to force them to spend the night together. Chae Gyeong also gets a hard time learning the manners and duties of the royal family. She only finds comfort in the palace with the second in line to the throne, Lee Yul comes back. But Lee Yul's only mission is to take the throne, But still he end up falling in love with Chae Gyeong. Will Chae Gyeong be able to face the challenges of the royal life? And what will happen to this royal family mess?
You can Watch On: Viki, WeTV
Here is the drama cast and characters:-
Yoon Eun Hye as Shin Chae Kyung
Joo Ji Hoon as Lee Shin
Kim Jeong Hoon as Lee Yul
Song Ji Hyo as Min Hyo Rin
---
2. My First First Love (2019)
A drama that will instantly lift your mood with its refreshing plot filled with love and friendship. Here you'll find the most engaging love triangle ever that you can hardly leave your seat while watching it. It has two seasons (with same cast and story-line).
"My First First Love" will tell the story of five friends Yun Tae-Oh (Ji Soo), Song-Yi (Jung Chae Yeon), Do-Hyun (Jin Young), Ga-Rin (Choi Ri) and Choi Hoon (Kang Tae Oh) who are in their youth. Each of them in their 20s having their own reason, leaves their house and end up living together at Yun Tae-Oh's house. There they gain new experiences about love, friendship, and everything.
Choi Hoon is an aspiring theater actor. Ga Rin belongs to a rich family. Song Yi and Yun Tae Oh are childhood friends. But, Ta Oh likes her in secret. Whereas, Song Yi likes Yun Tae Oh's friend, Do Hyun. And Do Hyun likes Song Yi too. However, he is cold to girls and does various part-time jobs. What will happen to this love triangle? Will their friendship be saved? And will each one of them achieve their dreams?
You can Watch On: Netflix
Here is the drama cast and characters:-
Ji Soo as Yoon Tae Oh
Jung Chae Yun as Han Song Yi
Jin Young as Seo Do Hyun
Choi Ri as Oh Ka Rin
Kang Tae Oh as Choi Hoon
Hong Ji Yoon as Ryu Se Hyun
---
3. Chocolate (2020)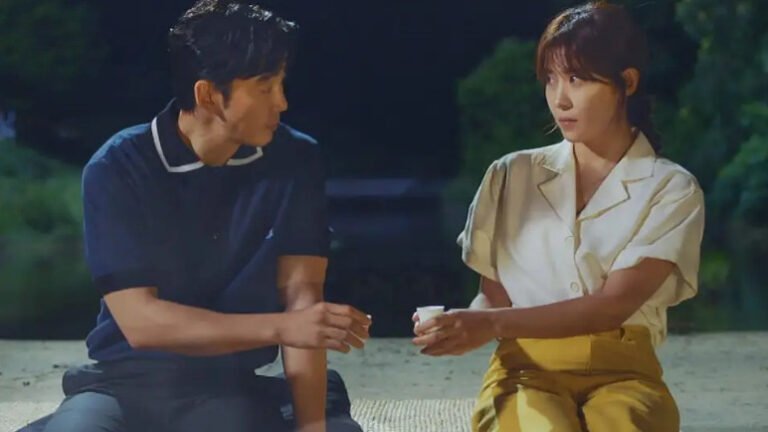 A melodrama that has been made so beautifully that it will leave you astonished. Food, travel, love, character development, beautifully tragic scenes, every aspect of "Chocolate" says to enjoy it with patience.
Korean drama "Chocolate" will tell a love story between a neurosurgeon called Lee Kang (Yoon Kye Sang) and a chef named Moon Cha Young (Ha Ji Won). Lee Kang is a perfect in personality who appears to be warm inside and cold outside. He once dreamed of becoming a chef. Cha Young was once inspired by Lee Kang to become a chef and later when she grew up, she even becomes a passionate chef.
Food was always the reason that brought them together in the past and even today. Cha Young is a person of bold personality. Both of them start working in the same hospice ward. There they help each other to get through difficult times and end up falling for each other.
You can Watch On: Netflix
Here is the drama cast and characters:-
Yoon Kye Sang as Lee Kang
– Oh Ja Hun as Lee Kang (young)
Ha Ji Won as Moon Cha Young
– Kim Bo Min as Moon Cha Young (young)
Jang Seung Jo as Lee Joon (Lee Kang's brother)
Yoo Teo as Kwon Min Sung
Min Jin Woong as Moon Tae Hyun (Cha Young's fraternal twin brother)
---
4. The Greatest Love (2011)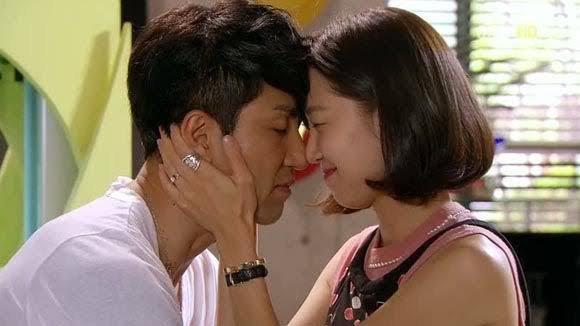 A love story so good that it will move your heart. Not only love, but comedy is also on top. The second lead roles are remarkable too. "The Greatest Love" tells the love story happening between a top and flop celebrity.
Gu Ae Jung and Kang Se Ri was once part of a popular girl group called "National Treasure girls". Gu Ae Jung was particularly most famous among her members. However, the group falls down due to scandals that involved Gu Ae Jung in it. Ten years later, Kang Se Ri becomes the popular celebrity while Gu Ae Jung becomes a washed up celebrity who makes her living by appearing on television programs.
One day, Gu Ae Jung reveals the secret of a top celebrity, Dokko Jin. Dokko Jin is the most popular star of Korea, and he is dating Kang Se Ri. However, it is only a show for popularity, and they broke up long time ago. Later, Dokko Jin falls for Gu Ae Jung, and he even helps her to get into a reality show 'Couple Making'. There Gu Ae Jung is matched with Yoon Pil Joo, a well-mannered, thoughtful and a caring doctor of Oriental medicine. During the show, he falls for Gu Ae Jung too.
You can Watch On: Viki
Here is the drama cast and characters:-
Gong Hyo Jin as Goo Ae Jung
Cha Seung Won as Dokko Jin
Yoo In Na as Kang Se Ri
Yoon Kye Sang as Yoon Pil Joo
---
5. So I Married An Anti Fan (2021)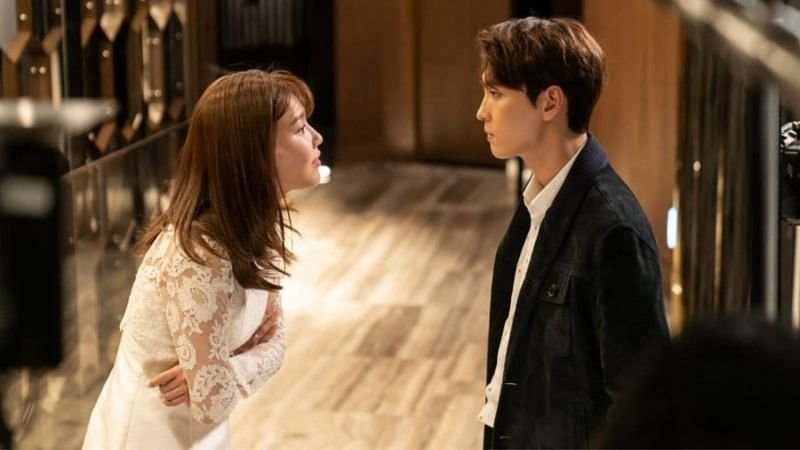 This one is the latest Korean drama that has the classic rom-com style, we rarely find today. And still, it is worth to watch as it has a very engaging script, and its main actors have spectacular chemistry. I'm sure you'll definitely enjoy this one.
"So I Married An Anti-Fan" kdrama will tell a romance story between a top star and his Anti-Fan reporter.
Hoo Joon is a top star who is also rude and arrogant in nature. One day, a magazine reporter named Lee Guen Young was working at the opening ceremony of a club. There she not only sees the top star Hoo Joon's rude attitude but also accidentally vomits on him. As a result, Guen Young gets fired from her job.
Thinking Hoo Joon as the reason, she decides to object in front of his office. Media gets her attention, and soon she is offered to be a part of the variety show. This variety show is based on a theme which makes the top star and their Anti-Fan live together. Unknowingly, she jumps into the offer out of unemployment, but Hoo Joon becomes her partner. Both gets a hard time at show but later ending up in a romance.
You can Watch On: Viki
Here is the drama cast and characters:-
Choi Tae Joon as Hoo Joon
Sooyoung as Lee Geun Yeong
Hwang Chan Sung as JJ
Kim Min Kyu as Go Soo Hwan
---
6. I Picked Up A Star On The Road (2018)
A drama that has such a hilarious concept will definitely give you a good time. The romance is mesmerizing too.
"I Picked Up A Star On The Road" is a love story of a top star named Kang Joon Hyeok (Sung Hoon) who is also known as the 'Man of Asia' ends up at the house of an ordinary girl named Yeon Seo (Kim Ga Eun).
Lee Yeon Seo is a contract worker who hates her manager very much. She decides to teach him a lesson. Her plan is accidentally applied for the top star Kang Joon Hyeok. Now she thinks, he is dead, so she takes his body to her house. As she was trying to get rid of Kang Joon Hyeok's body, he wakes up. According to Kang Joon Hyeok, he is kidnapped as Yeon Seo held him as hostage. She is afraid that if he complains, she would go to jail. Now, Joon Hyeok is a man who has lived a luxurious life, his life turns upside down when he meets Yeon Seo who lives completely opposite life than his.
You can Watch On: Viki
Here is the drama cast and characters:-
Sung Hoon as Kang Joon Hyuk
Kim Ga Eun as Lee Yeon Seo
Kim Jong Hoon as Hwang Nam Goo
Kang Sung Jin as Representative Kim
Lizzy as Jin Se Ra
---
7. My girl (2005)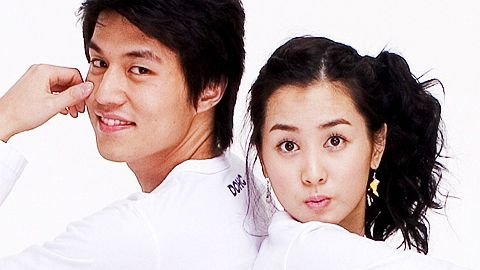 Another old classic that you must not miss. It is a drama that made Lee Dong Wook and Lee Joon Gi join the Hallyu wave. You'll love to see them so young. The storyline is best for a rom-com with a good number of laughs and romance.
The story of Korean drama "My Girl" goes like this. Joo Yoo Rin lives in Jeju Island with her father. Yoo Rin's father addiction to gambling causes her to become a con artist. And she is excellent at it. One day, her father runs away due to his debt. As a result, Yoo Rin has to run away too, and she meets Seol Gong Chan, the sole heir to the L'Avenue Hotel fortune.
Seol Gong Chan is looking for her lost cousin, in order to find her he hires Yoo Rin to be his fake cousin on monthly pay. She agrees and both also starts living together. Meanwhile they develop feelings for each other. Also, Gong Chan's friend Jung Woo falls for Yoo Rin while Gong Chan's ex-girlfriend Seo Hyun comes back. Do they still have a chance to be together? Will Gong Chan ever find his real cousin?
You can Watch On: Viki and Amazon prime
Here is the drama cast and characters:-
Lee Dong Wook as Seol Gong Chan
Park Si Yeon as Kim Seo Hyun
Lee Da Hae as Joo Yoo Rin
Lee Joon Ki as Seo Jung Woo
Jo Kye Hyung as Ahn Jin Kyu
---
8. The Secret Life of My Secretary (2019)
"The Secret Life Of My Secretary" is a fun watch from starting until the end. It is full of laughter and heartfelt moments, with amazing characters helping to make the drama even more attractive. You'll be intrigued in it right from episode 1.
"The Secret Life Of My Secretary" drama told an office romance story between a cold boss and his obedient but hot-tempered secretary. Do Min Ik is the cold boss who is the chief of a team at T&T Mobile Media. After an accident, he suffers from face blindness disorder. Jung Gal Hee is the secretary of Do Min Ik. Surprisingly, she is the only person Do Min Ik can recognize, despite his illness.
Do Min Ik who is smart, often is less considerate to his secretary Jung Gal Hee. Jung Gal Hee who works hard 24 / 7 for his boss, until now, has been very patient with her tough job. But seeing her boss ignoring her efforts, she speaks out in front of him.
He only changed his attitude towards her after realizing that she is the only person he can recognize despite his face blindness. Things change between them after Gal Hee pretends to be Veronica Park, the CEO of film production company Cine Park on a date with Do Min Ik. This date was set up by Veronica Park's mother, who wants her to marry Do Min Ik, but she likes his best friend Gi Dae Joo.
You can Watch On: Viki, Netflix and Kocowa Tv

Here is the drama cast and characters:-
Kim Young Kwang as Do Min Ik
Jin Ki Joo as Jung Kal Hee
Koo Ja Sung as Ki Dae Joo
Kim Jae Kyung as Veronica Park
---
9. 30 but 17 (2018)
A drama that will teach you a lot of life lessons and also give you a good entertaining time is "30 But 17". It has a pretty unique concept, which makes it hilarious and romantic as well. The lead couple chemistry here is so cute and beautiful. It gets beautiful as their character develop.
"30 But 17" also called "Still 17" story goes like this. Woo Seo Ri, who is 17 years old, is an aspiring violinist. She is highly skilled in it. But later, Woo Seo Ri goes into a comma after she gets injured during an accident. Years and years pass, and thirteen years later, she wakes up. Now, her mental age is still that of a 17-year-old, but physically she is 30-years-old. A man called Gong Woo Jin helps Woo Seo Ri.
Gong Woo Jin is helping Woo Seo Ri because, according to him, he is the reason she got into the accident thirteen years ago. Due to this, he has always felt guilty and his nature changes too. He becomes rude and weird at times. As he meets the girl again, he decides to overcome his guilt. As both help each other in one way the other, they fall in love.
You can Watch On: YouTube, Viki, WeTV
Here is the drama cast and characters:-
Shin Hye Sun as Woo Seo Ri
– Lee Hyo Bi as Seo Ri (child)
– Park Shi Eun as Seo Ri (teen)
Yang Se Jong as Gong Woo Jin
– Yoon Chan Young as Woo Jin (teen)
Ahn Hyo Sup as Yoo Chan
– Seo Yoon Hyuk as Yoo Chan (child)
---