Overview: "Bite Sisters" Kdrama (also known as "Baiteu Ssiseuteojeu") is a webseries that released on 19 October, 2021. It will tell the story of a 821 years old vampire Han Yi Na and her sisters who can't stand injustice. "Bite Sisters" stars Kang Han Na, Kim Young Ah, Choi Yoo Hwa and Lee Shin Young in the main cast. It is available to watch online on streaming platform YouTube.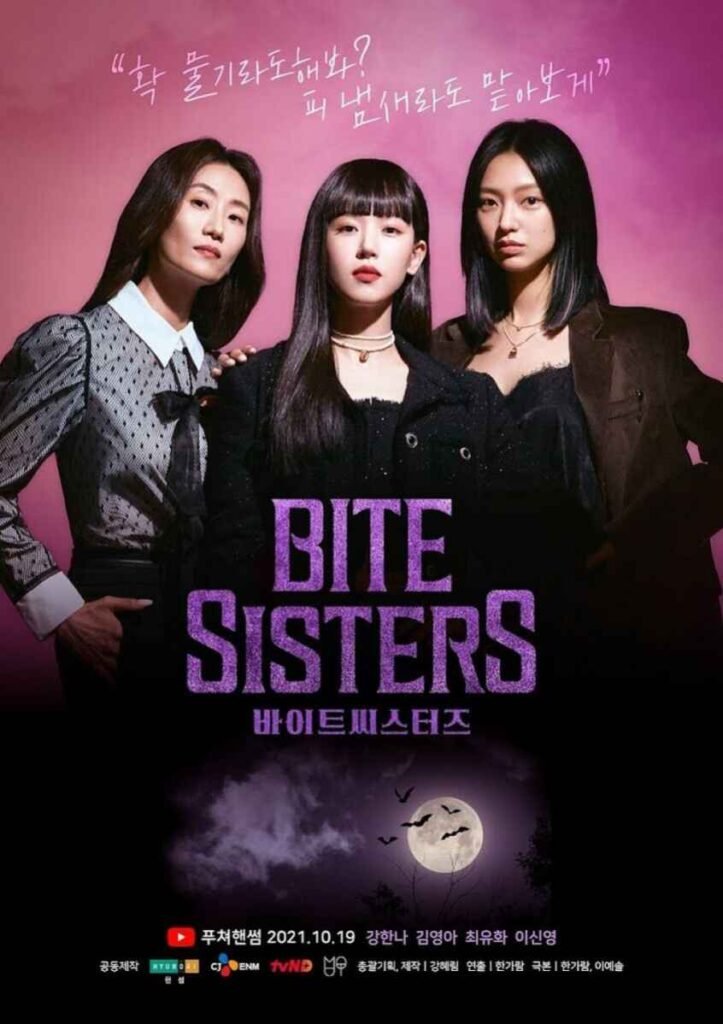 Table of Contents
Synopsis
"Bite Sisters" tells the story of three gorgeous fashion-forward vampires ladies Han Yi Na, Kim Mi Sook and Lee Ji Yeo who are 800+ years old. They own the ' Bite Sisters' clothing plaza and uses their powers to help those in need.
Genre
Fantasy, Romance, Supernatural, Reincarnation
Main Cast & Characters
Kang Han Na as Han Yi Na
Kim Young Ah as Kim Mi Sook
Choi Yoo Hwa as Lee Ji Yun
Lee Shin Young as Jung Sung Min
Air Time & Schedule
New Episodes every Tuesday and Thursday at 7:00 PM KST.
Episodes & Ratings
"Bite Sisters" Web drama will have a total of 10 episodes.
Still Cuts
Notes & Facts
Kim Han Na earlier starred in Korean drama "My Roommate is a Gumiho" (2021).
Kim Young Ah earlier starred in Korean drama "Love Scene Number" (2021).
Lee Shin Young earlier appeared in Korean drama "Awaken" (2020).
Choi Yoo Hwa earlier starred in Korean drama "River Where the Moon Rises" (2021).
Where To Watch Online?
You can watch "Bite Sisters" on YouTube here.
OST List
Soon updating..
Trailers & Clips
You May Also Like
Similar K-Dramas to "Bite Sisters"
---
*Drama is subject to regional availability.