"On The Verge Of Insanity" (or "No One But A Madman") is an MBC original drama series that released on 23 June 2021 and is available to watch online on Viki* and Kocowa*.

SYNOPSIS
"On The Verge Of Insanity" kdrama tells the struggling story of middle-aged workers in the society.
Choi Ban Seok has been working as a developer at Hanmyung Electronics for 22 years. He is calm and warm in nature and also has a good sense of humour. Choi Ban Seok is now transferred to the Personnel Department, in a field he has very little knowledge about. Still he strives there to save his job.
Tang Ja Young is the head of that Personnel Department. She is a passionate worker who dreams to become her company's first female executive. Her job position is new and the newly transferred Choi Ban Seok has to work with her. Both make an impact in each other lives.
GENRE
Drama, Slice Of Life, Office
MAIN CAST AND CHARACTERS
Jung Jae Young as Choi Ban Seok (HR team member)
Moon So Ri as Tang Ja Young (head of HR team)
Lee Sang Yeob as Han Se Kwon (development team leader)
Kim Ga Eun as Seo Na Ri (deputy of planning team)
SUPPORTING CAST
Research building
Kim Nam Hee as Shin Han Soo
Ahn Nae Sang as Noh Byung Kook
Park Sung Geun as Gong Jung Pil
Park Won Sang as Paeng Soo Gon
Dong Hyun Bae as Ki Jung Hyun
Baek Min Hyun as Ahn Joon Soo
Kim Joong Ki as Go Jung Sik
Oh Yong as Pyun Dong Il
Office building
Cha Chung Hwa as Kim Jung Ah
Im Hyun Soo as So Sang Wook
Chun Hee Joo as Kye Bo Ram
Kim Jin Ho as Bae Jung Tak
Im Il Gyu as Oh Jae Il
Headquarters
Jo Bok Rae as Han Seung Ki
Kang Joo Sang as No Jae Yul
Kang Yun Woo as Park Hoon Jung
EPISODES
Korean drama "On The Verge Of Insanity" will have a total of 16 episodes.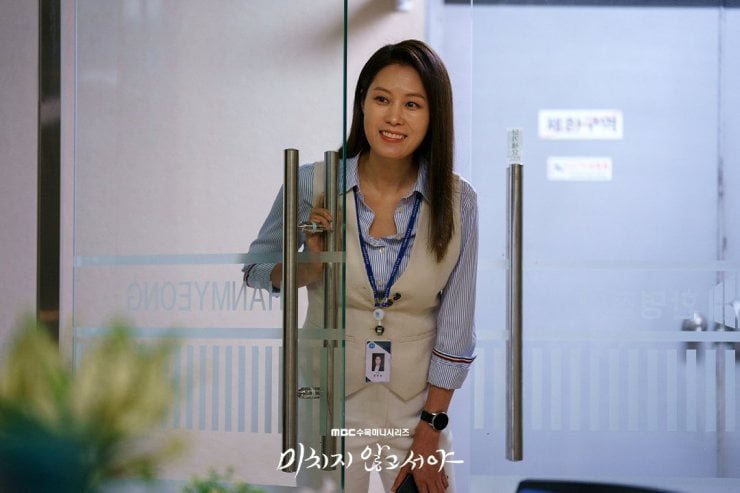 NOTES
Jung Jae Young earlier starred in Korean drama "Investigation Couple 2" (2019).
Moon Se Ri earlier starred in Korean drama "Life" (2018).
Lee Sang Yeob earlier starred in Korean drama "Good Casting" (2020).
Kim Ga Eun earlier starred in Korean drama "The Wind Blows" (2019).
PREVIEW
Teaser
---
*Drama is subject to regional availability.