There are countless Kdramas to watch, and it's pretty hard to choose one. In fact if you are a Kdrama fan then I'm sure you would want to watch all of these dramas before you die. Well! Korean All Day has got you there. Every week for your watching pleasure some must watch Korean dramas are filtered out in the form of list.
This week it is the list of some worth to watch Korean dramas that you might not perceive as a good one as you hear about them. But trust me they will be your favorite.
1. 1% Of Something
Based on a novel of the same name "1% Of Something" is a 2016 Korean drama that released from September on various streaming platforms. It stars Ha Seok Jin and Jeon So Min in the main cast.
The story of the series "1% Of Something" goes like this. An outrageous heir Lee Jae In must marry someone in order to acquire his Grandfather's wealth. So he decides to make a contract with an elementary school teacher Kim Da Hyun, in which they will stay married for 6 months. Although both had a poor first impression with each other, still with time they fall for each other.
Here is the drama cast and characters :-
Ha Seok Jin as Lee Jae In
Jeon So Min as Kim Da Hyun
Kim Hyung Min as Min Tae Ha
Lim Do Yoon as Jung Hyun Jin
Joo Jin Ko as Lee Kyu Chul
Lee Kan Hee as Kang Se Hee
Kim Sun Hyuk as Park Hyung Joon and more
---
2. Page Turner
A sweet short musical drama "Page Turner" stars Kim So Hyun, Ji Soo and Shin Jae Ha in the main cast. It released on March 26, 2016.
"Page Turner" tells the story of a young girl Yoon Yoo Seul who is excellent in piano, but unfortunately she becomes blind after an accident. She loses hope in life but her friend and an aspiring pianist Jung Cha Sik helps her to cheer up and start a new life. Seo Jin Mok who was Yoon Yoo Seul's rival also helps her now.
Here is the drama cast and characters :-
Kim So Hyun as Yoon Yoo Seul
Ji Soo as Jung Cha Sik
Shin Jae Ha as Seo Jin Mok
Ye Ji Won as Yoo Seul's Mother
Hwang Young Hee as Cha Sik's Mother and more
---
3. Drinking Solo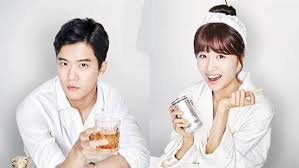 Starring Ha Seok Jin and Park Ha Sun in the main cast drama series "Drinking Solo" released on 5 September 2016
"Drinking Solo" tells the romance story between a professional good-looking lecturer Jin Jung Suk and a rookie lecturer Park Ha Na. Both of them work at a private institution where everybody drinks alone after work, for which they have their own reason. The drama not only focus on a love story but shows a side of private institutions, their students and teachers in South Korea.
Here is the drama cast and characters :-
Ha Seok Jin as Jin Jung Suk
Park Ha Sun as Park Ha Na
Hwang Woo Seul Hye as Hwang Jin Yi
Min Jin Woong as Min Jin Woong
Kim Won Hae as Kim Won Hae
Gong Myung as Gong Myung
Shinee's Key as Ki Hum and more
---
4. Moorim School: Saga Of The Brave
The high school action Korean drama "Moorim School: Saga Of The Brave" released on 11 January 2016 on KBS2. It stars Lee Hyun Woo, Lee Hong Bin, Seo Ye Ji and Jung Yoon Jin in the main cast.
"Moorim School: Saga Of The Brave" tells the story of a school that is different from school's of the world. The school is not focused on studying but on the virtues of life like honesty, faith and sacrifice. There comes students from all over the world and teachers too. The teachers and students have their own stories to tell.
Here is the drama cast and characters :-
Shin Hyun Joon as Hwang Moo Song
Lee Hyun Woo as Yoon Shi Woo
Seo Ye Ji as Sim Soon Duk
Hong Bin as Wang Chi Ang
Jung Eugene as Hwang Sun A
Shin Sung Woo as Chae Yoon
Nan Nan as Runa and more
---
5. Full House
An old classic "Full House" released on July 14, 2004, stars Song Hye Kyo, Rain, Han Eun Jung and Kim Sung Soo in the main cast.
"Full House" tells the love story of a top celebrity in Korea and a female rookie screenwriter who is struggling to write her first script without mistakes. Han Ji Eun who lives in a huge house alone is tricked by her friends after they sell her house on her back. Her house is now owned by the Korea's top celebrity, Lee Young Jae. Unknowingly Ji Eun enters her house after a vacation, she sees him. After much fight between the two, both start to live together on terms.
Here is the drama cast and characters :-
Song Hye Kyo as Han Ji Eun
Rain as Lee Young Jae
Han Da Gam as Kang Hye Won
Kim Sung Su as Yoo Min Hyuk
Jang Yong as Young Jae's Father
Seon Woo Eun Suk as Young Jae's Mom
Kim Ji Yeong as Young Jae's Grandmother and more
---
6. Yong Pal
An action medical romance Korean drama "Yong Pal" was one of the top-rated drama of its time. It released on October 1, 2015, and stars Joo Won, Kim Tae Hee, Chae Jung An and Jo Hyun Jae in the main cast.
"Yong Pal" tells the story of a highly skilled surgeon. However, he is not able to pay for his sister's medical bills. So he decides to offer his skills to corrupt and criminals secretly. He uses the code name "Yong Pal". During this time he uncovers the secret of a chaebol heiress Han Yeo Jin, who has been in coma for a long time. Later he finds out that she was forced to coma.
Here is the drama cast and characters :-
Joo Won as Kim Tae Hyun
Kim Tae Hee as Han Yeo Jin
Jo Hyun Jae as Han Do Joon
Chae Jung An as Lee Chae Young
Jung Woong In as Lee Ho Joon
Stephanie Lee as Shin San Ah / Cynthia Park
Song Kyung Cheol as Doo Chul and more
---