These Korean dramas will capture your attention as if by magic, in short they will mesmerize you and you won't be able to resist yourself from watching it.
Gangster in love, Girl with two personalities, a troubled teenager becoming a doctor, noona romance and a lot more is in this list that will give you an unforgettable time while watching.
So make sure to binge-watch these 9 mesmerizing Korean drama series.
1. Melo Holic
Oh! This one is fun. A man who can read people's mind and a girl with two personalities. How amazing it would be to see them together. "Melo Holic" drama has TVXQ's Jung Yun Ho and Kyung Soo Jin in the main cast. It released on November 1, 2017.
Synopsis:- Yoo Eun Ho breaks his heart after he finds out that his girlfriend cheated on him. Then one day somehow, he gets an exceptional power. He can now read people's mind when he touches them. This ability makes him a heartthrob among girls but, Eun Ho himself becomes mistrustful of people. As now, he sees that people don't say what they actually mean. He even stays away from dating. Until one day he meets Han Ye Ri. He finds her exactly what she is inside, but she has two split personalities. Han Ye Ri herself is a simple and sweet girl while her other personality, Han Joo Ri is wild and free-spirited.
Watch "Melo Holic" On: Viki
Well! Not a strong storyline, but this drama is definitely entertaining. Especially, the character of Han Joo Ri which is Han Ye Ri's other personality. Her role is fun to watch, and you'll surely love her. The romance here is also charming, and it has only 10 episodes, so absolutely give it a try once.
---
2. I'm Sorry, I Love You
I'm so sorry to recommend you a sad drama in the starting of the list, but it's certainly a worth to watch. "I'm Sorry, I Love You" released on November 8, 2004. It stars So Ji Sub, Im Soo Jung and Jung Kyung Ho in the main cast.
Synopsis:- It tells the story of Cha Moo Hyuk, who was abused by his foster parents in Australia. As a result, he was left homeless and often survived by scamming the tourists in Australia. One day, he meets Song Eun Chae, a fashion coordinator of a famous Korean singer, Choi Yoon and starts to cherish her. Meanwhile, Song Eun Chae is secretly in love with singer Choi Yoon. Cha Moo Hyuk gets into an accident, and now he only has 3 months to live. So, he decides to find his birth parents and go back to Korea. There a dark secret is revealed, and he is slowly falling for someone.
Watch "I'm Sorry, I Love You" On: Viki
This is a melodrama that is highly emotional and fans warns to put a tissue box with you while watching it. The love story shown here is so beautiful that it almost feel like a novel. Main actors in the series have portrayed their characters so well. Overall, it's a perfect blend of romance, revenge, mystery, and emotions.
---
3. Two Weeks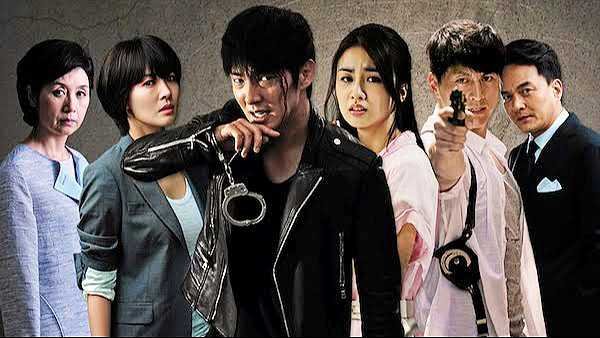 A gangster in love, action, and romance packed series, "Two Weeks" released on 7 August 2013. It stars Lee Joon Gi, Park Ha Sun, Ryu Soo Young and Kim So Yeon in the main cast.
Synopsis:- Orphaned at a young age, Jang Tae San soon becomes a small-time gangster. He falls in love with Kim So Yeon, and they are soon about to be parents of a daughter. Now, Tae San decides to leave his gangster style life for his family but, soon, he is forced to take the blame of a murder his boss did. If he doesn't take it, they will kill So Yeon.
So, he ends his relationship with So Yeon and tells her to abort the child and goes to jail. Eight years later, Tae San is released from jail and finds out that his daughter is alive, but she has leukemia. She is in a desperate need for a bone marrow and Tae San is a match. On the same day, Tae San is again framed for the murder of two detectives. So Yeon, who is also a prosecutor, decides to take his case. Will their tragic life ever take a happy turn?
Watch "Two Weeks" On: Viki
"Two Weeks" has a very engaging story-line (more of an action) but, still worth it. Each character has its own background story, which makes it even more mesmerizing to watch. A beautiful emotional action romance story will make your day for sure.
---
4. Fated to Love You
One of the best rich man/ poor women drama with a good storyline, "Fated to Love You" released on July 2, 2014. It stars Jang Hyuk, Jang Na Ra, Wang Ji Won and Choi Jin Hyuk in the main cast.
Synopsis:- Based on the theme of marriage of convenience, it tells the love story of Kim Mi Young and Lee Gun. Min Young is a kind and naive girl who works at a law firm where everyone takes her for granted. Lee Gun is the CEO of a large hair product company who is known for being selfish and cold, but is actually warm inside. Everything screwed up when Kim Mi Young got pregnant after mistakenly having a one-night stand with Lee Gun. Now they both decide to marry for the unborn baby, but what will happen when Lee Gun's 6-year-old love, Kang Se Ra returns from New York?
Watch "Fated to Love You" On: Viki, Apple TV and Netflix

It is a comedy romance drama with love triangles. So many beautiful love scenes which are sure to give you butterflies. It will also make your belly full of laughter. The chemistry between the leads is mesmerizing. It has many emotional scenes, which makes it a completely perfect drama to watch.
---
5. Pretty Noona Who Buys Me Food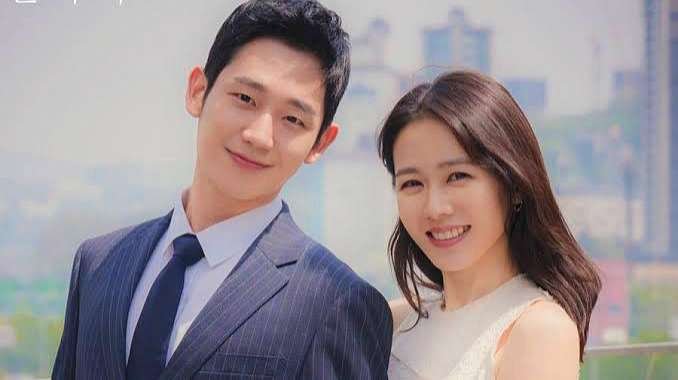 Hardly anyone is there who doesn't know about this gem. "Pretty Noona Who Buys Me Food" released on March 30, 2018, starring Son Ye Jin, Jung Hae In and Jung So Yeon.
Synopsis:- Pretty Noona Who Buys Me Food" or "Something In the Rain" tell and explores the love story between an older woman and a younger man. Yoon Jin Ah works as a supervisor at a coffee company, she is in her mid 30's. Her love life until now has been tough, as she always gets dumped. Her recent one whom she wanted to marry dumps her too, calling her unattractive. Then one day, she sees Seo Joon Hee, younger brother of her best friend. Jin Ah has always considered him as a little kid but today when he came back to Korea, looks different. Despite their age differences, they fall in love and their relationship gets stronger with time. Still, they keep their relationship a secret, as an older woman dating a younger guy is still not acceptable in the society.
Watch "Pretty Noona Who Buys Me Food" On: Netflix
"Pretty Noona Who buys me Food" is a drama which is laced with many awards. Both Son Ye Jin and Jung Hae In has a steaming chemistry here, and you'll love to see their relationship grow despite facing many struggles and backlashes from their friends and family. The series is not just a love story, but it covers many social taboos too. Like dating an older woman, expectations from women in the corporate world, and many more. In fact, this series will keep you engaged until the end.
---
You May Also Like: 15 Korean Actors Who Were Born in Rich Families
---
6. Melo is My Nature
It feels amazing to watch a drama when you can relate to its characters'. "Melo is My Nature" or called "Be Melodramatic" stars Chun Woo Hee, Gong Myung, Jeon Yeo Bin, Han Ji Eun and Ahn Jae Hong in the main cast. It released on August 9, 2019.
Synopsis:- "Melo is my Nature" tells the story of three best friends Im Jin Joo, Lee Eun Jung and Hwang Han Joo who works in the entertainment business. Im Jin Joo is a drama scriptwriter with a unique personality who writes her scripts in literary style. She often talks to objects. One day unexpectedly she gets attracted to Son Beom Soo who is a drama producer. Hwang Han Joo is the head of the drama company marketing team who is also a single mother. She starts to like her new employee, Chu Jae Hoon. Meanwhile, Lee Eun Jung is a documentary director. One of her works becomes a massive success. Soon, life takes a turn for the three friends.
Watch "Melo is My Nature" On: Viki, Netflix, WeTV, AppleTV and Disney+ Hotstar
"Melo is My Nature" focus on these three friends love life and their careers. So if you are in your mid-20's or 30s, you'll relate with it a lot. The characters in the series are so well-made, and you can definitely find one around you. This drama is not like others, and it has been made uniquely and kept so real that it will mesmerize you. If you truly realize what this drama is about, you won't be able to stop yourself praising it.
---
7. Because This is My First Life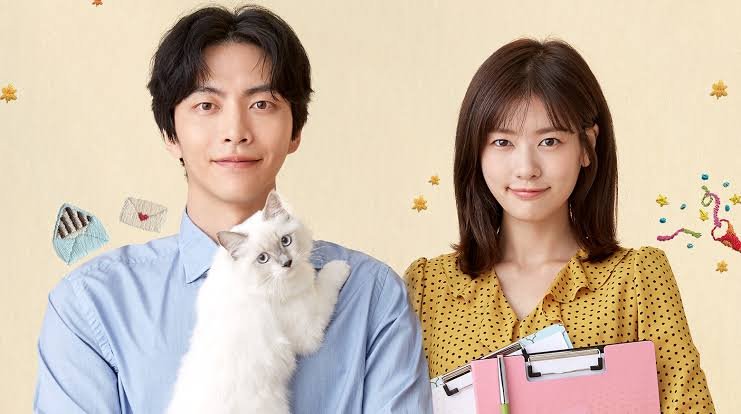 Starring Lee Min Ki, Jung So Min, Esom, Park Byung Eun, Kim Ga Eun and Kim Min Seok in the main cast "Because This is My First Life" released on October 9, 2017.
Synopsis:- "Because This Is My First Life" is centered around love story of a computer designer Nam Se Hee and an assistant screenwriter Yoon Ji Ho. Both are almost in their thirties and have their reasons for not marrying. Somehow, they end up being the roommates and marrying each other with terms and conditions. The drama mainly focused on the struggles of careers, relationships, and marriages that today's youth has to face comparatively to the times of before. Nam Se Hee has friends who have their dreams and desires. One wants to follow her passion, one hopes to become a CEO, while the other simply aims to become a wife.
Watch "Because This is My First Life" On: Viki, Netflix, WeTV and Apple TV

"Because This Is My Life" is a rom-com drama with the juice of life in it. The drama holds a good sense of humor, with some characters you will be able to connect well with. It will literally hug you as it talks about you. An interesting story with amazing cast. Overall, an enjoyable drama with a mix of life and spice. There are not many dramas like this one out there, so it is a must-watch.
---
8. Doctors
Can a troubled teenager become a Doctor? Well! Doctors prove it with love. "Doctors" released on 20 June 2016 starring Kim Rae Won, Park Shin Hye, Yoon Kyun Sang and Lee Sung Kyung in the main cast.
Synopsis:- Yoo Hye Jung is a troubled teenager who is always ready to fight. Her harsh childhood made her headstrong, and she doesn't open her heart to anyone. Her nature changes after she meets Hong Ji Hong who just shifted his career from a doctor to a teacher. Yoo Hye Jung is Hong Ji Hong's favorite neighbor's granddaughter. So, he helps Hye Jung from being a troubled teenager to becoming a doctor. However, someone complains about their close relationship and both goes their separate ways. 13 years later, they meet again in the same hospital.
Watch "Doctors" On: Viki, Netflix, YouTube, Amazon Prime and Apple TV
"Doctors" is a hit drama of its time and is still remembered today. Park Shin Hye has done a remarkable job here, and you'll love her character. The romance-comedy part of the drama is so cute and adorable with an engaging story-line. And that too in a medical line makes it a worth to watch as it has many emotions and life lessons.
---
9. Emergency Couple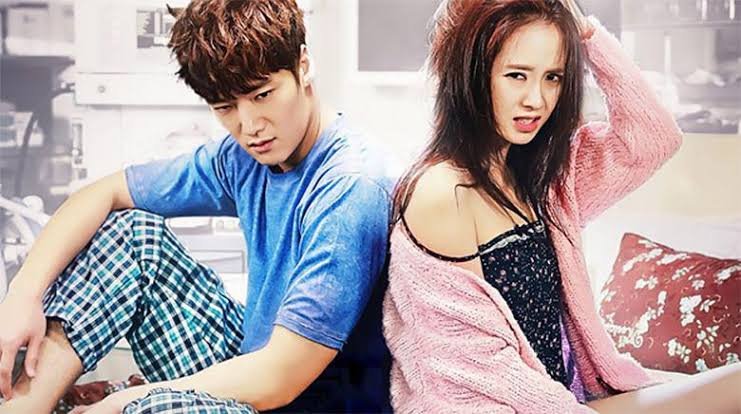 How funny it will be when two people fall for each other again after ending their married life. Emergency couple is a popular drama with top star ratings that released on January 24, 2014, starring Song Ji Hyo, Choi Jin Hyuk, Lee Pil Mo, Choi Yeo Jin and Clara Lee in the main cast.
Synopsis:- A unique plot about the reunion of a divorced couple after 6 years who gets stuck in an emergency room for 3 months. They first met each other when Oh Chan Min was a medical student and Oh Jin Hee was a dietitian. Both fell in love and decided to marry, despite Chang-min's family disapproval. But their marriage life was not that successful because of huge difference in family status, and also they were too young to be married. Neither tried to understand each other's perspective, and they often fight with each other. So, they separated and followed their respective dreams in the medical field. But destiny lead them to cross the same path again. They meet again in the emergency room for a hospital where they will both work together. Will the love between them rekindle?
Watch "Emergency Couple" On: Viki, Apple TV
You must watch this drama if you are looking for something new. A great story-line with good development, a spoon full of rom-com and sizzling chemistry will make your day.
---
So, this is it. Which one will you pick first?
---
Don't forget to see: 25 Best Korean dramas Everybody is Watching in 2022 and You Should watch Too
---