Warning! Only read this list if you are not celebrating Valentine's Day, as the following list contains Kdramas with little or no romance at all. Also, some of these dramas are rated 18+ What?
This not celebrating Valentine Day list is all you'll be needing for 14th February. It is full of Korean dramas with revenge, messed up relationships, thriller, mystery and many more to keep you engaged the whole day. Along with these heavy dramas, a few lighter ones has been added for your laughing belly and lively heart.
If this doesn't convince you, then there are even the top most Korean dramas ever. So without wasting anymore time, let's check these:
14 Korean dramas to watch if you're Not celebrating Valentine's Day (with Links*)
1. Bad and Crazy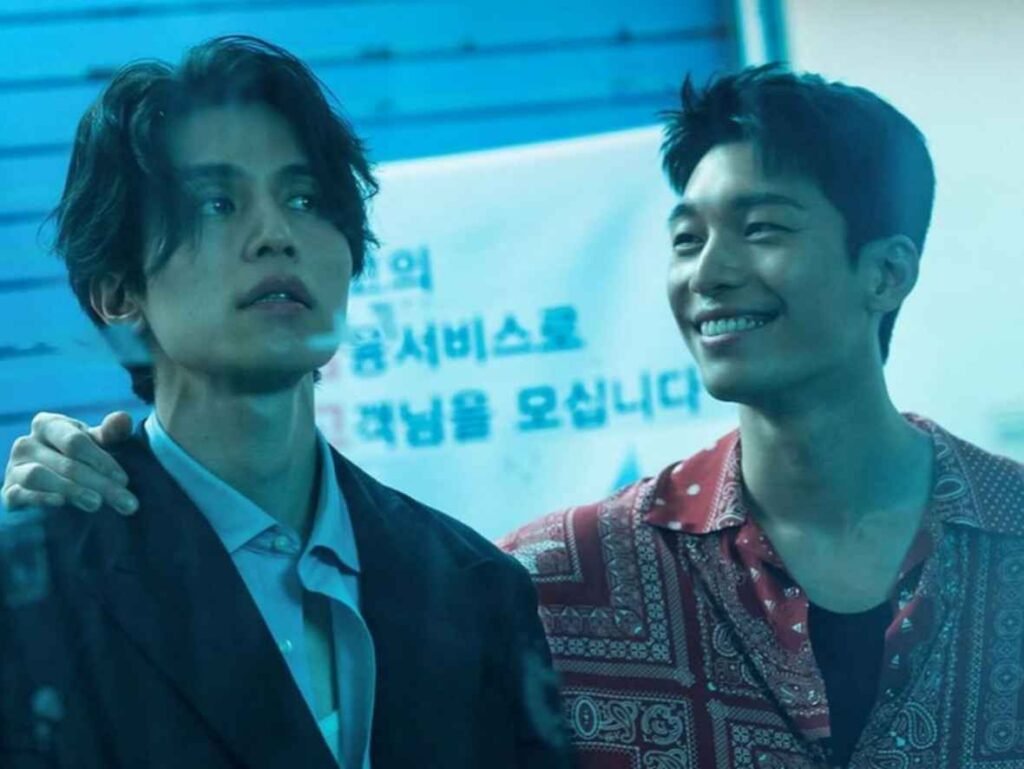 A fresh new drama, "Bad and Crazy" will be perfect for your 14th February watching pleasure. Not the romance but the bromance will win your heart. "Bad and Crazy" stars the "Squid Game" star Wi Ha Joon as the righteous K. And the heartthrob Lee Dong Wook as corrupt detective Ryu Soo Yeol.
K is a crazy personality who cannot tolerate injustice. He thinks himself as the last hero on Earth who will combat injustice. His first target is the bad and corrupt Ryu Soo Yeol. So, whenever Ryu Soo Yeol tries to become bad, K is always there to put him on the right track. The twist is that K is actually someone Ryu Soo Yeol created in his mind.
That is a pretty unique and hilarious concept, which makes "Bad and Crazy" a must-watch. The show is fascinating as the two completely opposite personalities now work together to solve the biggest corruption in the police. The series follows an exciting storyline with numerous action and thriller scenes. Overall, it is a fun and intriguing series to watch.
Content Rating: 15+
Watch online on: iQiYi
---
2. Taxi Driver
Ditch the Valentine's Day and let's do the correct thing by punishing the big corrupt people who always escape from being caught.
Taxi Driver tells the story of an extraordinary taxi company and its drivers who are set on a special mission. The mission involves offering the service of revenge for their clients who are also victims. Actor Lee Je Hoon who plays the role of Kim Do Ki, starts working as a deluxe taxi driver at Rainbow Taxi Company after his mother gets murdered by a serial killer. Actress Esom plays the role of an attorney, Kang Han Na who tries to find the secret of the Rainbow Taxi Company.
Another action packed drama with a thrilling plot, "Taxi Driver" is one of the best drama of 2021. The series even covers many real life cases, and each case covered here makes it an engrossing watch. You will love every character of Taxi Driver. Warning: not for the soft heart as there are many violent scenes.
Content Rating: 18+
Watch online on: Netflix, Viki, Kocowa and Amazon Prime
---
3. The World of the Married
How about a revengeful Valentine binge-night with the highest rated cable television drama ever in Korea,"The World of the Married". It stars Kim Hee Ae, Park Hae Joon and Han So Hee in the main cast.
"The World Of The Married" tells the story of a married couple Ji Sun Woo (Kim Hee Ae) and Lee Tae Oh (Park Hae Joon). Ji Sun Woo is a successful career woman and has a son. Lee Tae Oh is a doctor. Sun Woo's happy married life takes turns when she finds about her husband's betrayal and decides to take revenge.
Amazing acting and highly intriguing plot filled with betrayal, revenge and cious "The World of the Married" is a perfect drama for the ones who are not celebrating Valentine's Day. Every character here is shaddy and so the plot gets highly intense and unpredictable. In shor,t it is a makjang drama centred around marriage, cheating and revenge.
Content Rating: 18+
Watch online on: Netflix, and WeTV
---
4. Possessed
What if one day suddenly you start seeing ghosts? "Possessed" tells the story of a psychic medium and a detective who join hands to solve the crime cases mostly associated with evil spirits.
Hong Seo Jung played by Go Joon Hee is having the ability to see ghosts and spirits since birth. She doesn't want to be called a shaman and lives a lonely life hiding her supernatural ability. Until one day somehow Kang Pil Sun (Song Sae Byuk), a police detective with exceptional skills, finds out about it. He also starts seeing ghosts like her. Later, they decide to use each other abilities to hunt down an evil spirit and solve other crime cases.
A supernatural thriller with a bit of comedy, "Possessed" will keep you interested until the end. However, you'll find the ending sorrowful but overall, it is a good drama that should not be missed. A spooky investigation drama on a lonely Valentine would not be a bad idea.
Content Rating: 15+
Watch online on: Netflix
---
5. School 2013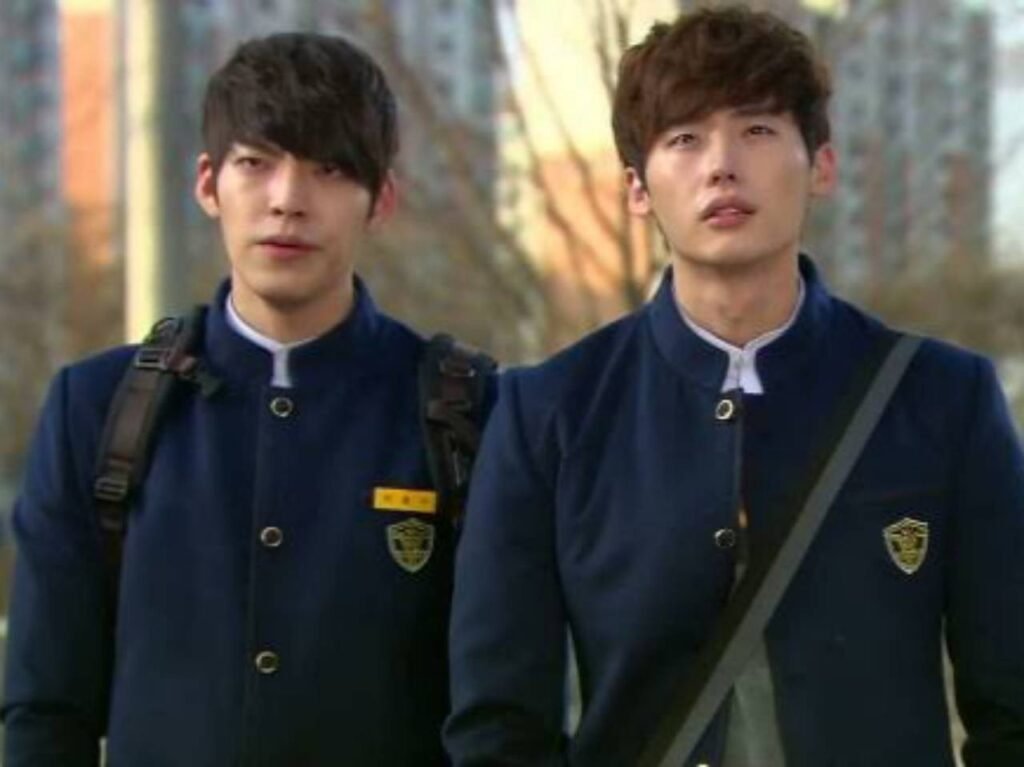 Another bromance here between Lee Jong Suk and Kim Woo Bin. "School 2013" is one of the popular school series that stars Jang Nara, Choi Daniel, Lee Jong Suk, Kim Woo Bin and Park Se Young in the main cast.
"School 2013" depicts the teens of Korea and the modern day students life. It focuses on their struggles with bullying, mental pressure, private tutoring and other problems that a high school students face in life. It also shows the perspective of teacher in such cases. Jung In Jae (Jang Na Ra) and Kang Sae Chan (Choi Daniel) are homeroom teachers at the Victory High School. They both are given the toughest class in the school in which the students faces bullying and are low scoring. Despite their odd philosophies they help these students overcome their problems.
A very meaningful and relatable drama "School 2013" will make you feel so many emotions of friendship and life. It will make you miss your high school life, your friends and classmates. There is no romance here and man! It makes no difference as the bromance will make you feel so warm. Don't think much, it's better to watch this amazing gem sooner.
Content Rating: 15+
Watch online on: Viki, Apple TV and Kocowa
---
6. Age of Youth 1 & 2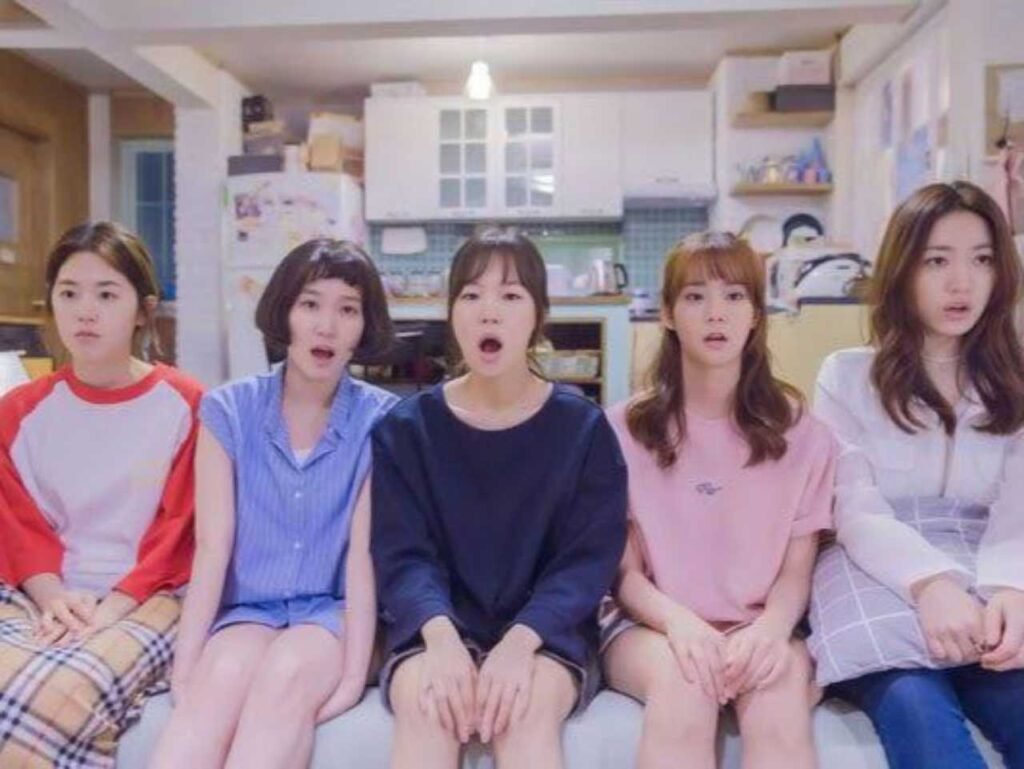 Enough of bromance it's time to recommend a womance drama with amazing friendship shown between 5 girls living in a shared house 'Belle Époque'.
"Age of Youth" tells a slice-of-life story centered around 5 girls who are in their twenties. The drama depicts the real life struggles every girl face in their twenties including relationships, parents generation gap, friendship, job and many more.
"Age of Youth" is particularly a comforting one to watch if you are in your twenties. It will literally hug you. You will relate to this series a lot. Especially the narrations of one's true feelings used in the background of the series are so much relatable. The drama will inspire you to enjoy your life no matter what. Good friends are always there who understands you the most and are always ready to help. The series has two parts, and the second season covers even deeper aspects of life in our twenties.
Content Rating: 15+
Watch online on: Netflix, Apple TV, and Amazon prime, ondemandkorea.com
---
7. Sky Castle
Another recording breaking series is here for your watching pleasure. "Sky Castle" is the second-highest rated drama in Korean cable television history. It stars Yeom Jung Ah, Lee Tae Ran, Yoon Se Ah, Oh Na Ra and Kim Seo Hyung in the main caste.
"Sky Castle" tells the story of the neighborhood of SKY Castle which has one of the wealthiest people in Korea including doctors and professors. Han Seo Jin, Noh Seung Hye, Lee Myung Joo and Jin Jin Hee all women live in the SKY Castle, and they wish for their children to enter into the Korea's top universities.
You will definitely get addicted to this show. The series is packed with a unique storyline that will keep you on the edge of your seat. Each character will leave an impression on you, portrayed by some of the most talented actors in the drama world. We see amazing character development here. "Sky Castle" is a drama packed with suspense, humor, and emotions. So if you like to watch some dark themed comedy, then "Sky Castle" is a must-watch.
Content Rating: 15+
Watch online on: Viki, Netflix, Apple TV, Viu and WeTV
---
8. Sweet Home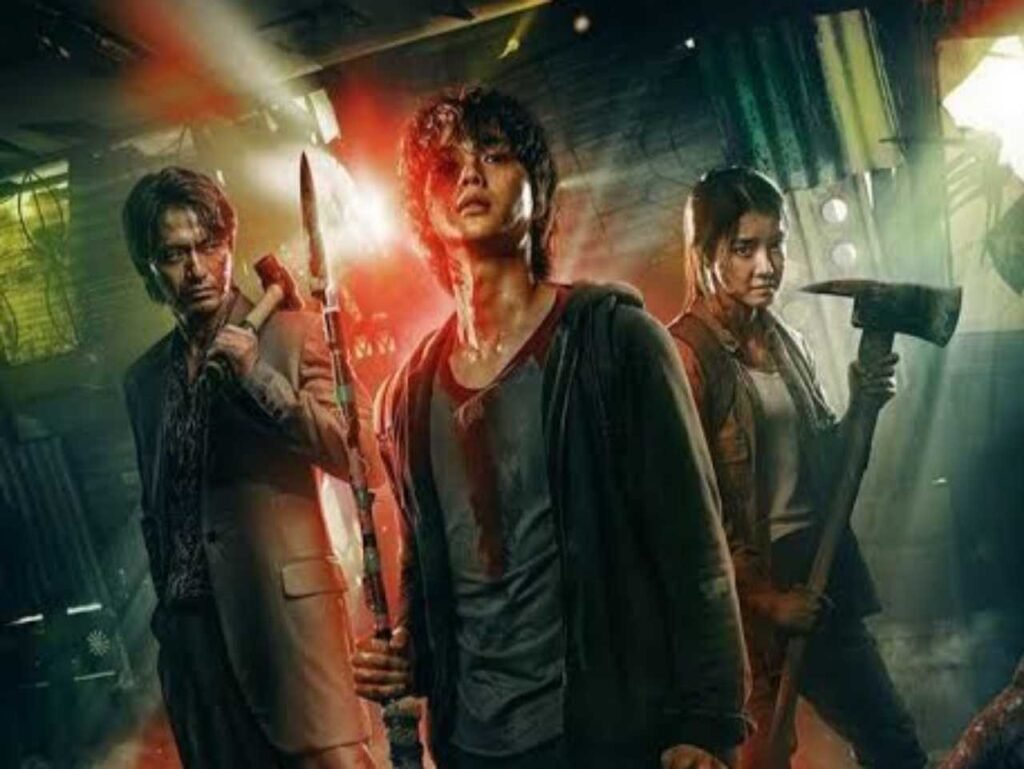 How about a horror bloody survival, 14th February? Sounds cool right! This next recommendation "Sweet Home" is an apocalyptic horror Korean drama that stars Song Kang, Lee Jin Wook, Lee Si Young, Lee Do Hyun and many monsters.
A teenager, Cha Hyun Soo turns suicidal after his family dies in an accident. Later, he decides to move into a new apartment. Strange things start happening in his new neighborhood. People are turning into monsters and the humanity is at stake. Now Cha Hyun Soo and other people in the apartment building tries to protect themselves from the infected people who have turned into monsters.
Based on the popular webtoon, "Sweet Home" is a star-studded and unique survival horror drama that is also the first South Korean series to enter Netflix Top 10 and then 3 in the United States. It was also in the Netflix top 10 in more than 70 countries within the first 4 weeks of its release. It is an action packed thriller with many varied characters in this messy monstrous apocalyptic. You'll also get to see very high-quality visuals as they come from the creators of some famous Hollywood films and series including the Avengers, Avatar, Game of Thrones and Stranger Things. "Sweet Home" is truly an enjoyable series, especially if you like to watch series with zombies genre.
Content Rating: 18+
Watch online on: Netflix
---
9. Uncanny Counter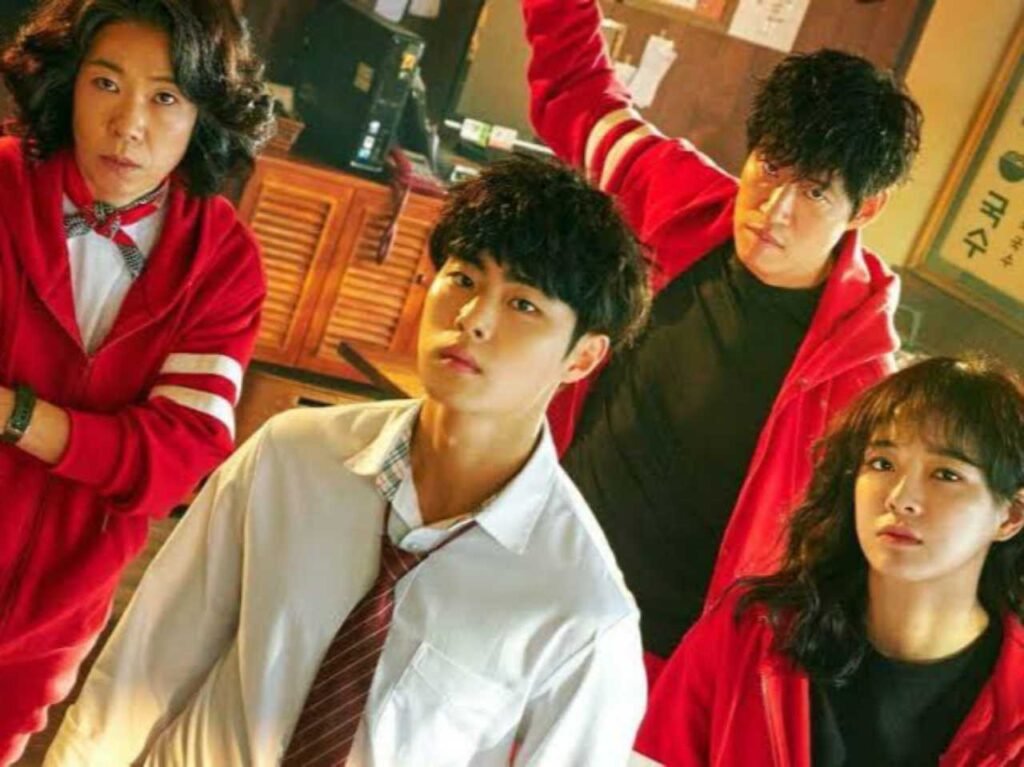 Here is another action packed squad drama to overwhelm your Valentine day with the love of friendship and teamwork.
"Uncanny Counter" tells the story of a group who runs a noodle restaurant under the disguise of human beings, their job is to find the evil spirits. The group of 4 fellows Ga Mo Tak (Yoo Jun Sang), Do Ha Na (Kim Se Jeong), Choo Mae Ok (Yeom Hye Ran) and Jang Cheol Joong (Sang Ji Ru) are together known as 'Counters'. They work as a team to hunt those evil spirits who escaped from afterlife to gain immortality.
"Uncanny Counter" is the highest rated OCN series so far. It has also been praised for its characters and plot line by netizens. "Uncanny Counter" is surely a fun drama to watch. Unlike other dramas, it is a mixture of comedy and action. The drama has shown a nice pace with the backstories of leading characters. It is quite admirable. The friendship between the characters is just overwhelming, and it will melt your heart. A season 2 for "Uncanny Counter" is also in the works.
Content Rating: 15+
Watch online on: Netflix
---
10. The Last Empress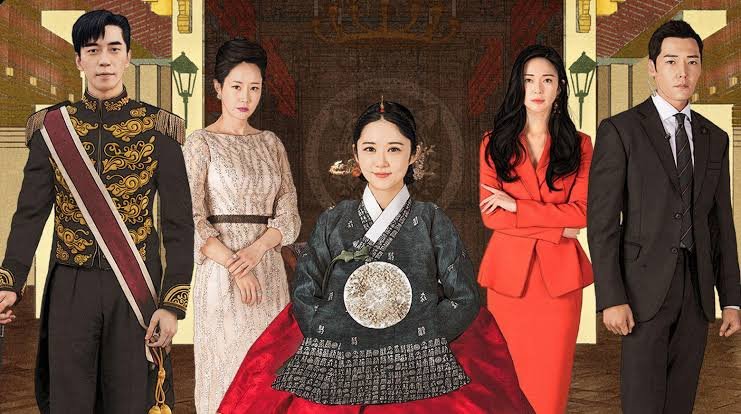 Another messed up relationship, makjang revenge, Korean drama recommendation that is perfect for your Valentine binge-watch. "The Last Empress" stars Jang Na Ra, Choi Jin Hyuk, Shin Sung Rok, Lee Elijah, and Shin Eun Kyung.
It tells a hypothetical story of a Korean emperor in 2018. A musical actress, Oh Sunny's dream comes true after she marries the emperor of the country, only to find the dirty royal secrets. Upon knowing the ugly truth of the palace and imperial family, Oh Sunny join hands with the emperor's guard who is also looking for revenge from the Emperor.
"The Last Empress" is packed with the best cast possible and great script with a fast pace plot, and yet, each episode is unpredictable. You would not be able to blink your eye while watching the drama as it reveals a secret every second. With cliffhanger in every episode, this remarkable Korean makjang will leave you in the state of distress. But you would surely find yourself loving it. So don't forget to watch this one.
Content Rating: 15+
Watch online on: Netflix, Viki, YouTube and Kocowa
---
11. My Name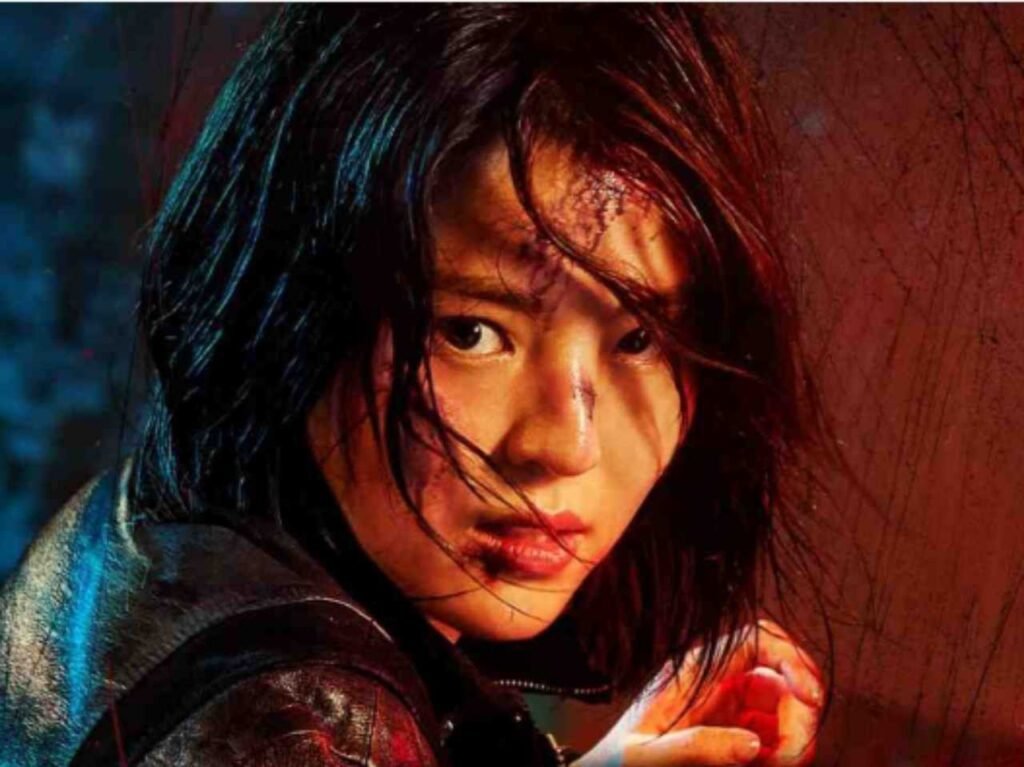 More revenge in this not Celebrating Valentine's Day list! "My Name" Korean drama will give you girl crush as Han So Hee plays the role of a girl who goes undercover to take revenge of her father's death.
When young, Yoon Ji Woo hears her father being murdered. Desperate for revenge, Yoon Ji Woo is offered to join the biggest crime ring in Korea. The boss of drug ring Choi Moo Jin is an enigmatic personality whom she puts her trust with. Choi Moo Jin helps her to go undercover as a police officer. In the police, Yoon Ji Woo becomes partner with Jeon Pil Do. He is a police detective in the drug investigation unit. Cha Gi Ho, the head of the unit, wants to bring down Choi Moo Jin. Former member of the drug ring, Do Kang Jae is also looking for revenge against them.
"My Name" is one action packed thriller series with gripping storyline. Both protagonists and antagonists did an amazing job and you'll especially be impressed by Han So Hee's fighting skills. She just rocked here and you are sure to get a girl crush on her. You might find the plotline predictable and something you've seen before, but still the screenplay makes it a worth watch.
Content Rating: 18+
Watch online on: Netflix
---
12. Squid Game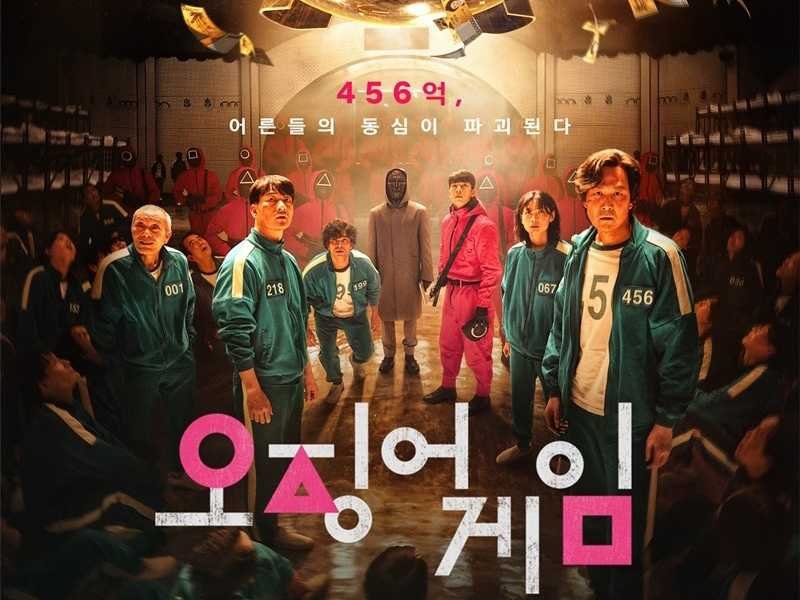 Netflix biggest series ever "Squid Game" which released last year stars Lee Jung Jae, Park Hae Soo, Heo Sung Tae, Wi Ha Joon in the main cast.
It tells the story related to a game which has a price of 40 billion won for the winner. The game is called 'Squid Game' and it invites 456 people to play it. These people are somewhat a failure in their lives. The people controlling and managing the game are all covered in masks. Now, the game is risky as only one person will survive in the end and all will or can die. The last one standing becomes the winner.
Your bloody Valentine could never be complete if you don't watch "Squid Game".
This is a must-watch for the Korean drama fans as it is literally the best Korean drama ever. It is an international hit and a lot of its cast rose to stardom. The concept and the plot of the series is very different from any other Korean drama or any drama globally, and that's what makes it stand out. Everything has been very well executed. Props and sets used in the series made some astonishing scenes. Even, it's varied characters will leave you overwhelmed.
Content Rating: 18+
Watch online on: Netflix
---
13. All of us are Dead
This is also a recent Netflix hit Korean drama that is at top in more than 20 countries. A Zombie outbreak in the high school would be all you need for your homely Valentine's Day. "All of us are Dead" stars Yoon Chan Young, Park Ji Hoo, Choi Yi Hyun, Park Solomon and Yoo In Soo in the main cast.
It tells the story of Hyosan High School where after a girl gets bitten by an infected rat, spreads the virus to others. Now the students are trapped in the infected school with zombies, and they try to escape without becoming a one. Will they be able to survive or end up being a zombie themselves?
A grisly zombie apocalypse at high school is an absolutely fun drama to watch. It is currently the Netflix new Korean hit. If you are a fan of zombie genre then this drama is for you. You will also see varied characters here with a well told story.
Content Rating: 18+
Watch online on: Netflix
---
14. Laughter in Waikiki 1 & 2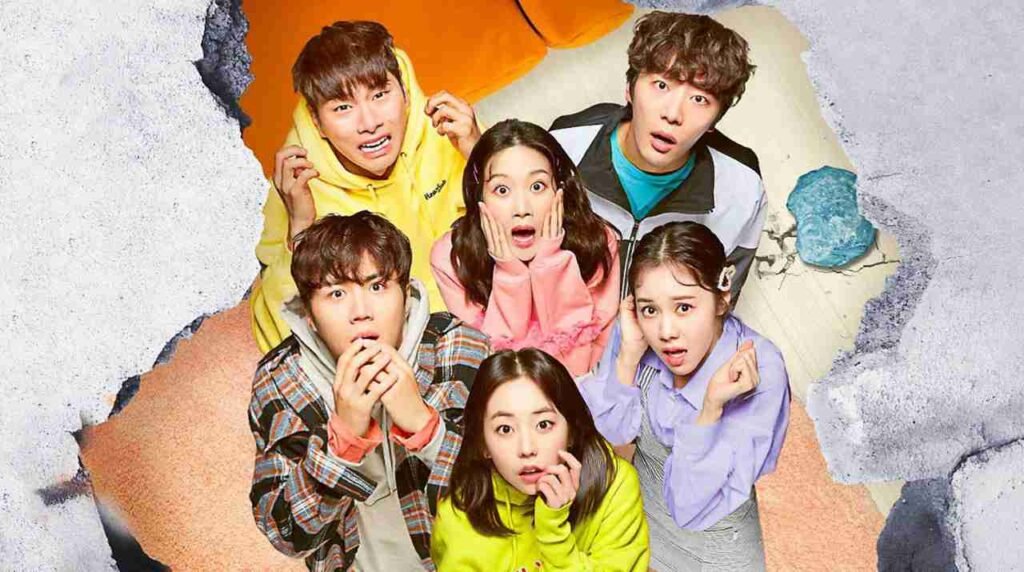 Ah! This list is full of thrillers and dark themed Korean dramas. So, in the end, I would like to recommend a light watch which will probably make you full of laughter. "Laughter in Waikiki" is pure comedy series that stars Lee Yi Kyung, Kim Jung Hyun, Jung In Sun, Kim Seon Ho, Moon Ga Young and more in the main cast.
The story revolves around 6 individuals who run a guesthouse together and also have their jobs. Their guest house is almost failing and a single mother with her baby is ready to make their life even more complicated.
"Laughter in Waikiki" will make you laugh a lot. All of its characters are hilarious. Besides, it gives a strong message about friendship and to have a strong belief in your dreams. The drama also motivates you to take most of the problems lightly and tells that we are not alone in it. Everybody faces the same issues in their lives. Everything has been told in such a fun way that you'll learn to enjoy your life just like they do. There are a total of two seasons and I would recommend you to watch both.
Content Rating: 15+
Watch online on: Netflix, Viki and WeTV
---
Follow Korean all Day official Twitter account here.
So out of these not celebrating Valentine's Day drama list which one will you watch first? Do comment!
---
*Drama is subject to regional availability and some requires subscription to watch