If you haven't watched these sensational Korean dramas, then you are really missing out in several ways. These are one of the best Korean dramas that ever existed.
I'm sure some of you have already watched each and every from the list, while some are definitely missing out. But don't worry now you have a list to save for future use.
These Korean dramas have always been sensational, and they are so good with their plot and cast that they will keep you awake until 3:00 a.m.
---
1. My Love From Star
"My Love from the Star" tells the love story of an alien Do Min Joon (Kim Soo Hyun) who is stranded on Earth since Joseon Dynasty. He also has special powers, which he hides from human beings. In the modern world, he is living as a college professor. His time on Earth is almost about to be completed that he falls in love with his new neighbour. She is Korea's top star Cheon Song Yi (Jun Ji Hyun). Both are completely opposite in personalities. Cheon Song Yi is crazy and outspoken, while Do Min Joon is quiet and calm.
It has really fun and hilarious characters played by some best actors in the Kdrama world. Especially the altercations of the two main leads is so funny as both have opposite personalities. Above all it has an engaging plot with good romance which is full of twists.
---
2. Vincenzo
"Vincenzo" tells the story of Vincenzo Cassano a.k.a Park Joo Hyung (Song Joon Ki) who is a consigliere of Mafia in Italy. At the age of 8 he was adopted by an Italian family. He flees to South Korea (his motherland) to finish some undone business, but gets stuck between the war of the tenants of Geumga Plaza and Babel Group. 1.5 tons of Gold is stashed inside Geumga Plaza that Babel Group took illegally. Now Joo Hyung must reclaim it. He also meets Hong Yoo Chan (Jeon Yeo Been) a lawyer at Jipuragi Law Firm who can do anything just to win her case. They both join hands and use their methods to deal with Babel Group and injustice.
"Vincenzo" is the kind of drama which is full of action, comedy, and suspense. The chemistry of our leading couple Song Joong Ki and Jeon Yeon Been is on fire here. This pair is full of SWAG, just like a webtoon's mafia couple. The suspense in the series keeps you on the edge of your seat. It is the latest series in the list and highly recommended if this genre is your thing.
Watch On: Netflix
---
3. Secret Garden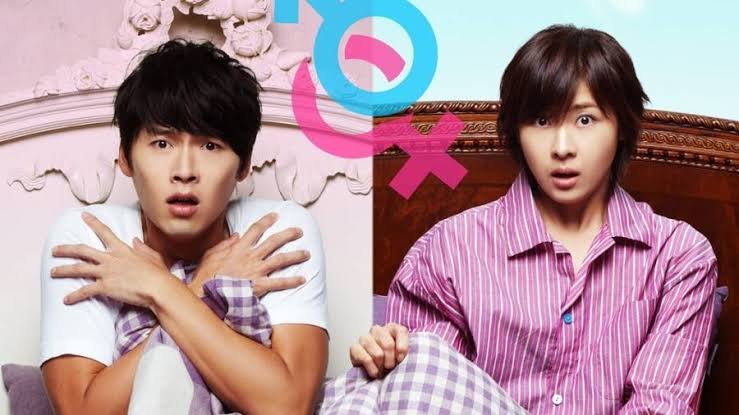 It tells the story of near to perfect but eccentric CEO Kim Joo Won (Hyun Bin) and stunt-woman Gil Ra Im (Ha Ji Won). Joo Won confuses Ji Won as actress in his first meeting. Even though they didn't make a good first impression, Joo Won gets attracted to Ra Im. Joo Won can't get her out of his mind. Now he starts to find ways to approach her, but because of his jerk personality he gets turned down with a slap. Soon after drinking a wine their bodies switches and here starts the main plot of the drama with blooming romance and funny scenes.
Secret garden is a classical drama that counts in 'Must Watch' dramas. Just like other fairy tales, it starts when a rich and arrogant guy meets an ordinary but strong girl. Again, this drama comes from a writer who has given us many good dramas. So, the storyline of this series is very entertaining with good amount of romance and comedy.
Watch On: Netflix, Viki, Apple TV, WeTV
---
4. Boys Over Flowers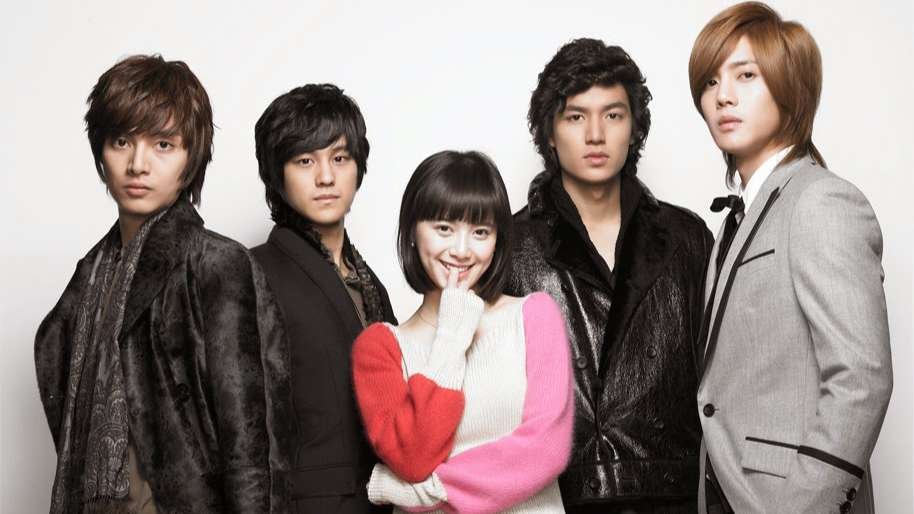 It is a story about Geun Jan Di (Ku Hye Sun), an ordinary but smart girl who suddenly gets admission at prestigious Shinhwa school. She is from a poor family but is very kind and down to earth girl. But problems starts chasing her when she encounters Gu Jun Pyo (Lee Min Ho) the leader of F4, the most popular group of the school. Somehow she gets on his nerves, so Jun Pyo decides to bully her. But he eventually ends up falling for her. But Gan Di had feelings for Yoon Ji Hoo (Kim Hyun Joong) who is also a member of F4 and a close friend of Jun Pyo. Later, things starts to change and Gan Di develops feelings for Jun Pyo.
This is totally a fairy tale like old classic drama where suddenly 4 handsome princes comes into the life of an ordinary girl and turns her into a Cinderella. I think there is no one in the Kdrama world who doesn't know about "Boys Over Flowers". It is still winning the hearts of many. So, If you haven't yet watched it, then you must.
---
5. Goblin
The drama tells the story of a 900 years old immortal Goblin Kim Shin (Gong Yoo) who is looking for his bride. Because only she can pull out the sword from his chest and end his life. Ji Eun Tak (Kim Go Eun), Goblin's bride, has the special ability to see ghosts. The two meet and slowly fall in love with each other. Will she be able to release him from his immortality after knowing that if she does so, she'll lose him forever?
The drama is much more than just Goblin and his bride's romance. The cinematography is gorgeous. It has the best OST ever, and no one can deny that. And if you love the second lead couple concept, then you get it here. Perfect comedy, heart-warming romance, loving bromance and full of emotions. This drama will make you laugh and cry hard. So without hesitation, you should go and watch this one.
Watch On: Netflix, Viki, Apple TV
---
6. Squid Game
"Squid Game" tells the story related to a game which has a price of 40 billion won for the winner. The game is called 'Squid Game' and it invites 456 people to play it. These people are somewhat a failure in their lives. The people controlling and managing the game are all covered in masks. Now, the game is risky as only one person will survive in the end and all will or can die. The last one standing becomes the winner. And he gets all the money.
This is a must-watch for the Korean drama fans. It became an international hit, and a lot of its cast rose to stardom after its release. The concept and the plot of the series is unique and everything has been very well executed. Props and sets used in the series made some astonishing scenes. There is a little warning that it not for the soft-hearted people. If this can't make you stay awake until 3:00 a.m. then nothing can.
Watch On: Netflix
---
7. Shopping King Louis
It is a rom-com drama that tells the story of a rich heir Louis (Seo In Guk) who is also the precious grandson of a rich grandma. He is ridiculously rich and spends money like water on shopping. On the other hand, Ko Bok Shil (Nam Ji Hyun), a poor, energetic woman from the countryside is unaware of the technological world. The two meet when Louis lost his memories in an accident. Somehow, the two starts living together, taking care of each other in hard times. Despite loosing his memory, Louis habit of spending money is still the same, but as he spends more time with Bok Shil he learns to save and value money.
It is a very light and cute comedy drama full of pure and innocent love without any opposing families' cliché. Its storyline is light, with not many twists, yet it is mesmerizing enough. The unique characters of Bok Shil and Louis makes a very lovely pairing. You'll definitely want to finish it by 3:00 a.m.
Watch On: Viki
---
8. Crash Landing on You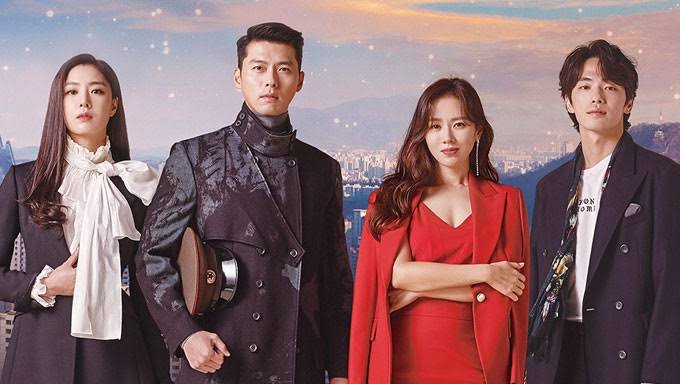 "Crash Landing On You" drama tells a romance story between a South Korean heiress Yoon Se Ri (Son Ye Jin) and a North Korean army officer Ri Jung Hyuk (Hyun Bin). Yoon Se Ri accidentally landed in North Korea while paragliding. There she meets Lee Jung Hyuk. He gives her shelter and protects her, but both ends up falling in love with each other. However, he needs to hide her from the North Korean government who thinks she is a spy and safely send her back to her homeland, South Korea. Will she be able to go back even though there is strict checking at the border? Is love between the two possible to bloom?
"Crash Landing On You" has so much more to offer than just a love story. The powerful cast, the unlikely romance story, the cinematography, the story, the directing, everything makes this drama worth a watch. Half part of the drama shows the North Korean people, which will shock and mesmerize you. Some North Korean defector has claimed that the show has shown accuracy. The main lead chemistry is so good that today they are married. I really can go on and on about this drama, but today! It is a must-watch rom-com for every fan.
Watch On: Netflix
---
9. Business Proposal
"A Business Proposal" story goes like this. One day, Jin Young Seo (Seol In Ah) who is the daughter of a chaebol family is set up on a blind date by her parents. She doesn't want to go, so she asks her friend Shin Ha Ri (Kim Se Jeong) to go instead. Jung Young Seo even offers her money for doing so. Ha Ri finally agrees. There, Ha Ri gets shocked to see that she is on a blind date with the CEO of the company she works in. He is Kang Tae Mo (Ahn Hyo Seop), whose grandfather has set up this blind date for him. Because he wants him to marry soon. But, Kang Tae Mo always rejects dating and out of frustration, he decides to marry the next girl he goes on a blind date with. To her surprise, Ha Ri gets a call from Kang Tae Mo the next day, asking her to marry him.
As it is one of those dramas that is adapted from webtoons, so this series has a very fun storyline with a perfect blend of romance and humor. It is also the latest rom-com hit among fans with no love triangles. In fact it has two romance stories, each will become your favorite. Don't miss out this little fun pack!
Watch On: Netflix
---
10. 100 Days My Prince
"100 Days of My Prince" tells the story about the crown prince Lee Yul (D.O.) in Joseon era. He is always playing rather than studying. 16 years later, Lee Yul loses his memory after falling off a cliff. Later, he ends up living the life of a common man for 100 days. This happens due to an attempted assassination on him. A woman called Hong Sim (Nam Ji Hyun) helps him find his identity. Hong Sim is a kind woman with whom Lee Yul was in love before losing his memory. As they are together now, they fall in love. Today, Hong Sim is the head of the first detective agency in Joseon.
"100 Days My Prince" is one of the best dramas of the year 2018. People have praised the series for the lead's breathtaking chemistry and highly engaging storyline. Even its supporting cast will leave an impression on you. Moreover, it is the eleventh highest-rated Korean drama in the cable television history.
---