Overview: "All Of Us Are Dead" Kdrama (also known as "Now At Our School") is a Netflix original drama series that released on 28 January, 2022. It will tell the story of a High school where a Zombie virus outbreaks and students try to escape without being infected by the virus. "All Of Us Are Dead" stars Yoon Chan Young, Park Ji Hoo, Choi Yi Hyun, Park Solomon and Yoo In Soo in the main cast. It is available to watch online on streaming platform Netflix*.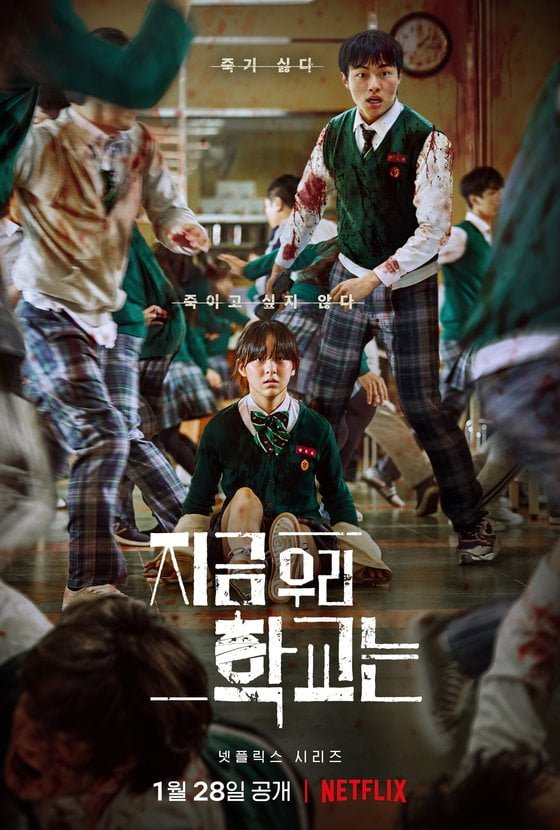 Table of Contents
Synopsis
Genre
Cast
Air Time & Schedule
Episodes & Ratings
Still Cuts
Notes & Facts
Where To Watch Online?
Trailers & Clips
Synopsis
"All Of Us Are Dead" tells the story of a school, Hyosan High School where a Zombie virus spread and the trapped students tries to escape from the school without becoming a zombie.
Genre
Horror, Thriller, Zombie Apocalypse
Main Cast & Characters
Park Ji Hoo as Nam On Zo
Yoon Chan Young as Lee Chung San
Cho Yi Hyun as Choi Nam Ra
Park Solomon as Lee Soo Hyeok
Yoo In Soo as Yoon Gwi Nam
Lee Yoo Mi as Lee Na Yeon
Supporting Cast
Bae Hae Sun as Park Eui Won
Lee Eun Saem as Park Mi Jin
Ha Seung Ri as Jang Ha Ri
Kim Bo Yoon as Seo Hyo Ryung
Ahn Seung Kyoon as Oh Joon Young
Jin Ho Eun as Jang Min Jae
Ahn Ji Ho as Kim Cheol Soo
Shin Jae Hwi as Chang Hoon
Kim Jin Young as Kim Ji Min
Ham Sung Min as Han Kyung Soo
Son Sang Yeon as Jung Woo Jin
Yang Han Yol as Yoo Joon Sung
Lee Chae Eun as Hee Soo
Cho Ji An as Myung Hwan
Jung Yi Seo as Kim Hyun Joo
Kim Ju A as Yoon Yi Sak
Lee Sang Hee as Park Sun Hwa
Kim Byung Chul as Lee Byung Chan
Jo Dal Hwan as Jo Dal Ho
Oh Hee Joon as Kang Jin Kyu
Lee Kyu Hyung as Song Jae Ik
Lim Jae Hyeok as Yang Dae Soo
Woo Ji Hyun as Woo Shin
Hwang Bo Un as Yang Se Eun
Oh Hye Soo Bae Eun Ji
Ahn Shi Ha as Kim Kyung Mi
Yoon Gyung Ho as Jung Yong Nam
Lee Min Goo as Lee Jin Soo
Dong Hyun Bae as Jeon Ho Cheol
Uhm Hyo Sub as Lee Jae Yong
Park Jae Chul as Nam Yong Pil
Jeon Bae Soo as Nam So Ju
Lee Ji Hyun
Kim Jong Tae
Chae Dong Hyun
Yoon Byung Hee
Lee Si Hoon
Kim Jee Soo
Air Time & Schedule
All Episodes airing on Friday at 8:30 PM.
Episodes & Ratings
"All Of Us Are Dead" Korean drama will have a total of 12 episodes.
Still Cuts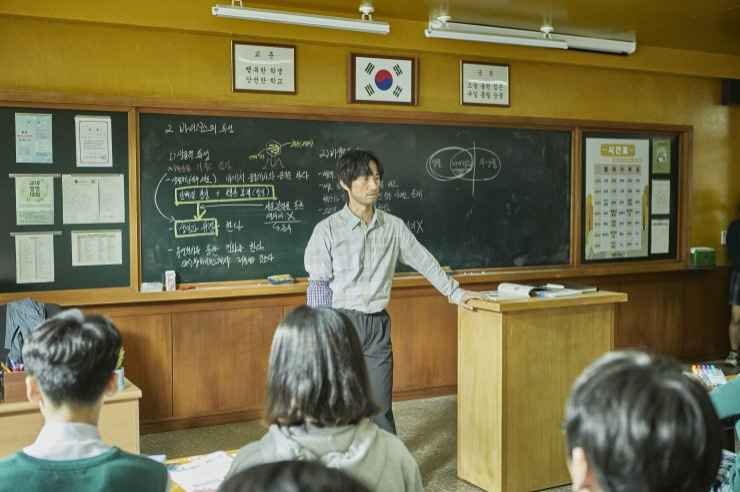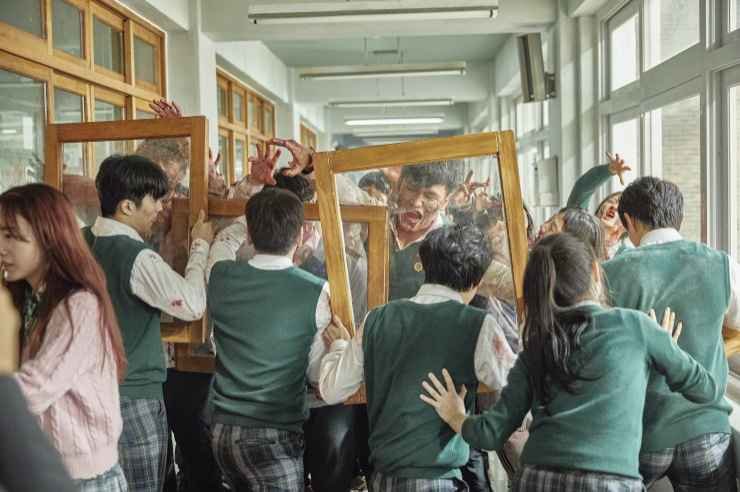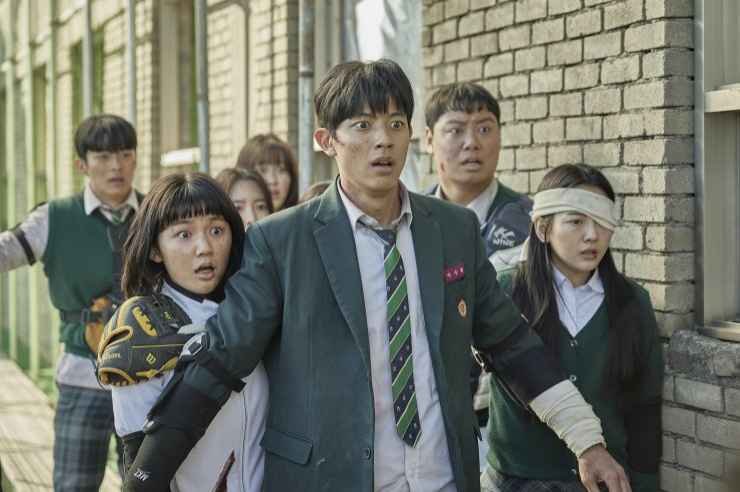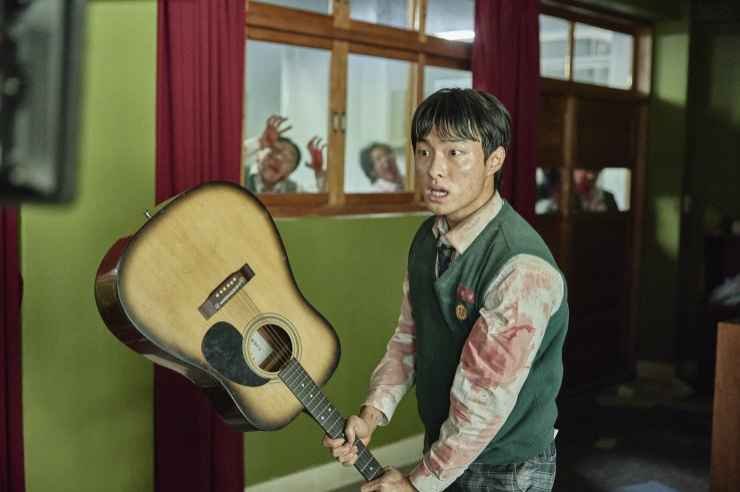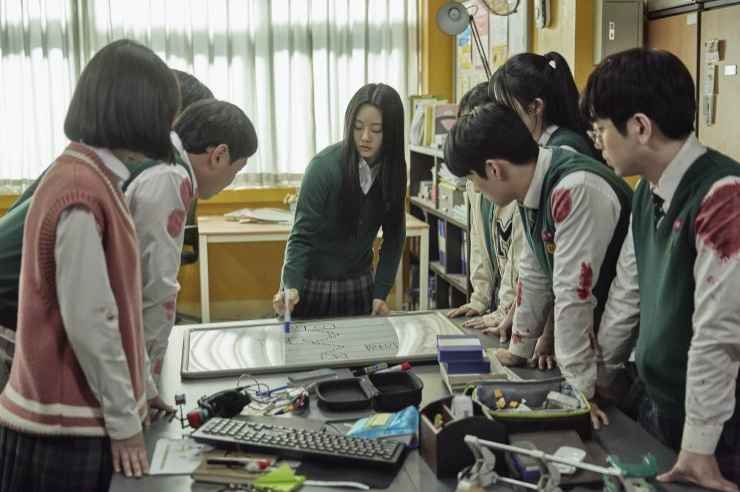 Notes & Facts
"All of us are Dead" is based on the Naver webtoon of the same name by Joo Dong-geun, which was published between 2009 and 2011.
Yoo Chan Young earlier appeared in Korean drama "Nobody Knows" (2020).
Park Ji Hoo earlier appeared in Korean drama "Beautiful World" (2019).
Choi Yi Hyun earlier starred in Korean drama "School 2021" (2021).
Park Solomon earlier starred in Korean drama "Sweet Revenge" (2017).
Yoo In Soo earlier starred in Korean drama "At a Distance, Spring Is Green" (2021)
The drama is based on the webtoon 'Now At Our School' by Joo Dong Geun.
On June 6, 2022, the series was renewed for a second season.
Director: Lee Jae Kyoo, Kim Nam Su
Scriptwriter: Chun Sung Il
Where To Watch Online?
You can watch "All of Us are Dead" online on Netflix here.
Trailers & Clips
---
*Drama is subject to regional availability.