Who said that K-pop idols cannot make a good drama?
Well, the following list that you are about to read have some of the best and most famous Dramas with K-pop idols starring in them. You will be shocked to see that there are so many fantastic dramas by K-pop idols.
All these dramas have received good reviews from its international audience. Some of them even made into the highest-rated Korean drama in cable television. While some are the Best drama award winners. And above all, they are so much Binge Worthy that you'll get addicted.
Here is the list of 15 famous Korean dramas starring K-pop Idols that are so Binge worthy in 2022 (with links):-
Note: The list is divided into 2 pages. So don't forget to click Page 2 at the end for complete list.
1. True Beauty (2020)
"True Beauty" is a romantic comedy drama based on a Webtoon. It stars Moon Ga Young, Astro's Cha Eun Woo, Hwang In Yeop and Park Yoo Na in the main cast.
It tells the story of a girl who becomes popular in her school as the most beautiful girl, all of which happens after she learns some make-up skills. But, the girl Lim Ju Gyeong (Moon Ga Young) doesn't want anybody to see her without make-up.
Lee (Cha Eun Woo) is also a boy in her school who is cold on the outside but caring on the inside. He happens to discover Lim Ju Gyeong without make-up. Still, both shares each other's secret and meanwhile falls in love.
"True Beauty" is such an outstanding drama own its own. It is a perfect blend of romance and comedy, set-up between the high school students. Yet, it teaches many big lessons regarding love and beauty. The series has a love triangle that will make you fall for both the leads. Above all, it is still popular among fans for its hilarious script.
You Can Watch* "True Beauty" online on :- Viki and Viu
---
2. Hotel Del Luna (2019)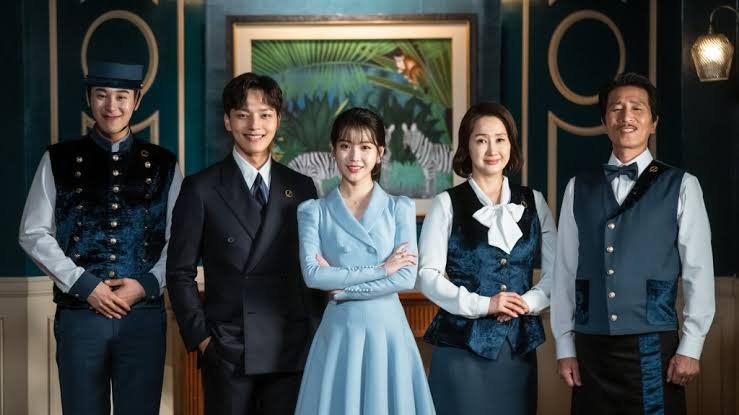 Written by the famous writers in Korea 'Hong Sisters', "Hotel Del Luna" stars the most lovable Korean idol Lee Ji Eun (IU) and Yeo Jin Goo in the main cast.
"Hotel Del Luna" tells a spooky romance story centered around a hotel called 'Del Luna'. It gives service especially to the souls of dead people who takes rest here and settle their unfinished business they had when they were alive. The hotel is run by few dead people whose souls have stayed at the hotel for a very long time. Jang Man Wol (IU) is the owner of the hotel. She is a moody, rude, yet good at heart, 1300 years old woman.
The hotel manager has to be a human, so they can help their dead guest in their affairs related to the real world. Somehow, it is Gu Chan Sung (Yeo Jin Goo) who becomes the new manager of the hotel.
"Hotel Del Luna" is a masterpiece. Its cast, script, storytelling, set, costumes, cinematography, CGI and more has resulted "Hotel Del Luna" into a classic drama series of its own. Every time something is happening at hotel Del Luna which sometimes makes you laugh and sometimes cry. It not only manages to grab your eyeballs with its breathtaking visuals but also moves your heart with its sentimental appeal. The series is also in works for an American remake.
You can watch* "Hotel Del Luna" online on :- Viki, Netflix, WeTV and Viu
---
3. 100 Days My Prince (2018)
"100 Days My Prince" stars Kpop band EXO's Do Kyung-soo and actress Nam Ji-hyun.
The series is a story about the crown prince Lee Yul (D.O.) in Joseon era who loses his memory after falling off a cliff and ends up living the life of a common man for 100 days. This happens due to attempted assassination on him. Then a woman called Hong Sim (Nam Ji Hyun) helps him to find his identity. They also fall in love. Hong Sim is the head of the first detective agency in Joseon.
"100 Days My Prince" is one of the best dramas of the year 2018. People have praised the series for the leads breathtaking chemistry and highly engaging storyline. Even its supporting cast will leave an impression on you. Moreover, it is the eleventh highest-rated Korean drama in cable television.
You can watch* "100 Days My Prince" online on :- Viki, Netflix, WeTV and Viu
---
4. Hwarang: The Poet Warrior Youth (2016)
Besides starring the world-famous boy band BTS's "V", "Hwarang: The Poet Warrior Youth" is a star-studded kdrama series. It stars Park Seo Joon, Go Ah Ra, ZE:A's Park Hyung Sik, SeobYea Ji, SHINee's Choi Min Ho and more in the cast.
"Hwarang: The Poet Warrior Youth" tells the story of Queen Jiso in the 6th century of the Silla Kingdom. The Queen fears for the ceding of power and safety of her son makes her to create an elite group of young men. This group of young men is known as "Hwarang".
All these young members of the Hwarang group are unaware of the fact that within their group is their future King. While working together for the Silla Kingdom, these young men discover their passion, friendship and love.
"Hwarang: The Poet Warrior Youth" is loved by many fans around the world and this drama definitely holds a place in the heart of Kdrama fans. Although it lacks in its plot line, but the series is loved for the wonderful emotions of love and laugh it brings. This series has the best bromance without any doubt.
You can watch* "Hwarang: The Poet Warrior Youth" online on :- Viki, Netflix, Amazon Prime and Viu
---
5. Full House (2004)
An old classic drama "Full House" stars Song Hye Kyo, singer, songwriter, dancer, actor, and record producer "Rain", Han Eun Jung and Kim Sung Soo in the main cast.
"Full House" tells the love story of a top celebrity in Korea and a female rookie screenwriter who is struggling to write her first script without mistakes. Han Ji Eun (Song Hye Kyo) who lives in a big house alone is tricked by her friends after they sell her house on her back. Her house is now owned by the Korea's top celebrity, Lee Young Jae (Rain). Unknowingly, Ji Eun enters her house after a vacation, she sees him. After much fight between the two, both start to live together on terms and end up falling for each other.
Considered as the pioneer of the rom-com genre, Korean drama "Full House" got a huge success all over Asia and even gave wings to the Korean Wave. It has a very interesting "Love Square" with perfect amount of romance and comedy. The main leads chemistry is hilarious, and they will make you laugh a lot. This series even has 8 remakes in countries including Philippines, Thailand, Vietnam, Cambodia, Turkey, China, Pakistan, and Malaysia.
You can watch* "Full House" online on :- Viki, Netflix, Amazon Prime and YouTube
---
6. My ID is Gangnam Beauty (2018)
Adapted from the webtoon of the same name "My ID is Gangnam Beauty" stars Im Soo Hyang, Astro's Cha Eun Woo and Kwak Dong Yeon in the main cast.
"My ID is Gangnam Beauty" story goes like this, Kang Mi Rae (Im Soo Hyang) decides to get plastic surgery after being bullied because of her looks. However, at university, she is now being teased as the "Gangnam plastic surgery monster." The drama follows her story of recovering self-esteem as she gets to know Do Kyung-seok. Do Kyung Seok (Cha Eun Woo) is an honest personality who likes people more for what they are inside than outside.
A drama known for its realistic approach towards the perspective of beauty, "My ID is Gangnam Beauty" has won the hearts of many. This is Kpop idol Cha Eun Woo's first Korean drama as main lead. The series will be so much relatable for many and you will definitely enjoy watching this one.
You can watch* "MY ID is Gangnam Beauty" online on :- Viki, Netflix, WeTV and Viu
---
7. While You Were Sleeping (2017)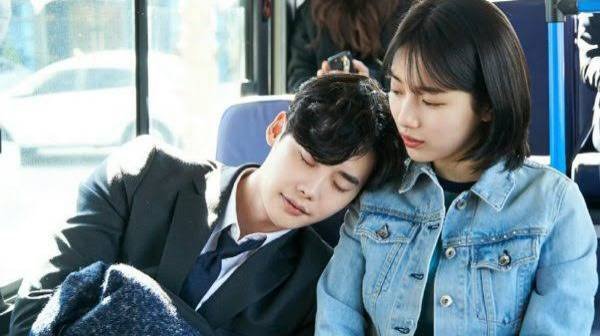 "While You were Sleeping" stars the lovable singer-actress Bae Suzy from ex-Kpop Girl Group Miss A, alongside three handsome actors Lee Jong Suk, Jung Hae In and Lee Sang Yeob.
It tells the story of three individuals who can see the future in their dreams. The three individuals include field reporter Nam Hong Joo (Bae Suzy), rookie prosecutor Jung Jae Chan (Lee Jong Suk), and police officer Han Woo-tak (Jung Hae In). All three usually get dreams related to the crime cases to be solved by Jung Jae Chan and some related to their lives. All three works together to solve these complicated cases and also take down the corrupt lawyer Lee Yoo Beom (Lee Sang Yeob).
You may like:- 10 Korean Dramas with adoring Lawyer Romance
If you ask any Kdrama fan who has watched "While You were Sleeping" you'll hear only one word from them-"Perfect". Yes! "While You Were Sleeping" is a perfect drama with romance, comedy, thriller, and mystery. Each new case they solve is intriguing and entertaining to watch. And the love triangle here is so cutely shown that your heart will beat for both the male leads. The series has even won the 'Top Excellence Award for Korean Drama' at the 13th Seoul International Drama Awards.
You can watch* "While you were Sleeping" online on :- Viki, Netflix, WeTV, Hulu, Disney+, Amazon Prime, Viu and Kocowa
---
8. Dream High (2011)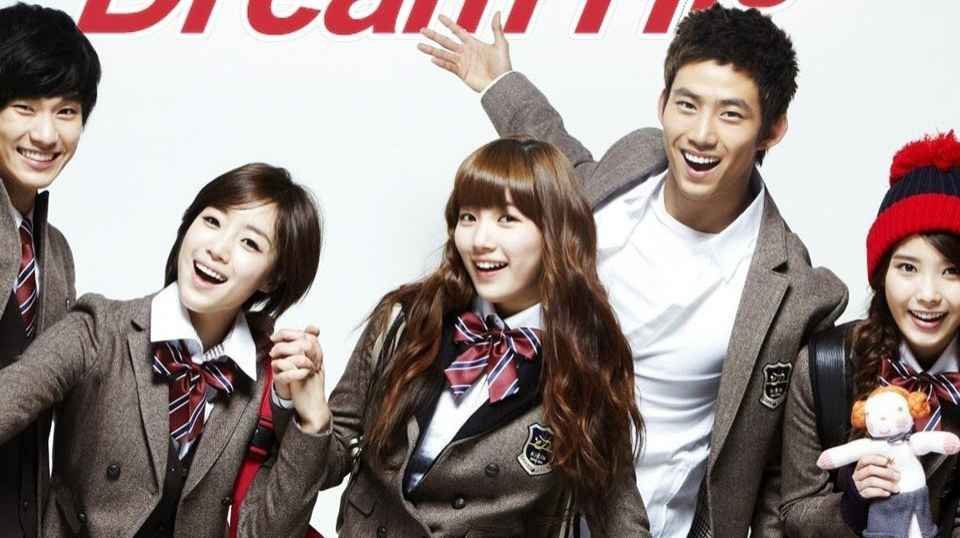 Talking about famous dramas by K-pop idols and not including "Dream High" would be a sin. All the main cast in this series include K-pop idols like IU, Miss A's Bae Suzy, 2PM's Ok Taec-yeon and Jang Woo Young. It also stars actor Kim Soo Hyun and actress Hahm Eun Jung.
"Dream High" tells the story of 6 high school students, each having their personalities and struggles. They dream to become K-pop idols and take the admission in Kirin High School, a school that helps students to become Kpop idols. But all of them are put under poor sections and teachers. However, they learn very well throughout their semester and elevate their skills. They overcome their weaknesses despite their circumstances.
You may like:- 10 Korean Dramas You Should Watch That Are About Friendship
"Dream High" got very popular among teenagers during its airing time and up to this date it is popular among fans of all ages. It has a love triangle and many cute love-line of two-three leads. This drama is also sure to inspire you to achieve your dreams. And as it is a musical drama, it has a lot of good osts sung by our favorite idols.
You can watch* "Dream High" online on :- Viki, Netflix and ondemandkorea.com*
---
9. Tempted (2018)
The show is based on the classic 18th-century French novel Les Liaisons Dangereuses by Pierre Choderlos de Laclos. "Tempted" also known as "The Great Seducer" stars actor Woo Do Hwan, famous K-pop girl group member "Joy" (Park Soo Young), rapper and actor Kim Min Jae (Real.be) and the actress Moon Ga Young.
"Great Seducer" focuses on the love story of rich young people in their twenties. Kwon Shi Hyun (Woo Do Hwan) makes a bet with his friends to seduce Eun Tae Hee (Joy). Eun Tae Hee is a simple and respected girl who does not believe in love anymore. However, her thoughts changes after she meets Kwon Shi Hyun and Kwon Shi Hyun starts falling for her.
Although the series didn't do well in South Korea, "Tempted" received good views and reviews internationally. Red Velvet's 'Joy' was also praised for improvement in the acting skills by many. Most of the fans liked it for being realistic and amazing chemistry between the first and second leads.
You can watch* "Tempted" online on :- Viki and Netflix
---
10. Miss Hammurabi (2018)
Based on the novel and paperback of the chief judge of Seoul Eastern District Court, "Miss Hammurabi" stars Go Ara, K-pop group Infinite's 'L' (Kim Myung Soo) and Sung Dong Il.
"Miss Hammurabi" focus on the life of those who works in a courtroom. Its story revolves around the life of two judges, one of them is young and passionate Park Cha Oh Reum (Go Ara) while the other is a realist Lim Ba Reun (Kim Myung Soo). Park Cha Oh Reum hates prejudice and always want to protect the weak ones from the powerful, corrupt people. While Lim Ba Reun is a hard-working Judge who is strict to the law and his principles. Somehow, these two people with different perspectives have to work together.
Almost everyone who has watched "Miss Hammurabi", liked it very much. Especially for its fresh perspective on judges. The drama sheds light on the actual problems that people face in their normal life. The new thing about this drama is that this drama will show you the cruelty of society and justice system through the eyes of a Judge. Moreover, it is enjoyable to watch as well.
You can watch* "Miss Hammurabi" online on :- Viki, WeTV, Viu and Amazon prime
---
Note: The list is divided into 2 pages. So don't forget to click Page 2 here for complete list