Wondering which Korean drama you should watch next?
Well! You have come to the right place. Here is another Kdrama recommendation list for your watching pleasure.
1. The Three Female Runaways
A short KBS drama special "The Three Female Runaways" stars Seo Ye Ji, Jang Hee Jin and Park Has Mi in the main cast. It released on 21 September 2014.
"The Three Female Runaways" tells the story of three females from different age groups who decides to runaway for a while to escape their difficult lives. Su Ji is a high school girl belongs to a rich family. One day she decides to skip the school and go somewhere. Kim Yeo Jin works at a hostess bar. Her cruel boss asks her to do overtime, but Yeo Jin don't want to do it. So she escapes from the bathroom. Hyung Ja is a housewife. She is often mistreated by her husband and son. One day she decides to run away.
Here is the drama cast and characters:-
Seo Ye Ji as Su Ji
Jang Hee Jin as Kim Yeo Jin
Park Hae Mi as Hyung Ja
Jo Young Jin as Chairman Yoon
Choi Joon Yong as Yoon Chul
Lee Woo Min as Jong Ho and more
---
2. Capital Scandal
Based on a novel "Capital Scandal" released on June 6, 2007. It stars Kang Ji Hwan, Han Ji Min, Ryu Jin and Han Go Eun in the main cast.
"Capital Scandal" tells a story of old Korea in 1930 when it was under Japanese rule. It is during one of the most difficult times of Korea when anti-Japanese movement were being held. The young's ideas of free love were clashed with pre-modern moral values. It starts with a play boy who graduated from Japan. According to him, he could seduce any woman in Seoul in just 10 minutes. One day he is challenged to impress a freedom fighter. But he ends up falling in love with her for real.
Here is the drama cast and characters:-
Kang Ji Hwan as Seon Woo Wan
Han Ji Min as Na Yeo Kyeung
Ryu Jin as Lee Soo Hyeon
Han Go Eun as Cha Song Joo
Kang Nam Gil as Kim Tak Gu
Lee Kyung Jin as Choi Hak Hee and more
---
3. Oh My Geum Bi
Based on the award-winning screenplay drama "Oh My Geum Bi" also called "My Fair Lady" stars Heo Jung Eun, Oh Ji Ho, Park Jin Hee and Oh Yoon Ah in the main cast.
"Oh My Geum Bi" tells a warm story of a little girl Geum Bi whose father is a con man. She suffers from dementia at such a young age of only 8 years. Slowly her memory is fainting even more. Her father Hwi Chul realises the importance of life through her daughter. Then a woman named Go Gang Hee comes into their life.
Here is the drama cast and characters:-
Heo Jung Eun as Yoo Geum Bi
Oh Ji Ho as Mo Hwi Chul
Park Jin Hee as Go Gang Hee
Oh Yoon Ah as Yoo Joo Young
Park Min Su as Hwang Jae Ha
Kang Ji Woo as Hong Sil Ra
Lim Hye Young as Kang Min A and more
---
4. Padam Padam
One of the JTBC's inaugurated drama "Padam Padam" released on December 5, 2011. It stars Jung Woo Sung, Han Ji Min and Kim Bum in the main cast.
"Padam Padam" is a fantasy romance Kdrama that tells the story of love and miracle between Kang Chil and Ji Na. After a major accident Kang Chil is told by his guardian angel that he will have three more heavy accidents and only survive if he learns a lesson. Currently, he is in jail for 16 years for a crime he didn't commit. After coming out of prison he falls in love with Ji Na. But something leads the two to separate and now Kang Chil must find the real murderer.
Here is the drama cast and characters:-
Jung Woo Sung as Yang Kang Cheol
Han Ji Min as Jung Ji Na
Kim Bum as Gook Soo
Choi Tae Joon as Im Jung
Kim Min Kyung as Min Hyo Sook and more
---
5. My Love Patzzi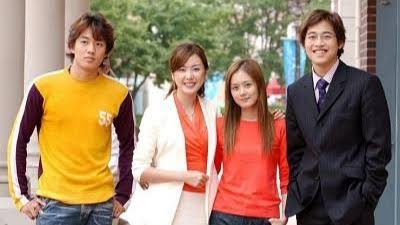 Based on a Korean drama "My Love Patzzi" Folktale released on 26 August 2002. It stars Jang Na Ra, Kim Rae Won, Kim Jaewon and Hong Eun Hee in the main cast.
"My Love Patzzi" tells a story of love and betrayal in friendship. Everybody sees Song Yee as an evil and rude girl, but deep inside she is kind and of good heart. Her friend Hee Won is quite opposite. She looks like a nice person on the outside, but is actually a nasty one inside. One day Song Yee meets her childhood crush Hyun Sung as an amusement park owner. She is working there now. But her friend comes in between and try to trick Hyun Sung's mind against Song Yee.
Here is the drama cast and characters:-
Jang Na Ra as Yang Song Ee
Kim Jae Won as Kang Seung Joon
Kim Rae Won as Kim Hyun Sung
Hong Eun Hee as Eun Hee Won
Kim Kyung Sik as Yang Sam Yeol
Park Kwang Jung as Nam Ju Im
Kang Rae Yeon as Hwangbo Yu Tu and more
---
6. Shinning Inheritance
One of the top Korean dramas of its time "Shinning Inheritance" also called "Brilliant Legacy" released on 25 April 2009. It stars Han Hyo Joo, Lee Seung Gi, Bae Soo Bin and Moon Chae Won in the main cast.
"Shinning Inheritance" tells the story of Woo Han Seon and Eun Seong Ho. Woo Han Seon is an arrogant man belonging to a rich family. Eun Seong Ho's mother died when she was young. Her father marries another woman. Seong Ho is not comfortable with her stepmother. As she grows up her father dies. Things take turn after Han Seon's grandmother gives her wealth to Seong Ho.
Here is the drama cast and characters:-
Han Hyo Joo as Ko Eun Seong Ho
Lee Seung Gi as Seon Woo Hwan
Bae Soo Bin as Park Jun Se
Moon Chae Won as Yu Seung Mi
Kim Mi Sook as Paek Seong Hee
Ban Hyo Jung as Jang Suk Ja
Choi Jung Woo as Park Tae Su and more
---
So which Korean drama have you decided to watch next?
Do Comment!