"The Secret Life Of My Secretary" drama told an office romance story between a cold boss and his obedient but hot-tempered secretary. Do Min Ik is the cold boss who is the chief of a team at T&T Mobile Media. After an accident he suffers from face blindness disorder. Jung Gal Hee is the secretary of Do Min Ik. Surprisingly, she is the only person Do Min Ik is able to recognize, despite his illness.
Jung Gal Hee played by Jin Ki Joo is a hardworking secretary working on contract basis at T&T mobile under director Do Min Ik. Until now she has been very patient with her tough job. But seeing her boss ignoring her efforts she becomes hot tempered and begins to say what she needs to say.
Do Min Ik played by Kim Young Kwang is the chief director at T&T mobile. He is smart but is often less considerate to his secretary Jung Gal Hee, who almost works hard 24 / 7 for him. He only changed his attitude towards her after realizing that she is the only person he can recognize despite his face blindness.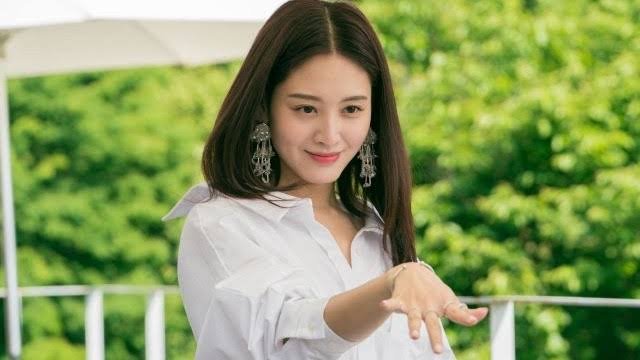 Veronica Park played by Kim Jae Kyung is the CEO of film production company Cine Park. She is a talented woman with a unique personality who does things however she likes. Her mother wants her to marry Do Min Ik, but instead she falls for his best friend Gi Dae-joo.
Gi Dae Ju played by Koo Ja Sung is Do Min Yik's best friend. He is also a director at T&T mobile. He achieved everything with his own effort and hard work. Gi Dae Joo somehow happen to meet Veronica Park. But her weird personality often makes him reluctant to accept her.
"The Secret Life Of My Secretary" was a fun watch from starting till the end. It was full of laughter and heartfelt moments, with amazing characters helping to make the drama even more attractive. I was intrigued right from episode 1. After that I got even more intrigued as the story line keep getting interesting from there. The drama took me in right from the first few episodes. Because the story took so many entertaining twists in the starting.
The romance mood of the drama was also built from the start. The chemistry between Jung Gal Hee and Do Min Ik was so good that it felt like they knew each other for a long time. There are many lovely and sweet moments between the main couple. And it is a kind of romance where the leads don't realize that they like each other. But still they keep finding excuses to see and care for each other. So although there is no confession in the starting but it still feels like they are more than just a boss and secretary. The drama will make you want to see them together with bated breath. Well, that was the case for me. To see them not confessing was a bit frustrating as well. But I was satisfied in the end.
In fact it is a very satisfying drama in many aspects. The story-line, main leads, supporting roles, twists, fun, mystery surrounding leads and characters, everything shares a fare amount of time in the drama. And there is nothing to regret. My most favourite part of the drama was the unique and entertaining characters it had. So let me give a fair amount of space to the characters in the review. As they are the reason the series became so lively.
First of all obedient but hot-tempered Jung Gal Hee. She has almost dedicated her life to her boss. She wears the same clothes everyday to cut the time and is available for her boss whenever he needs. Jung Gal Hee is funny, cute and quirky. Jin Ki Joo really carried out this role so well. Her expressions were so funny and cute at times that I became fond of her.
Next is cold but cute boss Don Min Yik. Although he was harsh to his hardworking secretary but there is no chance you'll hate him. He was all cutesy throughout the show that you would love to see him. Gradually in the show you'll learn all the reasons behind his nature. He slowly recognizes the hard-work and love of Jung Gal Hee towards him. And later he started falling and caring for her without even realizing.
Gi Dea Ju's character will be a bit confusing in the starting. At first it was hard for me to tell if he is a good or bad character. But I guess it is kept that way for the sake of the story. Although his character was plain than the other main leads but it was perfect as he was paired with the fun and crazy Veronica Park.
Now finally comes Veronica Park. She is the most fun character in the drama and my favourite of all. I had big laugh watching her scenes. Veronica Park's character has the capability to built an instant chemistry with anyone. Weather it is her mother, Gi Dea Joo or Jung Gal Hee. Besides being a crazy and insane in personality, she is also good at heart. This made her character even more lovable to me. Although she is CEO but she can get friendly with anyone. I absolutely loved her.
Little spoiler
I don't like writing spoilers but this one is an exception. Because the drama takes a twist right after one or two episodes.
Jung Gal Hee wants to feel it once how it would be like to be cared by her boss just like she cared for him. So when life gave her an opportunity she couldn't stop herself. She saw Do Min Yik pulling out the chair for Veronica Park and she decided to take advantage of his illness (face blindness). Jung Gal Hee started impersonating herself as Veronica Park. She thought she would do it just once. But one thing led to another. Jin Ki Joo did well in carrying out both the roles.
There comes a time when Do Min Ik is confused about his feelings between the fake Veronica Park and his secretary Jung Gal Hee. I think it was really cute because he didn't know that both were the same woman. Jung Gal Hee living the double and completely opposite two lives makes this drama an entertaining watch. And Do Min Yik unknowingly falling for the same woman was really sweet and romantic.
Spoiler ended
Some scenes in the drama were really heart fluttering like Do Min Yik and Jung Gal Hee's celebration party at the beach or Do Min Yik giving Jung Gal Hee a sweet hand wash and many mores that depicts the excellencies of the writer in case of rom-coms. It was so lovely to see the harsh boss slowly changing into a caring person for his hard working secretary.
The ending of the drama was actually one of the best I saw. You are prepared for the ending in the last few episodes. It didn't leave everything to be resolved in the final episode. This is really the plus point here. The romantic couple moments are also a plenty. They are not forsaken for the sake of ending. It was all satisfying.
So overall "The Secret Life Of My Secretary" is a perfect blend of romance and comedy with a satisfying story-line to enjoy. In fact it was satisfying in all levels including the twists, fun, characters and mystery surrounding them. Everything shares a fare amount of time in the drama. The chemistry between the leads is a given and all the Veronica Park trouble and Veronica Park herself will make it a memorable watch for you.
My Ratings: 8.5 / 10
---