"Uncontrollably Fond" is a Korean melodrama which told a romance story of two past lovers. Shin Joon Young and Noh Eul were in a relationship during their teenage years. But unfortunately due to each other circumstances and some ugy secrets surrounding the two, they parted their ways. Today Shin Joon Young is a top star and Noh Eul is a documentary producer. They cross their ways yet once again.
Shin Joon Young played by Kim Woo Bin is a top star in Korea. Shin Joon Young's mother is single and his father is unaware of him. His mother wanted him to become a prosecutor. He also wanted to become like his father who was a prosecutor and now a famous politician. But upon knowing some dirty truth about his father and himself, he decides to quit law school. Today, he finds out that he has very less time to live. And his past love, Noh Eul comes back in his life.
Noh Eul played by Bae Suzy is a documentary producer. When she was in high school her father died in a hit-and-run car accident. She wanted justice for her father but was silenced by some powerful people. Noh Eul took care of herself and her younger brother alone. She also has many debts to pay her father had. So whenever someone offers money, she immediately takes it whether its right or wrong.
Choi Ji Tae played by Im Joo Hwan is Noh Eul's friend. He cares for Noh Eul a lot and most of the time is her drink buddy. But he keeps his real identity hidden, so that he could take care of Noh Eul. He is actually the son of a prosecutor who covered Noh Eul's father hit-and-run case. Who is also the estranged father of Shin Joon Young.
Yoon Jung Eun played by Im Joo Eun is the fiancé of Choi Ji Tae. Her father successfully covered up Noh Eul's father hit-and-run case and sent her to America. Choi Ji Tae is her first and only love in life. But he rarely reciprocates her love. In fact, he dislikes the fact that even after ruining someone's life she lives with no regrets.
Before starting it, I had no idea that "Uncontrollably Fond" is a melodrama. From the clips I saw on social media, I thought it would be a rom-com. So the first few episodes of "Uncontrollably Fond" were quite a surprise for me. They made me feel like I am in the middle of the series. It felt boring to see everyday life of characters and everything was hard to grab well.
During the first episode when the main leads met, I thought their romance is about to begin. But they knew each other already and were only acting as strangers.
So in the last few minutes, when Shin Joon Young angrily asked No Eul "Don't you know me?", I took a sigh of relief. Here the series successfully created my interest. I got curious to know about their past, when and why they broke up and more. Now I was totally convinced to continue the drama.
But I was disappointed again. The next three episodes of the series showed the past of Shin Joon Young and Noh Eul. I thought the show will now take us back to the times when Noh Eul and Shin Joon Young met and probably fell in love. But they showed it in the mixed up style of past and present. At times, it felt too much of the mixing and pale. In my opinion their past love story is a bit less polished and I did not get whether Shin Joon Young and Noh Eul were ever in a relationship back then.
This part of the drama also showed the time when Noh Eul's father wrongly died. Also when Shin Joon Young came to know the ugly truth of his estranged father. I think there was a lot to grab in few episodes, and I was just about to give up watching it. Everything felt here and there. But I still carried on as my formula is to bear a boring drama till first 5 episodes.
And luckily it kept getting better and better after that. And what a gem I would have missed if I had left it in the middle. It got interesting after a few episodes. Now every character and series of events finally connected well with each other. Everything was making sense for me, and I was curious for the coming episodes. Now that you know the characters and story well, you will get immersed in the drama. You will realize how the storyline is now going to have a lot of twist and turns. And also how amazing each character in the drama is.
At first when you will see the greedy Noh Eul only caring about the money, you'll be surprised. But later you will see what turned her into this and sympathies deeply with her. You will also see that besides her circumstances, she is such a strong woman. She is holding on more than her age.
She cares for her brother a lot and is ready to sacrifice anything for him. At first Noh Eul's character is actually very weak but gradually it turns into an inspiring one. Bae Suzy was absolutely perfect for the role. It was a bit uncomfortable to watch her in the starting as it was hard to see such a beautiful woman in so much pain. But later her charisma just sparked brightly.
Actor Kim Woo Bin and his character Shin Joon Young are the two main reasons you should not miss out on this show. The story and script are gorgeously assembled to connect your heart with Shin Joon Young. Besides a top celebrity he gets an illness that cut his life short. Moreover, all the surrounding characters didn't know about his illness. So it is him and viewers. And it will feet like you are the only caring one with him when everybody around him is so mean. That even includes his mother and his only lover Noh Eul.
Shin Joon Young mother was really irritating to watch. She was determined to make him a prosecutor, but he became a celebrity. And ever since his mother never talked to him no matter what. I think she went too harsh on him and couldn't imagine a mother to be like this. Moreover, it was hard to see that as her son has very less time to live. And she was totally unaware of that. But later on her heart melted and it was good to see that. Maybe the writer purposely made her character that way so that we can sympathize with Shin Joon Young even more.
And there is absolutely no denying to the fact that this drama is really sad and emotional to watch. Not only this 'Uncontrollably Fond' is a kind of melodrama that will slowly build up emotions in you as well. You will find yourself crying with the main leads and looking for tissues.
Little Spoiler
It was really sad to watch the poor Noh Eul and ill Shin Joon Young's love not able to bloom due to each other circumstances. The two had very less chance to be together. Earlier Shin Joon Young wanted to spend his last days with Noh Eul but later he decided to help her get justice for her father. So he ignored Eul and it was really hard to see that. Both wanted to be with each other but their poor fate came in between. A poignant romance like this will break your heart.
End of Spoiler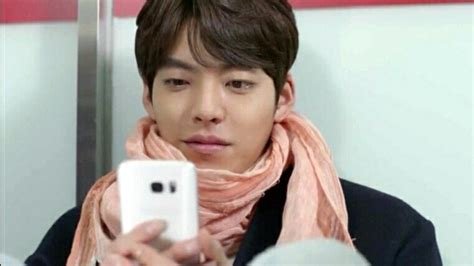 Kim Woo Bin was so gorgeous here and I don't think anyone else would have carried out Shin Joon Young's role the way he did. His acting was amazing here and you will fall in love with him. Kim Woo Bin did an amazing job from showing the charisma of a superstar to someone struggling with his life. I don't think this drama would have done better if it was not him. I absolutely loved him throughout the series.
The second leads and supporting characters all set up a great mood in the drama. They brought laughter in the tough scenes and made them somewhat lighter to watch. I also liked the roles of Choi Ji Tae and Yoon Jung Eun. They helped the drama with highs and lows in the story. Which maintained the excitement throughout.
Spoiler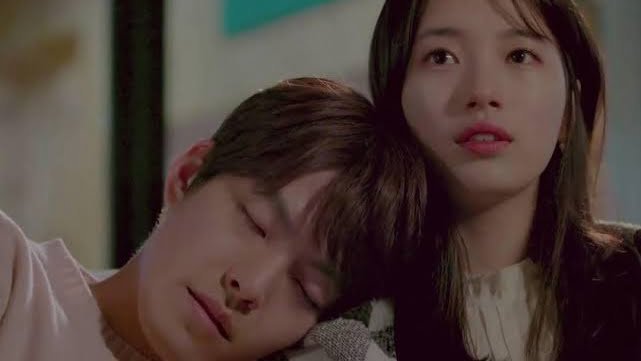 Ending of "Uncontrollably Fond" is sad, and we get to see some emotional goodbyes. But they will not come as a surprise because we are prepared for it right from the starting. It is quite clear in the beginning that we will have a harsh end. But it has still been kept beautiful. In fact, it was beautifully sad. I liked that in the end Noh Eul and Shin Joon Young were able to have a good time together.
I was happy to see that finally Shin Joon Young's mother changed her attitude towards him. And also that his father regretted his mistakes. You will also find the last few episodes of the series very interesting. It was really satisfying to see each character grow and become better with time.
End of Spoiler
The drama did justice to its title "Uncontrollably Fond". It will make you think a lot. Like how would you treat the one you love if you know you only have few days to live. You surely cannot control your emotions or judge your love as you don't have time for all this. You just want to give her all your love you can and be uncontrollably fond. This is absolutely what Shin Joon Young's love for Noh Eul felt like.
To sum up, "Uncontrollably Fond" is a beautiful melodrama that will take you on an emotional ride of a modern day poignant romance. The tissues are a must while watching it. The starting of the drama will be less intriguing for some, but trust me after that it is something you would not want to miss out. Kim Woo Bin and Bae Suzy are stunning here with their characters. The story line will keep you engaged and built up emotions in you. The romance will make you feel like you are in love and you'll be impressed with its satisfying ending. Overall, it is a must-watch.
My Ratings : 8.5 / 10
---