Overview: "Strong Girl Nam-Soon" Kdrama (also known as "Strong Woman Kang Nam Soon") is a jTBC original drama series that released on 2023. It will tell the story of girl with superhuman strength, comes to Korea to find her family, she soon gets involved with a drug case investigation. "Strong Girl Nam-Soon" stars Lee Yoo Mi, Kim Jung Eun, Kim Hae Sook and more in the main cast. It is available to watch online on streaming platform Netflix*.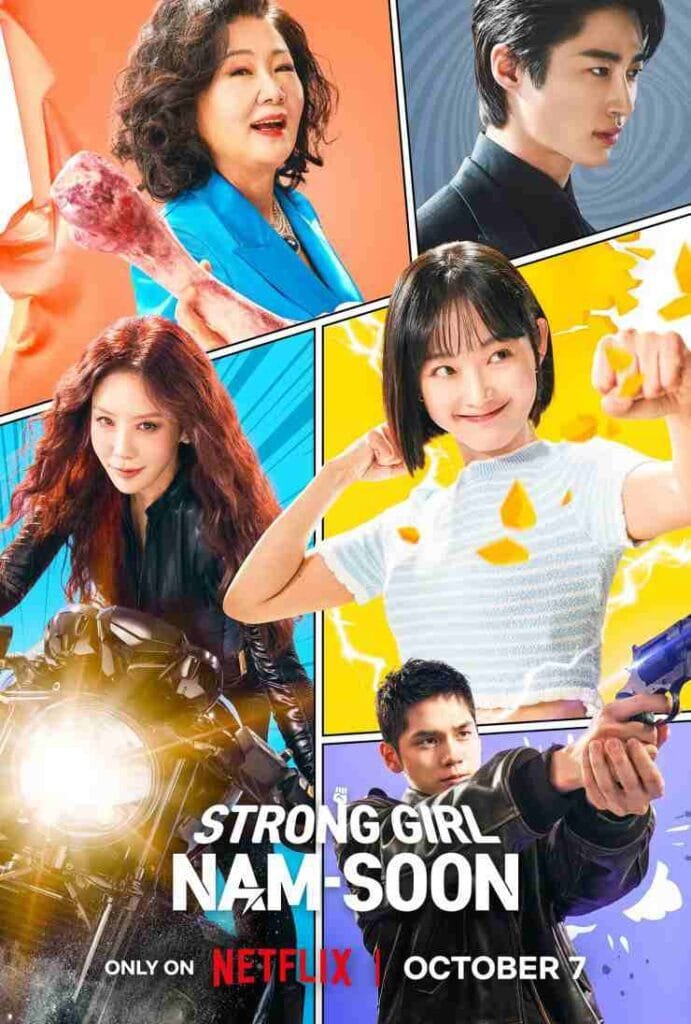 Table of Contents
Synopsis
"Strong Girl Nam-Soon" Korean drama tells the story of another strong woman, Kang Nam Soon (Lee Yoo Mi) who is actually the 6th cousin of Do Bong Soon. During her childhood, when she was in Mongolia, she went missing. Today, Kang Nam Soon travels to South Korea to find her parents.
She finally meets her mother, Hwang Geum Joo (Kim Jung Eun) in Gangnam who also has superpowers like hers. Hwang Geum Joo is a righteous and wealthy woman who is finding her lost daughter. Kang Nam Soon also meets her grandmother, Gil Joong Gan (Kim Hae Sook) who is a member of a secret investigation team that investigates drug cases in Gangnam.
Together, these three women with immense power and strong bond starts investigating a famous drug case in Korea with detective Kang Hee Shik (Ong Seong Woo). Later, he becomes love interest of Kang Nam Soon.
Genre
Supernatural, Action, Rom-com, Crime
Main Cast & Characters
Lee You Mi as Kang Nam Soon
Kim Hae Sook as Gil Joong Gan
Kim Jung Eun as Hwang Geum Joo
Ong Seong Wu as Kang Hee Shik
Byeon Woo Seok as Ryu Shi Oh (CEO of the distribution and sales company)
Supporting Cast
Lee Seung Joon as Kang Bong Go (Nam Soon's father and Geum Joo's ex-husband)
Park Young Tak as Oh Young Tak (Detective)
Han Sang Jo as Kang Nam In (Nam Soon's twin younger brother)
Joo Woo Jae as Ji Hyun Soo (homeless person)
Lee Hee Jin as Lee Hwa Ja (Nam Soo's lookalike)
Kim Ki Doo as Hwang Geum Dong (Nam Soon's maternal uncle)
Lee Joong Ok as Kim Nam Gil (Geum Joo's loyal secretary)
Jung Seung Kil as Ha Dong Seok (former special forces officer)
Park Gyeong Ree as Noh Son Saeng (homeless person who has a boyfriend)
Ryu Ha Seong as Jin Seon Gyu
Song Jin Woo as Kim Seok Ho
Oh Jeong Yeon as Jung Na Young (Geum Joo's trusted secretary)
Akira Kim as Brad Song / Song Soo Hyun (a handsome fraudster)
Jeong Bo Seok as Seo Jun Hee (Tarot cafe's barista)
Air Time & Schedule
New Episodes every Saturday & Sunday at 10:30 p.m. KST.
Episodes & Ratings
Korean drama "Strong Girl Nam-Soon" will have a total of 16 episodes.
Still Cuts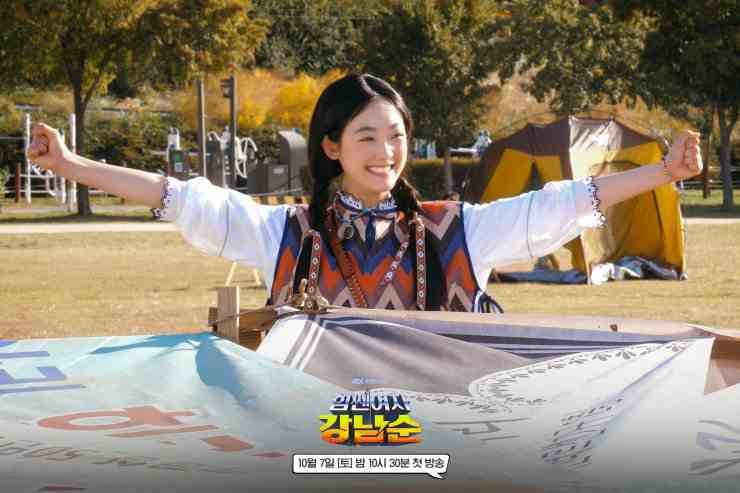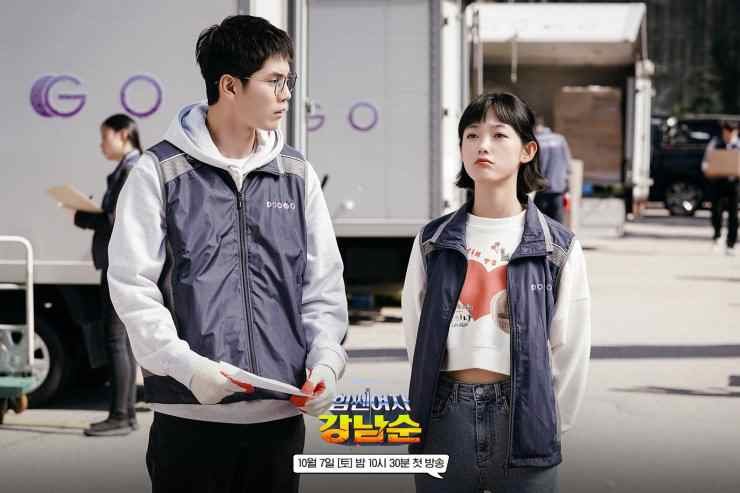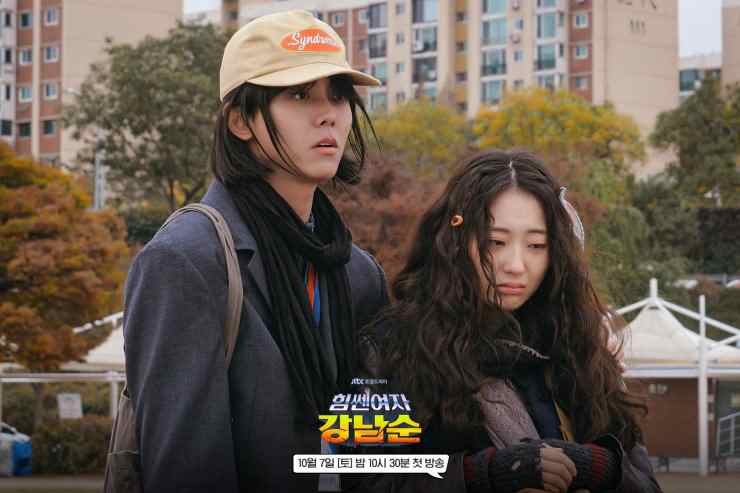 Notes & Facts
Lee Too Mi earlier starred in Korean drama "Mental Coach Jegal" (2022).
Kim Hae Sook earlier starred in Korean drama "Revenant" (2023).
Kim Jung Eun earlier starred in Korean drama "My Dangerous Wife" (2020).
Ong Seung Wu earlier starred in Korean drama "Would You Like a Cup of Coffee?" (2021).
Byeon Woo Seok earlier starred in Korean drama "Moonshine" (2021).
"Strong Girl Nam-Soon" is a spin-off of the original 2017 drama "Strong Girl Bong-Soon."
Here Nam-Soon is the cousin of Bong-Soon.
The main leads from "Strong Girl Bong-Soon" Park Bo Young and Park Hyung Sik will also make a cameo appearance in the drama.
Previous drama on this time-slot of jTBC: Behind Your Touch
Director: Kim Jung Sik
Writer: Baek Mi Kyeong
Where To Watch Online?
You can watch "Strong Girl Nam-Soon" online on Netflix here.
Trailers & Clips
Episodes 1, 2, 3,….., Highlights
*Drama is subject to regional availability.