Don't you feel like your whole world is falling apart if your favorite drama doesn't have a happy ending?
Of course yes, because happy endings give us hope and satisfaction that everything will be alright in the end. While sad ending just leave us heartbroken and empty.
So if you crave for happy endings, here I have prepared a list of seven amazing Kdramas to make you feel extremely wonderful, and you will not regret watching them.
Because somehow we imagine ourselves as the main protagonist of the drama. Therefore, this list contains all romantic, comedy, melodrama, fantasy and many more genres but with a satisfying ending that you won't regret imagining yourself as the main protagonist.
And if you are going through something bad, then this list is perfect to make you forget about your worries.
Here is the list of 7 Korean dramas where the main lead couples ends up being happily together.
1. Her Private Life
Starring Kim Jae Wook and Park Min Young in the main cast drama series "Her Private Life" released on 10 April 2019.
"Her Private Life" is a romance comedy drama about Sung Deok Mi who's is a museum curator. She is also a crazy fan girl of White Ocean's Cha Shi An and also runs a fansite despite being a career girl and no one knows about it. She meets Ryan Gold (Kim Jae-wook) her new art director at the museum after her previous boss gets investigated for embezzlement.
Some rumors spread around claiming Deok Mi and Shi An are dating that cause a threat to her life.
To save her from this Chaos Ryan suggests an idea for which they have to pretends like they are dating. But Later they realise that they are actually attracted to each other.
Here's the drama cast and characters:-
Park Min Young as Sung Duk Mi
Kim Jae Wook as Ryan Gold / Heo Yoon Jae
Ahn Bo Hyun as Nam Eun Gi
One as Cha Shi Ahn
Kim Bo Ra as Cindy / Kim Hyo Jin
Park Jin Joo as Lee Sun Joo
Kim Mi Kyung as Go Young Sook
---
2. Our Beloved Summer
Starring Choi Wook Shik and Kim Da Mi in the main cast drama series "Our Beloved Summer" released on 6 December 2021.
Korean drama "Our Beloved Summer" tells the story of a couple who broke up on bad terms during their high school. Ten years later, a documentary featuring them becomes very popular. It was filmed in their high school days. Now everybody is curious about the documentary couple. So now they both have to come together in front of camera.
Gook Yeon Soo always wanted to become a top student but now when she's an adult, she learns to face the reality.
Choi Woong is a free-spirited and immature personality. However, he becomes serious after he discovers his true goal in life. Today he is successful.
Kim Ji Woong is a documentary director. He looks positively towards life. However, once he starts filming the documentary for Choi Woong and Gook Yeon Soo, his thinking changes.
Here's the drama cast and characters:-
Choi Woo Shik as Choi Woong
Kim Da Mi as Kook Yeon Soo
Kim Sung Cheol as Kim Ji Woong
Roh Jeong Eui as "NJ"
Ahn Dong Goo as Koo Eun Ho
Park Jin Joo as Lee Sol Yi
---
3. Happiness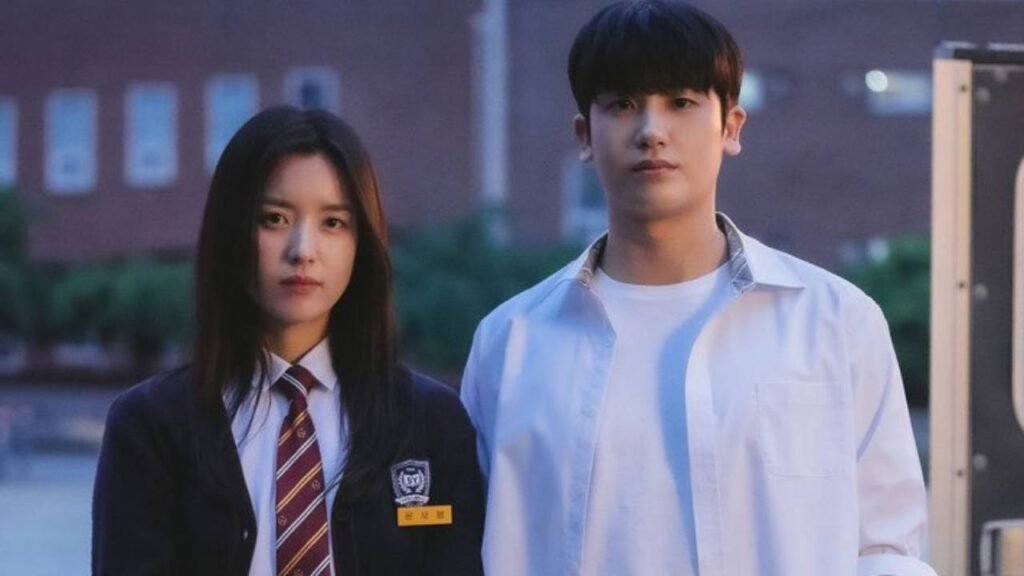 Starring Park Hyung Sik and Han Hyo Joo in the main cast drama series "Happiness" released on 5 November 2021.
Korean drama "Happiness" story is set in the future when an infectious catastrophe is about to happen. A newly built high-rise apartment houses people from different backgrounds. However, later an infectious outbreak happens that the high-rise apartment gets sealed. The worst in the people of the apartment comes out as they struggle to survive. Han Tae Suk is the commander of the Armed Forces Medical Command. He searches for the cause and cure of the infection.
Meanwhile, detective Jung Yi Hyun is an honest personality. He has been in love with his high schoolmate Yoon Sae Bom for a long time. Yoon Sae Bom is a tactical agent in the Seoul Police Special Operations Unit. She is quick-witted and is about to move in her new apartment. A crisis bring Yoon Sae Bom and Jung Yi Hyun together.
Here's the drama cast and characters:-
Han Hyo Joo as Yoon Sae Bom
Park Hyung Sik as Jung Yi Hyun
Jo Woo Jin as Han Tae Seok
Lee Joon Hyuk as Kim Jeong Gook
Park Joo Hee as Lee Ji Soo
Baek Hyun Jin as Oh Joo Hyeong
Moon Ye Won as Woo Sang Hee
Park Hyung Soo as Gook Hae Sung
---
4. One More Happy Ending
Starring Jang Na Ra, Jung Kyung Ho, Yoon In Na Kwon Yool, Seo In Young and Yoo Da In in the main cast drama series "One More Happy Ending" released on 20 January 2016 .
Former girl group member Han Mi-mo who now has a remarriage consulting business, is a divorcee and is actually expecting to marry her fiancée Jeonghoon. But he dumps her with another woman. All broken hearted Han Mi-mo now comes across two men in her life, one of them becomes her destiny in the end. See life will always give you opportunities, so never give up.

Besides, another former girl group member Go Dong-mi is an elementary school teacher and is still single in her 30's. She begins a relationship but the man do fraud with her. She then encounters a young man in her life whom she was reluctant to accept due to the age gap. But the man loved her too much to leave her.
Here's the drama cast and characters:-
Jang Na Ra as Han Mi Mo
Jung Kyung Ho as Song Soo Hyeok
Yoo Da In as Baek Da Jeong
Kwon Yool as Dr. Goo Hae Jun
Yoo In Na as Teacher Go Dong Mi
Seo In Young as Hong Ae Ran
Kim Tae Hoon as Kim Geon Hak
Go Gyu Pil as Na Hyun Ki
---
5. A Business Proposal
Starring Ahn Hyo Seop and Kim Se Jeong in the main cast drama series "A Business Proposal" released on 28 February 2022.
"A Business Proposal" story goes like this. One day, Jin Young Seo who is the daughter of a chaebol family is set up on a blind date by her parents. She doesn't want to go, so she asks her friend Shin Ha Ri to go instead. Shin Ha Ri is a single woman who likes someone for a long time. Jung Young Seo is so desperate to send her friend that she even offers her money for doing so. Ha Ri finally agrees.
There, Ha Ri gets shocked to see that she is on a blind date with the CEO of the company she works in. He is Kang Tae Mo, whose grandfather has set up this blind date for him. As he wants him to marry soon. But, Kang Tae Mo always rejects dating and out of frustration, he decides to marry the next girl he goes on a blind date with.
To her surprise, Ha Ri gets a call from Kang Tae Mo the next day, asking her to marry him.
Here's the drama cast and characters:-
Ahn Hyo Seop as Kang Tae Moo
Kim Se Jeong as Shin Ha Ri
Kim Min Gue as Cha Sung Hoon
Seol In Ah as Jin Young Seo
Lee Deok Hwa as Kang Da Goo
Choi Byung Chan as Shin Ha Min
---
You May Also Like: 11 Office Romance Korean Dramas That'll Make Your Heart Flutter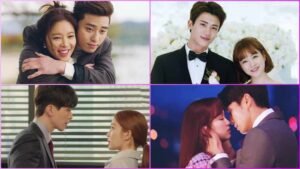 ---
6. It's Okay To Not Be Okay
Starring Kim Soo Hyun and Seo Yea Ji in the main cast drama series "It's Okay To Not Be Okay" released on 20 June 2020.
"It's Okay To Not Be Okay" tells a love story between a community health worker Moon Kang Tae and a children's story book writer Go Moon Young. Moon Kang Tae is a community health worker at a psychiatric ward who is smart, has great body and has a monthly salary of 1.8 million won ($1,520). He doesn't have time for love. While working in the hospital he meets Go Moon Young who has antisocial personality disorder and doesn't know what love is.
They discover that they have some past connection that leads them together. Meanwhile Moon Young develops some obsession for Kang Tae. Both have a dark past but they find their true selves by healing each other's emotional wounds while ending up falling in love.
Here's the drama cast and characters:-
Kim Soo Hyun as Moon Kang Tae
Seo Yea Ji as Ko Moon Young
Oh Jung Se as Moon Sang Tae
Park Gyu Young as Nam Joo Ri
Jang Young Nam as Park Haeng Ja
Kim Chang Wan as Oh Ji Wang
Kim Mi Kyung as Kang Soon Deok
Park Jin Joo as Yoo Seung Jae
---
7. Doom At Your Service
Starring Seo In Guk and Park Bo Young in the main cast drama series "Doom At Your Service" released on 10 May 2021 .
"Doom at your Service" tells the story of a web novel editor, Tak Dong Kyung and the doom, Myeol Mang . Dong Kyung wishes for everything to disappear after she finds out that she has brain cancer. She wants everything to disappear, just like her miserable life. Unintentionally, she calls Myeol Mang (Seo In Guk), a messenger between God and human who brings nothing but destruction, even if he breathes everything around him destroys.

On the other hand Myul Mang is tired of his fate which he didn't choose but he accepted the mission to fulfill her wish before she dies. And if she didn't make a wish, she'll lose her loved one. So, she makes a deal with Myeol Mang for letting her live for 100 days.
Here's the drama cast and characters:-
Park Bo Young as Tak Dong Kyung
Seo In Guk as Kim Sa Ram / "Myeol Mang"
Lee Soo Hyuk as Cha Joo Ik
Kang Tae Oh as Lee Hyun Gyu
Shin Do Hyun as Na Ji Na / "Lee Hyun"
Dawon as Tak Seon Kyung
Woo Hee Jin as Kang Soo Ja
---
So this was the list. Hope you like it. Although there are many Korean dramas with Happy endings, but you must check these first.