Get ready for a star-studded superhero action drama which is adapted from the webtoon "Moving" by Kang Pool.
The name of the Korean drama is also "Moving" and its story will center around three teenagers each having extraordinary super powers which they got from their parents.
Lee Mi Hyeon (Han Hyo Joo) and Kim Doo Shik (Jo In Sung) are husband and wife with special abilities. Mi Hyeon has the strongest five senses than any human. Doo Shik is a veteran agent with flying skills. They also have a son named Kim Bong Seok (Lee Jung Ha). He also has the ability to defeat gravity as a result he can fly.
Jang Joo Won (Ryu Seung Ryong) has the ability to recover from pain or injury within seconds. His daughter Jang Hee Soo (Go Young Jung) has the same strength and powers as his father.
Lee Jae Man (Kim Sung Kyun) is an agent with superhuman strength. His son Lee Kang Hoon (Kim Do Hoon) also has the same power and speed.
The drama will follow these superhero parents who need to protect their superhero children from bad guys who want to take advantage of them.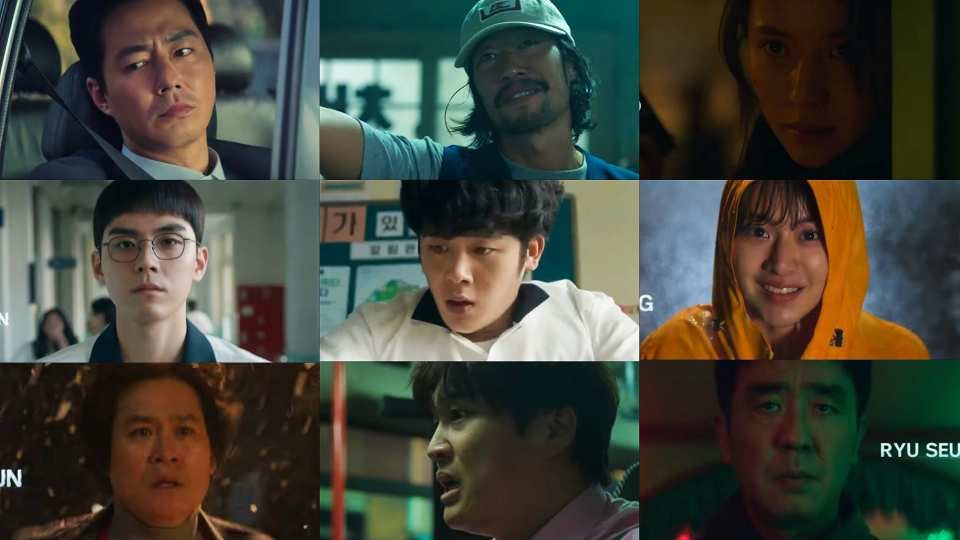 The teaser starts with Kim Bong Seok unable to control his powers, as a result he is sleeping on the ceiling. In the back we hear him talking to a girl about his powers and he call himself strange. But the girl reassures that we are not strangers, but people with special powers.
Then the teaser continues by showing the 9 main characters of the series. Apart from the characters and cast mentioned in the synopsis we are we are also introduced with Cha Tae Hyun and Ryu Seung Bum.
Cha Tae Hyun is also playing a character (Jeon Gye Do) with supernatural powers. His strength is to produce electricity on his will. While Ru Seung Bum will play an evil character (Frank) who chases the people with supernatural powers.
At the end of the trailer the screen displays the names of its cast including 7 more who are in the supporting roles. They are Kwak Sun Young, Park Hee Soon, Kim Shin Rok, Moon Sung Geun, Kim Hee Won, Yang Dong Geun and Park Byung Eun.
Korean drama "Moving" will release on August 9 exclusively on Disney+. It will have a total of 20 episodes with first 7 episodes releasing on August 9. After which two new episodes will be released each week.
Here is the teaser trailer:
---

Fan Fact: The production cost of "Moving" drama is estimated to be ₩50 billion.
---