A new thriller suspense drama is around the corner!
"Crime Puzzle" is an upcoming Korean drama based on a popular webtoon of the same name. Actor Yoon Kye Sang (Chocolate) and actress Go Ah Seung (Life on Mars) are starring as the main leads in the drama. Recently, Olleh Tv has given the first look of the new thriller series by releasing the drama's first poster.
In the poster, we see Yoon Kye Sang as a criminal. He is being interrogated by a female detective. The atmosphere looks quite suspenseful and thrilling. We also see a book lying on the table between them.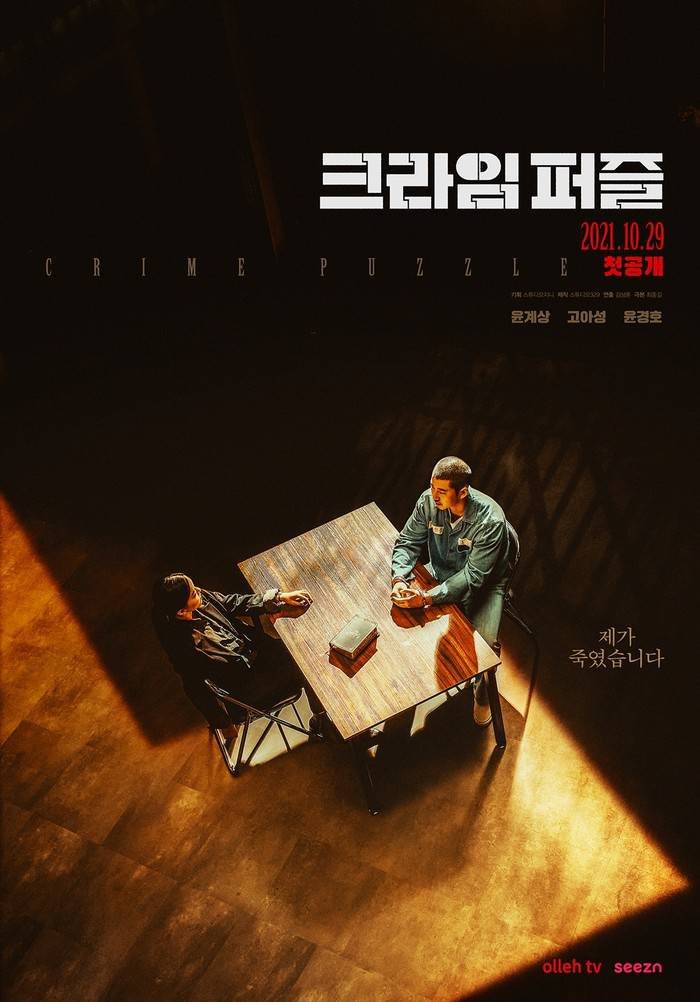 Crime puzzle will tell the story of a criminal psychologist Han Seung Min who suddenly becomes a murderer and detective Yu-hee (Go Ah Seong) who is also his lover, needs to solve his case.
Actor Yoon Kye Sang will be starring as a genius crime psychologist, Han Seung Min. He is also a professor at a police academy. Han Seung Min became famous after he wrote a thesis in the criminal psychology in his 20s. Things get suspicious as one day he confesses that he killed Yoo Hong-min. Yoo Hong Min is an influential politician and also the father of Han Seung Min's girlfriend, Yu Hee.
Actress Go Ah Seung takes the role of Han Seung Min's girlfriend, Yu Hee. She is an elite detective who is also in charge of her father's murder case. She struggles to find the truth behind his death, as she couldn't believe her boyfriend could do this. Moreover, Han Seung Min starts playing mental games with Yu Hee to mystify the crime investigation.
The series is being adapted from the webtoon "Crime Puzzle" (크라임 퍼즐) by Meen.
According to the webtoon, the story goes like this. A criminal psychologist is linked to a murder of a government official. A criminal profiler will conduct 10 interviews with the criminal psychologist to find the truth behind the serial murders. "Put together the pieces of the crime and one massive scene will reveal itself".
It comes from Studio 329, which also produced the YouTube original web drama "Top Management" and Netflix original "Extracurricular."
"Crime Puzzle" will release on 29 October 2021 on Olleh TV and OTT Seezn.
---