Overview: "Young Lady and Gentleman" kdrama is a KBS2 original drama series that released on 2021. It will tell the romance story of a widower with three children and their new tutor. "Young Lady and Gentleman" stars Ji Hyun Woo, Lee Se Hee, Park Ha Na and more in the main cast. It is available to watch online on streaming platform Viki*.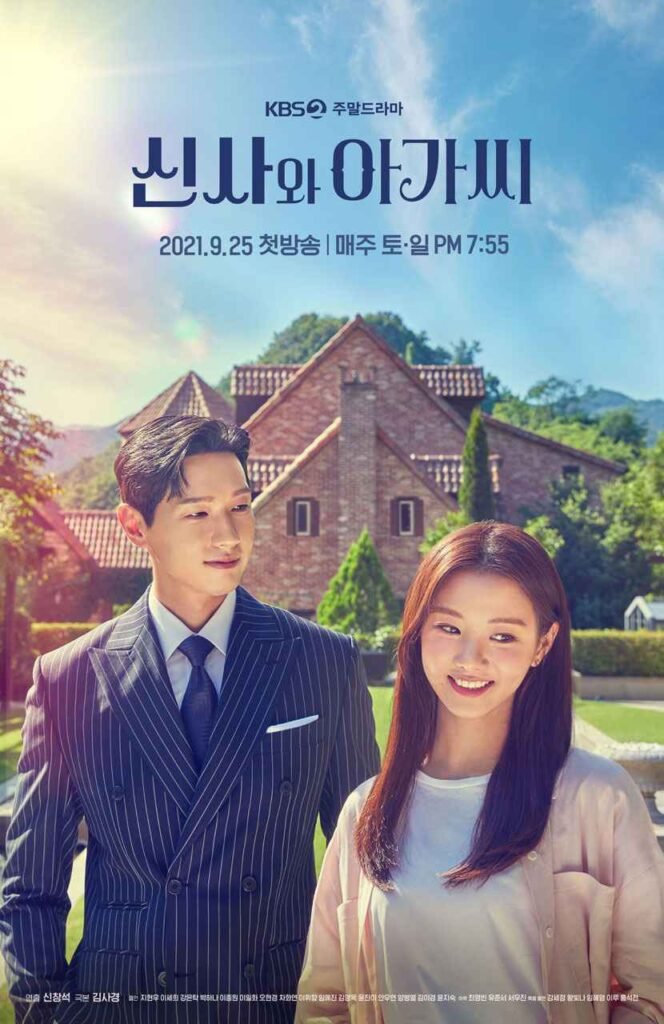 Table of Contents
Synopsis
"Young Lady and Gentleman" drama tells the story of a widower Lee Yong Gook (Ji Hyun Woo). He has three children. Lee Yong Gook is going through a hard time as he still cannot stop thinking about his wife. Until one day, he hires a live-in tutor, Park Dan Dan (Lee Se Hee) for his children and gets attracted to her. Park Dan-dan is a kind of person who always stays positive even in the worst situations.
Genre
Melodrama, Romance
Main Cast & Characters
Hyun Woo as Lee Young Kook
Lee Se Hee as Park Dan Dan
Kang Eun Tak as Cha Kun (Dan Dan's uncle)
Park Ha Na as Jo Sa Ra
Ahn Woo Yeon as Park Dae Bum (Dan Dan's older brother)
Yoon Jin Yi as Lee Se Ryun (Young Gook's younger sister)
Supporting Cast
People around Young Kook
Cha Hwa Yeon as Hwang Dae Ran (Se Ryun's biological mother)
Choi Myung Bin as Lee Jae Ni (Young Kook's daughter)
Yoo Joon Seo as Lee Se Chan (Young Kool's elder son)
Seo Woo Jin as Lee Se Jong (Young Kook's younger son)
People around Dan Dan
Kim Young Ok as Shin Dal Rae (Yun Shil & Kun's mother, Dan Dan's grandmother)
Lee Jong Won as Park Soo Chul (Dan Dan's father)
Oh Hyun Kyung as Cha Yun Shil (Dan Dan's mother)
Kim Yi Kyung as Kang Mi Rim (Dal Rae's granddaughter)
People around Sa Ra
Lee Hwi Hyang as Lee Ki Ja (Sa Ra's mother)
People around Jang Kook Hee
Im Ye Jin as Jang Mi Sook (Kook Hee's older sister)
Kang Yoon Je as Bong Joon Ho (Mi Sook's son)
Others
Cameo
Wang Bit Na as Jang Kook Hee
Air Time & Schedule
New Episodes every Saturday & Sunday at 7:55 KST.
Episodes & Ratings
"Young Lady and Gentleman" Korean drama is expected to have a total of 50 episodes.
Ep.
Original broadcast date
Average audience share
(AGB Nielsen)
Nationwide
1
September 25, 2021
soon!
2
September 26, 2021
3
October 2, 2021
4
October 3, 2021
5
October 9, 2021
6
October 10, 2021
7
October 16, 2021
8
October 17, 2021
9
October 23, 2021
10
October 24, 2021
11
October 30, 2021
12
October 31, 2021
13
November 6, 2021
14
November 7, 2021
15
November 13, 2021
16
November 14, 2021
17
soon!
18
19
20
21
22
23
24
25
26
27
28
29
30
31
32
33
34
35
36
37
38
39
40
41
42
43
44
45
46
47
48
49
50
source: Wikipedia
Notes & Facts
Ji Hyun Woo earlier starred in Korean drama "Lonely Enough to Love" (2020).
Lee Se Hee earlier appeared in Korean drama "Hospital Playlist 2" (2021).
Cha Hwa Yun earlier appeared in Korean drama "Run On" (2020).
Park Ha Na earlier starred in Korean drama "Fatal Promise" (2020).
Kang Eun Tak earlier starred in Korean drama "A man In a Veil" (2020).
Director: Shin Chang Suk
ScriptWriter: Kim Sa Kyung
Where To Watch Online?
You can watch "Young Lady and Gentleman" on Viki here.
OST List
Soon!
Trailers & Clips
Episodes 1, 2, 3,….., Highlights
You May Also Like
Similar K-Dramas to "Young Lady and Gentleman"
Soon!
---
*Drama is subject to regional availability.