In the fantasy world of Kdramas you can find Gumihos (NineTailed Fox), Ghosts, Vampires, Angels, Witches, and Mermaids anywhere from schools to offices.
Following is the compilation list of such fantasy characters which make Korean dramas overwhelming to watch. These can love with so much passion, and it is fascinating to see them using their special powers to save their loved one.
It is always exciting to watch such dramas when magical powers, romance, action, and mystery come together in one drama.
So whether it is a hot Vampire or a beautiful Mermaid, here in this list I have recommended you every good one. I'm sure you have watched some, but still many are there you need to watch (Watch links included). So let's see 🤗
---
Korean dramas with "Gumihos" 🦊
---
1. Tale of the Nine Tailed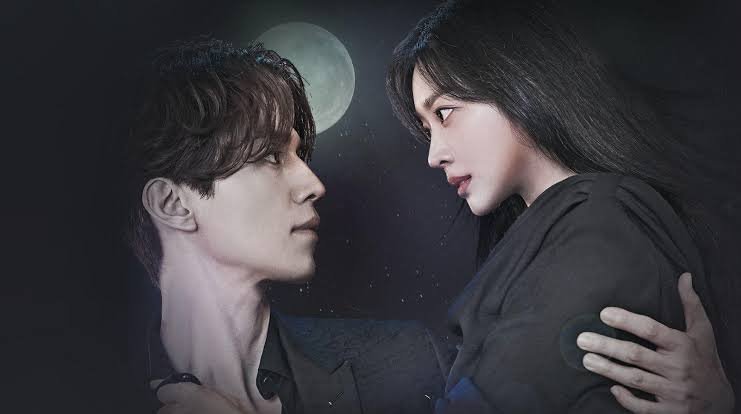 "Tale of the Nine Tailed" tells the story of a nine-tailed fox Lee Yeon (Lee Dong Wook) who lives on Earth to eradicate evil powers who threaten the mortal world and to find his true love Ah Eum (Jo Bo Ah) who died centuries ago. Nam Ji Ah is the reincarnation of Ah Eun, she is a talented television producer who has double personalities due to a secret related to her past. She gets entangled with Lee Yeon as she thinks that he is involved in her parent's mysterious car accident. Meanwhile, Lee Yeon's half brother Lee Rang (Kim Bum) wants to take revenge on him for choosing his love Ah Eum over him.
Watch On: Viki, Netflix, WeTV, Amazon Prime
---
2. My Girlfriend is a Gumiho
The story of "My Girlfriend is a Gumiho" goes like this. One day Cha Dae Woong (Lee Seung Gi) accidentally releases a Gumiho (A nine tailed fox) who was sealed inside a painting. The Gumiho (Shin Min Ah) loves the lives of humans. Her only dream is to become a human herself. So they strike a deal: she'll lend him her mystical fox bead so that with his increased speed and strength, he'll be able to do difficult stunts for his movie, and in exchange he'll help her become human. Gradually they fall in love without knowing that one of them will die in 100 days. Dae Woong will die if Mi Ho becomes fully human, but Mi Ho will die if the bead isn't returned.
Watch On: Viki, Netflix, YouTube
---
3. My Roomate is a Gumiho
Shin Woo Yoo is a Gumiho (Jang Ki Yong) who is preparing to soon become a human. He is also a professor and is 999 years old. He is collecting the human energy inside a bead, which will later help him become a human. Meanwhile, Lee Dam (Hyeri), a university student had an unfortunate encounter with Shin Woo Yeo due to her friend. Shin Woo Yeo's precious bead falls in the mouth of Lee Dam. This is dangerous as she could die if the bead breaks inside her body. Woo Yeo suggests her to live with him until he finds a way to take the bead back.
Watch On: Viki, iQIYI
---
4. Gu Family Book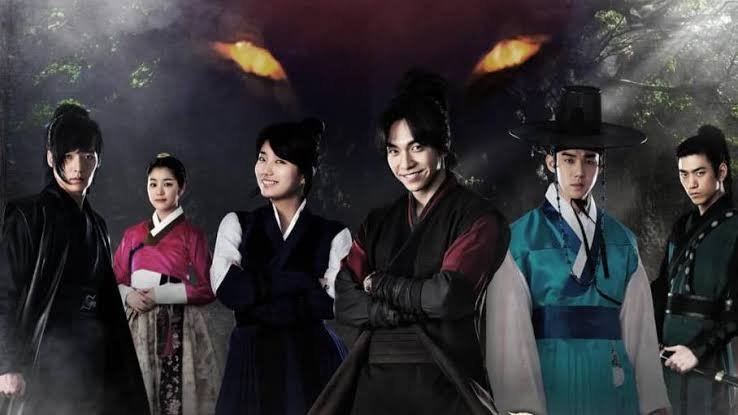 It tells the story of half human and half gumiho Choi Kang Chi (Lee Seung Gi). He tries to live his life as a human. Meanwhile, he meets a martial arts instructor Dam Yeo Wool (Bae Suzy). Choi Kang Chi once saved Yeo Wool when she was young. Despite her fate, Yeo Wool decides to stay with Choi Kang Chi to help him.
Watch On: Viki, Netflix
---
Korean dramas With "Ghosts" 👻
---
1. Oh My Ghostess
"Oh My Ghost" tells the story of virgin ghost (Kim Seul Gi) who has lust and desires. She didn't get chance for romance in her short life, so in order to satisfy her wish and go to afterlife she possess young women. Thinking by only losing her virginity she can solve her problem, she starts possessing a shy and timid assistant chef Na Bong Sun (Park Bo Young). Na Bong Sun has a crush on her arrogant boss Kang Sun Woo (Jo Jung Suk). Seeing Na Bong Sun suddenly changing into a bold and confident woman, Sun Woo starts getting attracted to her.
Watch On: Viki, WeTV
---
2. Hotel Del Luna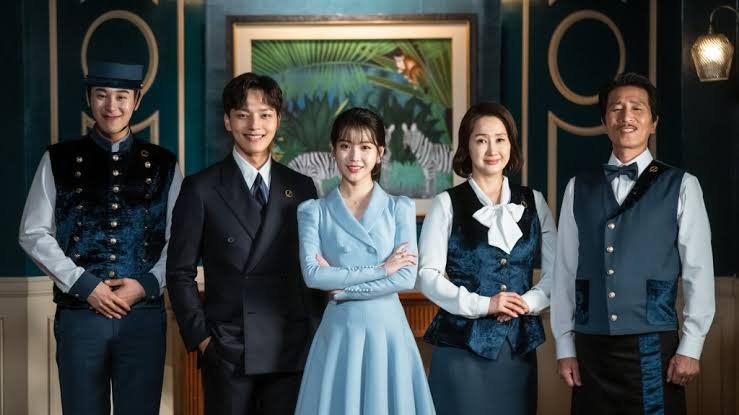 "Hotel Del Luna" tells a spooky romance story centered around a hotel called 'Del Luna'. It gives service especially to the souls of dead people who takes rest here and settle their unfinished business they had when they were alive. The hotel is run by few dead people whose souls have stayed at the hotel for a very long time. Jang Man Wol (IU) is the owner of the hotel. She is a moody, rude, yet good at heart, 1300 years old woman. The hotel manager has to be a human, so they can help their dead guest in their affairs related to the real world. Somehow, it is Gu Chan Sung (Yeo Jin Goo) who becomes the new manager of the hotel.
---
3. Masters Sun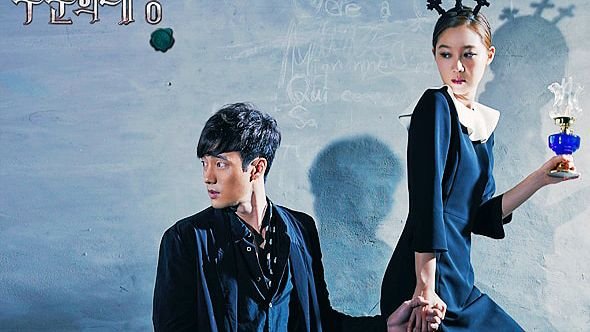 It's a story of Joo Joong Won (So Ji Sub), a cold and arrogant CEO of Kingdom company and Tae Gong Shil (Gong Hyo Jin), a pathetic and poor girl who can see ghosts. Tae Gong starts to see the ghost of his dead girlfriend. And since then, they both gets entangled with the stories of the ghost and their past. She suddenly realizes that all the ghosts disappears when she is near Joong Won. So, she insists on staying with him. At first, he hates the sight of her but soon both fall in love with each other. They also help each other to overcome the obstacles.
Watch On: Viki, Netflix, YouTube
---
4. Hi Bye Mama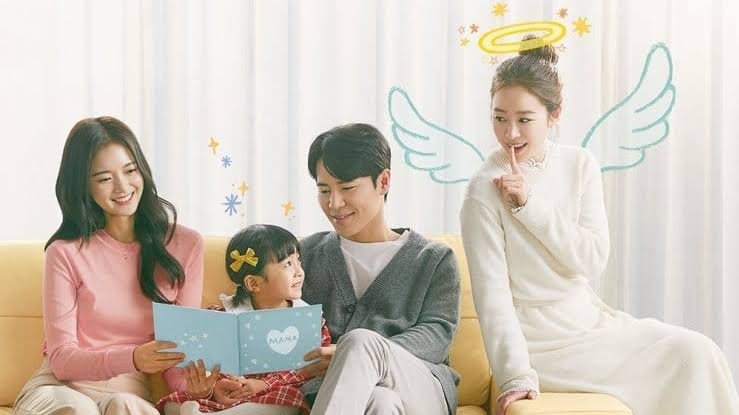 "Hi Bye, Mama!" told the story of a ghost mother Cha Yu Ri (Kim Tae Hee) who is unable to leave this world due to her strong attachment with her husband and daughter. She gets an opportunity to live with her family for 49 days. Jo Kang Hwa (Lee Kyu Hyung) who is the husband of Cha Yu Ri, is a thoracic surgeon. However, her husband, is now remarried to Oh Min Jung (Go Bo Gyeol). Now, she has to make a choice between her and her husband's happiness.
Watch On: Netflix
---
5. Bring It On, Ghost
"Bring It On, Ghost" tells the romance and thriller story of ghost Kim Hyun Ji (Kim So Hyun) and Park Bong Pal (Ok Taec Yeon) who can see ghosts. An accident causes Kim Hyun Ji to become a spirit. Now she wanders on Earth for a long time, until she finds Park Bong Pal and becomes hopeful. Born with the ability to see ghost, Park Bong Pal becomes an exorcist so that he could treat himself later with the money he collects from it. Both Kim Hyun Ji and Park Bong Pal end up falling in love while working together. And an evil spirit is stalking them.
Watch On: Viki, WeTV
---
6. Hwayugi: A Korean Odyssey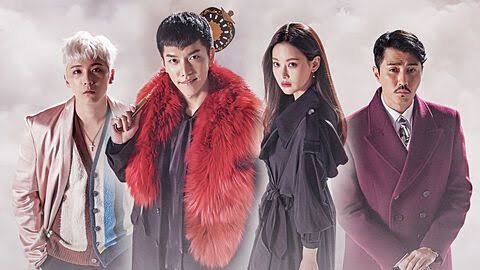 The drama follows the story of Jin Seon Mi (Oh Yeon Seo), a real estate business owner who is born with the special ability to see ghosts and Son Oh Gong (Lee Seung Gi), a powerful immortal. He is bound to love and protect her because of a magical bracelet, but all his love will disappear if Seon Mi takes his bracelet off.
---
Korean Dramas With "Vampires" 🦇
---
1. Blood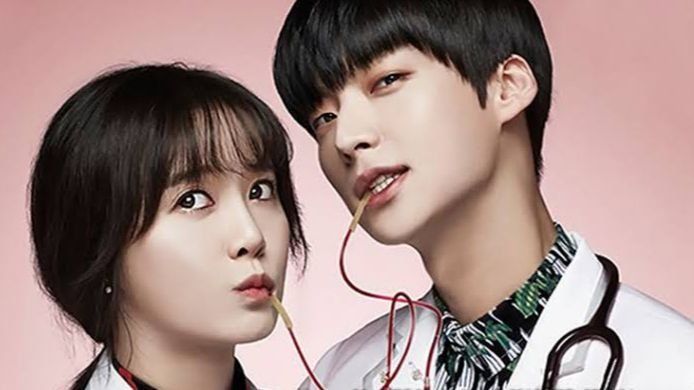 "Blood" tells the story of Park Ji Sang (Ahn Jae Hyun) who is a doctor specializing in hepato-pancreato-biliary surgery in the best cancer research hospital in the country. He is also a vampire but he has suppressed his blood thirst. He falls in love with one of his colleagues called Yoo Ri Ta (Ku Hye Sun).
Watch On: Netflix, Viki, YouTube
---
2. Vampire Prosecutor
"Vampire Prosecutor" tells the story of a vampire Min Tae Yeon (Yeon Jung Hoon) who solve cases as a prosecutor with the help of his vampire abilities. However, no one knows that he is a vampire. Min Tae Yeon drinks the blood of the deceased victim, even though it causes him physical pain, in order find out what happened to them. Hwang Soon Bom (Lee Won Jong), Tae Yeon's close associate detective is the only one who knows about his secret. It has a total of two seasons.
Watch On: None
---
3. Orange Marmalade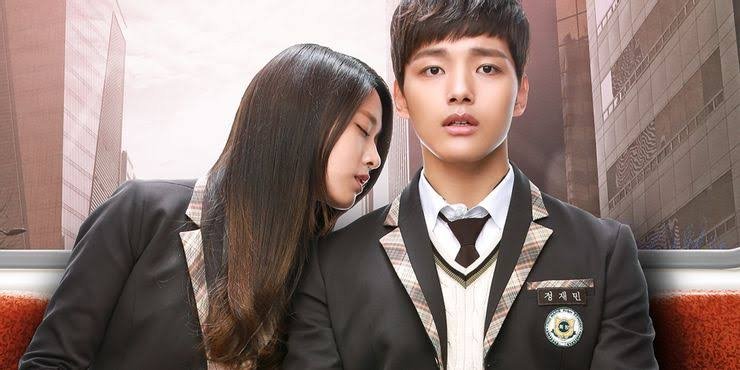 "Orange Marmalade" will tell the story of a teenage girl Baek Ma Ri (Kim Seolhyun). She has a secret that she is a vampire. Due to her being a vampire she tries to isolate herself from others and settle down in her new city and live quietly. Her life takes a turn after she accidently kisses the neck of Jung Jae Min (Yeo Jin Goo) who is the most popular boy in her high school. She end up falling in love with him.
Watch On: Viki
---
4. The Scholar Who Walks at Night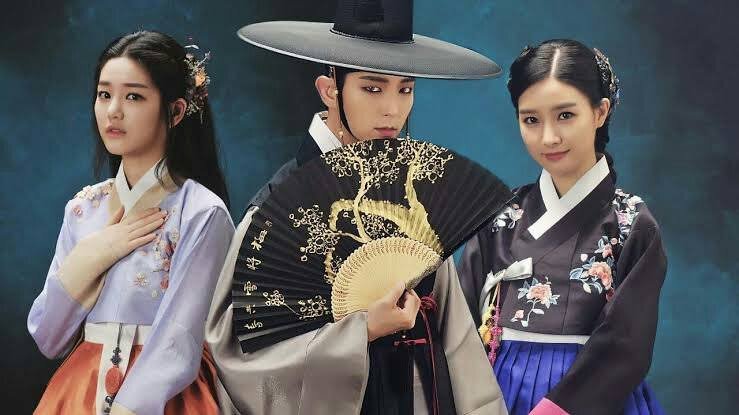 "The Scholar Who Walks The Night" story is based on Joseon times in Korea. One day a nobleman family's daughter Jo Yang Sun (Lee Yu Bi) meets a vampire. Her family has lost everything after her father was framed for treason. One day she cross-dresses herself as a male bookseller and meets scholar Kim Sung Yeol (Lee Joon Gi) who works at the Hongmungwan. Kim Sung Yeol is a guardian vampire whose job is to get rid of any vampire who break the rules. He has been working for 120 years.
Watch On: Prime Video, Viki
---
5. Bite Sisters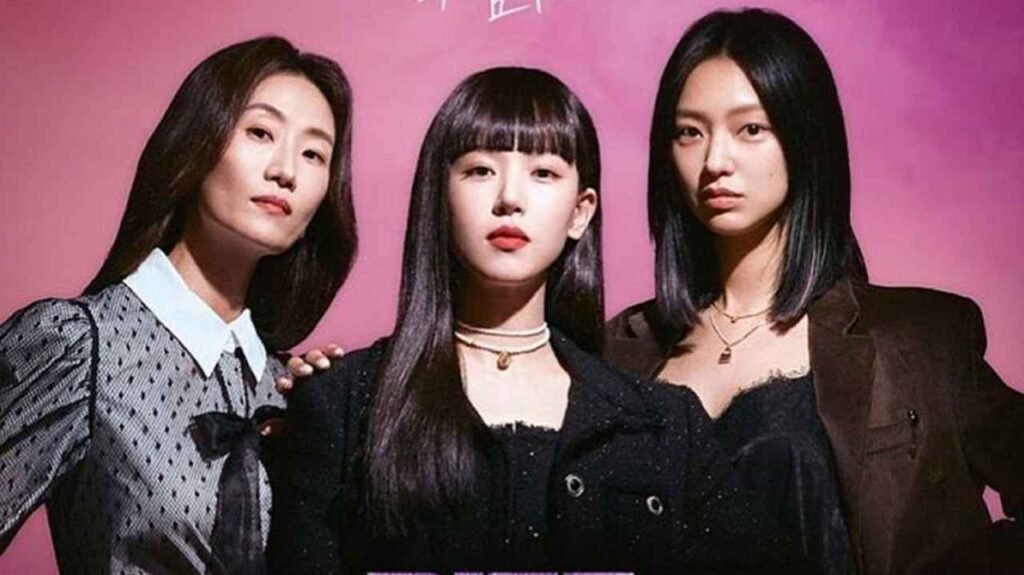 "Bite Sisters" tells the story of three gorgeous fashion-forward vampires ladies Han Yi Na (Kang Han Na), Kim Mi Sook (Kim Young Ah) and Lee Ji Yeon (Choi Yoo Hwa) who are 800+ years old. Two of them own the expensive 'Bite Sisters' clothing plaza. The third Han Yi Na secretly uses her powers to help those in need. One day, she suddenly becomes an online influencer with millions of followers.
Watch On: YouTube
---
Korean Dramas With "Angels" 😇
---
1. Angels Last Mission Love
It tells the story of an Angel Kim Dan (Kim Myung Soo) whose last mission on Earth is to find the true love for Lee Yeon Seo (Shin Hye Sun), an arrogant ballerina. An accident makes Yeon Sun blind, and she becomes rude to everyone. She doesn't trust anyone as she feels that everyone is after her wealth. Kim Dan whose mission is to find true love for her, ends up falling for her himself. Will Yeon Seo who never believed in love, accept his love? Is love between an Angel and a human possible?
---
2. Hi! School Love On
"Hi! School Love On" will tell the high school romance story of a mortal angel and a high school student. Lee Seul Bi (Kim Sae Ron) is an angel who unintentionally saves a high school boy in danger. Now she becomes a human and try to adjust with her new life. She now discovers about love, life, friendship and many other human emotions.
---
3. Padam Padam
"Padam Padam" tells the story of love and miracle between Yang Kang Chil (Jung Woo Sung) and Jung Ji Na (Han Ji Min). After a major accident Kang Chil is told by his guardian angel that he will have three more heavy accidents and only survive if he learns a lesson. Currently, he is in jail for 16 years for a crime he didn't commit. After coming out of prison he falls in love with Ji Na. But something leads the two to separate and now Kang Chil must find the real murderer.
Watch On: Viki
---
4. 49 Days
The story of "49 days" goes like this. Shin Ji Hyun (Nam Gyu Ri) is about marry Kang Min Ho (Bae Doo Bin), her fiancé. She was so happy but before that a car accident leaves her in a coma. A person called 'The Scheduler' (Jung Il Woo) gives her a chance to live again but on one condition. She must find three people outside of her family who would cry genuinely for her. So she transfers into the body of Song Yi Kyung (Lee Yo Won) who is a part-time employee at a convenience store. Shin Ji Hyun has 49 days to fulfill the condition.
Watch On: YouTube
---
5. Mama Fairy and the Woodcutter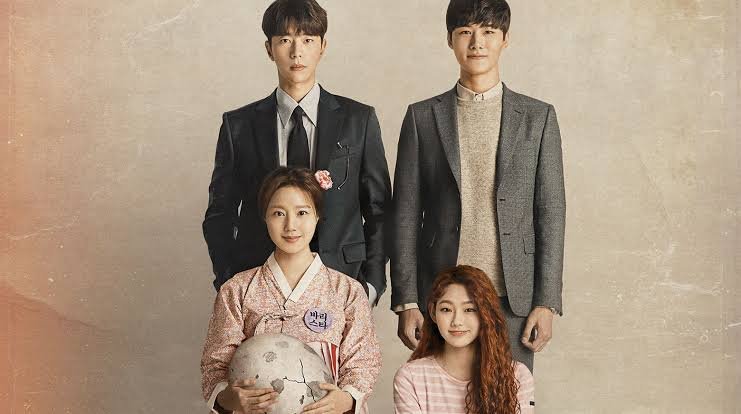 "Mama Fairy And The Woodcutter" is story about a fairy Sun Ok Nam (Moon Chae Won) whose fairy clothes (which would help her to go back from Earth to heaven) are stolen by a woodcutter. The woodcutter died after the fairy married him without telling her about her clothes. Today, after 700 years Ok Nam (Go Doo Shim) works as a barista in a café waiting for the woodcutter reincarnation. Ok Nam meets two men and she is convinced that one of them is her woodcutter husband.
Watch On: Viki, WeTV
---
Korean Dramas With "Witches" 🧹
---
1. Witch's Love
The story of "Witch's Love" revolves around 3 modern-day witches. The youngest witch Kang Cho Hong (Yoon So Hee) loses her power after she breaks her heart. Her boyfriend cheats her on with some other girl. Now, the only way she can get her powers back is by finding her true love. Will she be able to find her true love and get her powers back?
Watch On: Viki
---
2. Mirror of the Witch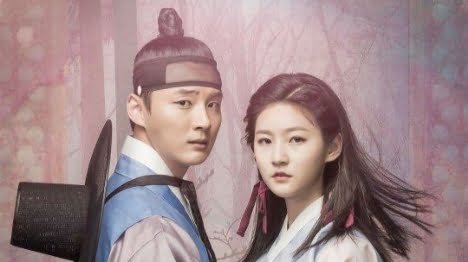 "Mirror Of The Witch" is a story about a cursed princess Seo Ri (Kim Sae Ron). Queen Sim who is infertile goes to a Shanman so that she can give birth. Black magic causes the queen to have twins, one girl and one boy. However, the girl child gets a curse, and she becomes a witch. Now she has to live in the mountains. Later she meets a scholar named Heo Jun (Yoon Shi Yoon).
Watch On: Viki
---
3. The Witch Store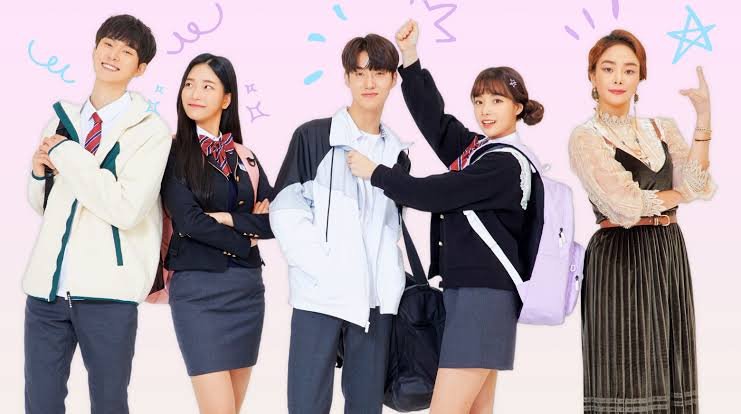 "The Witch Store" tells the story of a high school girl named Hye Ji (Jang Hye Won) who is a part-timer at the Witch Store. This store is only seen by the people who have a wish. The owner of the store in which Hye Ji works transforms into a high school student and appears in her school. One day, Sung Woo (Yeo One) who is a judo player and Hye Ji's old neighbour comes to the school. This confuses Hye Ji's lover Yoo Ho (Jung Hyo Jun) and a lot of chaos happens between all four.
Watch On: Viki
---
4. The Witch's Diner
"The Witch's Diner" will tell a fantasy story about a mysterious restaurant run by a witch named Hee Ra (Song Ji Hyo). In the restaurant, she fulfills her customer's wishes in exchange for their souls. Jeong Jin (Nam Ji Hyun) is a 28-year-old who wants to live a normal life. She opens a restaurant with her mother, but it goes in loss. She then somehow gets into a contract with the witch Jo Hee Ra. Now they are partners, her restaurant soon gets popular due to Hee Ra's mystical food. Lee Gil Yong (Chae Jong Hyeop) is a part-time employee at the witch's restaurant.
Watch On: Viki, WeTV
---
Korean Dramas With "Mermaids" 🌊
---
1. The Idle Mermaid
Also called "Surplus Princess" tells the story of a fantasy creature mermaid called Kim Ha Ni (Jo Bo Ah). The trouble is that she is in love with a human. To impress her crush she becomes a human too. Then she starts living in the Ingyeo House. Here those people live who are looking first time for the jobs. Ha Ni now wishes to become a human too. And to achieve that she must make a man on earth fall in love with her within 100 days.
Watch On: WeTV
---
2. The Legend of the Blue Sea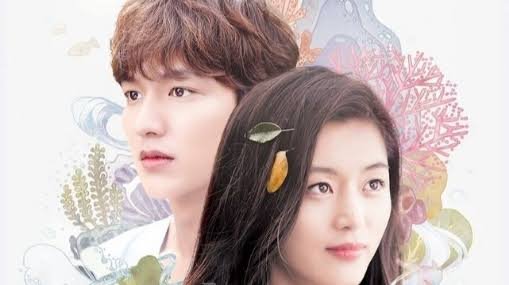 "The Legend Of The Blue Sea" tells the love story between a mermaid and a human. In the Joseon era Dam Ryung (Lee Min Ho) and mermaid Sim Chang (Jun Ji Hyun) are unable to be together due to their poor fate. In the modern times a conman Joon Jae who looks exactly like Dam Ryung travels to Spain. There Sim Chang is thrown away from the ocean near a resort where Joon Jae is staying. She develops feelings for him and follows him back to Seoul.
---
3. The Mermaid Prince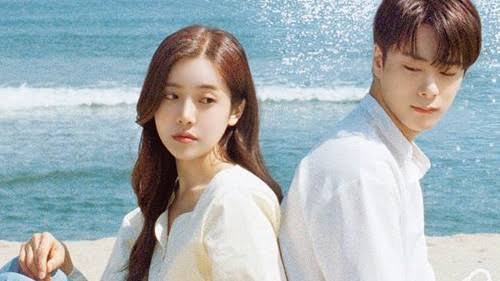 The web drama "The Mermaid Prince" will tell a romance story about a girl named Hye Ri (Jung Shin Hye). She goes to Gangwon Province on a graduation trip with her friends. There she meets a mysterious man Woo Hyuk (Moonbin) who runs a guest house. She gets attracted and closer to him. Hye Ri decides to give him a name called "the mermaid prince".
Watch On: YouTube
---
Don't forget to bookmark this list for future use. 😉 Check out: 21 Korean dramas Where you Need to Escape from Zombies, Monsters, and Spirits
---