It's not surprising anymore how BTS manage to steal the spotlight in whatever they do.
Worldwide Superstars BTS is also known for their massive popularity on various social media platforms.
You can see BTS trending on Twitter a lot. Anything they do trends on Twitter and why not? After all they are the biggest boy band in the world and have the most loyal and dedicated fan base known as 'ARMY'.
And not to mention here that there are more than 90 million fans all over the world, which makes them the biggest fandom in the world.
Today not only Twitter but our boys also dominates others social media platforms like Instagram and TikTok.
They hold numerous world records on various social media platforms. That is why they are also known as the Kings of social media.

Here are the 10 most iconic and talked about BTS moments of 2021 that broke the internet.
— By Nishima Saini
1. We wanna Focus On…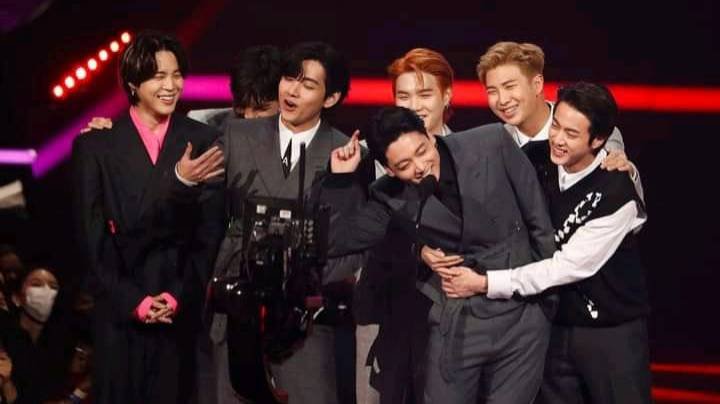 I think all the Army would agree here if I say Jungkook's "FOCUS ON" moment is the best moment of 2021.
On 21 November 2021 BTS received their first "Artist of The Year" award at the 49th American Music Awards.
During the acceptance speech, Jungkook expressed his gratitude by saying, "We just wanted to make people happy with our music. We believe that this award opens the beginning of our new chapter. In the past few years, we learned every moment is precious so in 2022, we wanna focus on….."
But before he could say anything further, he was dragged away by Jin. Later, fans discovered the monitor that read "PLEASE WRAP IT UP" because they were running out of time. So, JK was dragged away from the mic by Jin and RM.
Here is the proof by a fan account:
Fans absolutely loved this moment and found it extremely adorable and not to mention here how fast Armys are in making memes and forwarding it.
But soon they get exposed as in recent Bangtan Bomb Jungkook said, "Fans are going to tease me a ton! Army is going to make fun again, what do I do?" which clearly shows they know their fans too well.
---
2. Jin's Birthday Surprise!
On the 4th Day of LA concert at the SoFi Stadium, Armys celebrated Jin's birthday, who turned 29 on 4 December 2021. Armys planned a surprise birthday project 'Moon For Jin' on his birthday.
Fans started the preparations a month ago and were excited about the day to come. On the final day of LA concert, Armys covered their Army Bombs and phones with moon shaped box to create an ocean of moons for their dear moon Jin.
They also held placards with Jin in Korean language written on it inside a heart.
A Fan Account preparing for Jin Birthday project:
The project went successful when army showed their love to Jin which left him in complete awe, and he got emotional seeing the utmost love and support from Army.
He thanked Army and said, 'I Love You'. BTS together with the whole stadium also sang happy birthday song for Jin.
This surprise event on his birthday went viral on social media. And undoubtedly, it's one of the best moments of LA PTD concert that both BTS and Army will remember forever.
Look how emotional Jin got:
---
3. BTS at The UN General Assembly!
On 20 September 2021 BTS attended the 76th UN General Assembly as the special Presidential Envoys with President Moon to deliver their powerful speech on Climate Change, the COVID-19 pandemic, vaccination, and issues related to young generation.
They literally took over the UNGA as they have the power to make millions of people tune in wherever they take the stage to show their powerful presence.
And this was not the first time appearing at the UN General Assembly, it was their 3rd visit to the UN following their previous appearances in 2018 and 2020.
Following their hopeful message, they also performed their latest hit single 'Permission To Dance' and remained in trends worldwide.
There are no words to express how many efforts they have put to show their true thoughts on the struggles of youth throughout the whole pandemic and how much positivity they bring through their songs.
This is what makes them the true leaders of youth, and they are not only South Korea's pride, but they are Army's pride too.
---
4. Namjooon calling out James Corden!
In November 2021 BTS personally appeared on The Late Late Show with James Corden after 2 years.
The last time they appeared on the show was in 2020 after that they made an online guest appearance on the show in 2021 because of the pandemic.
As soon as the show started, Leader RM wasted no time asking James Corden if he's alright after being in some hot water with Army. Hearing this question, James Corden was clearly seen as uncomfortable and embarrassed when the audience started to laugh and cheer, but he came out to explain his side of the story.
Previously he made a controversial remark on BTS's appearance at the UN General Assembly as 'Unusual visitors' and also called Armys '15 Years Old' fangirls.
Fans didn't take this statement as a joke and expressed their disappointment on social media. It is clearly seen that this couldn't be hidden from BTS as they took the initiative to solve this misunderstanding between James and the Armys as soon as they arrived at the show.
Adding to his side of the story, James Corden said that he didn't mean to offend Armys in any way because he himself is a 43 years old army. He also said that he didn't enjoy making BTS fans upset.
To his response, RM said, "It's okay, we appreciate your apology. We just wanted to clear the air".
Fans couldn't stop loving their dearest leader for being their advocate, after all, BTS and the Armys got each other's back.
This whole incident remained a hot topic among the netizens, and they supported BTS's decision to appear on the show. We all know these humble kings never fails to show this world their humbleness and that's what happened here.
---
5. BTS and The Hot Girl Coach!
This is the moment BTS Armys were waiting for and finally on 22 September 2021 BTS and The Hot Girl Coach Megan met in person for the first time while BTS was in New York City for the UN General Assembly.
Megan previously collaborated with the boys for the release of 'Butter' remix. For this, she even went against her record label and filed a lawsuit for the release of the song because her label wasn't allowing her to release the song with the BTS.
Because of this, Megan received lots of appreciation and praise from netizens as she stood for herself and did what she wants.
BTS and Megan both shared the selfies from their meet on their personal twitter handles. Since then, fans were eagerly waiting for behind the scenes, video of this meeting and yes, after few days the video was also out.
Megan's genuine love for BTS made Armys absolutely love and adore her, and let's talk about how Armys literally made BTS and Megan to change their twitter layout to pink in celebration of 'Butter' remix.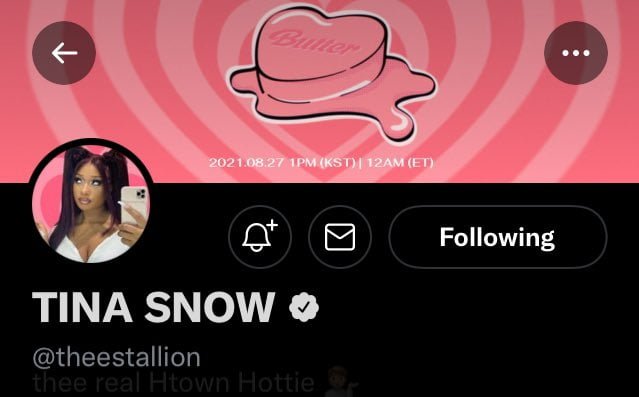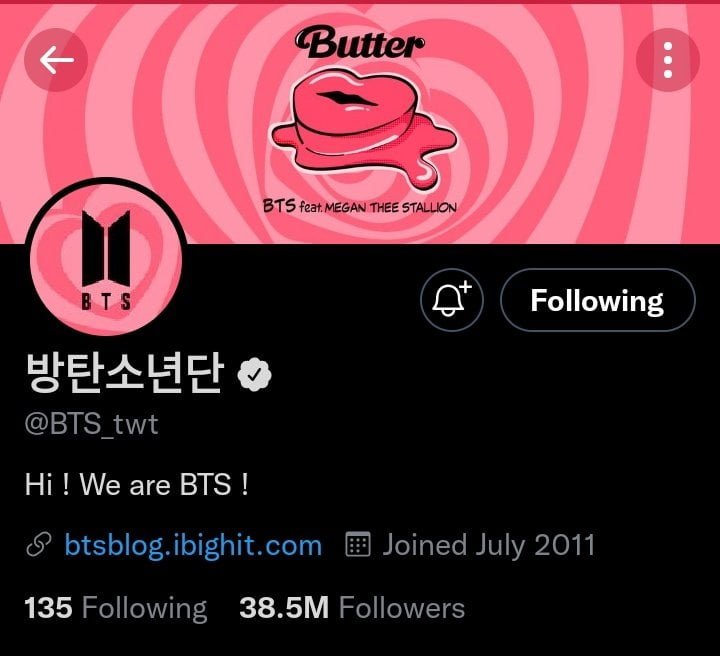 This era was special because Twitter went crazy during the whole pink cult.
---
6. BTS Permission To Dance LA!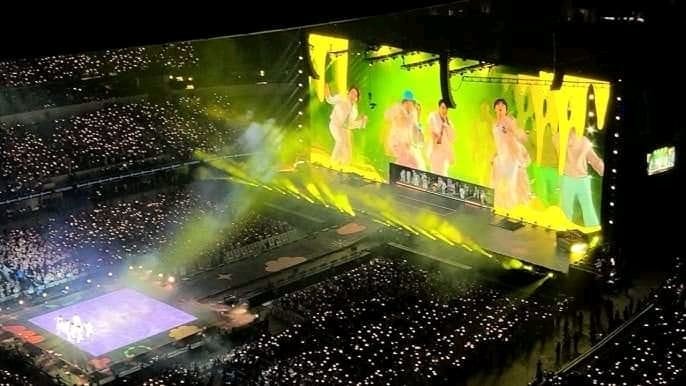 BTS broke records after records with their best-selling of all the times Permission To Dance On Stage, LA concert.
This was BTS's first ever live In-person concert in 2 years after their 'BTS World Tour Love Yourself: Speak Yourself—The Final' that took place in Seoul in 2019.
With their four-day concert at the SoFi Stadium in LA, BTS took over the social media, putting the massive impact on the music industry.
Armys kept sharing the videos and pictures of the concert on social media, which definitely made fans all over the world extremely jealous because they couldn't attend the concert.
The group successfully wrapped up their four days concert with full of surprises and powerful performances.
From shirtless moments to member's cursing on stage, the group also welcomed other artists on the stage to perform with them.
On the 2nd day of the concert, the boys welcomed Megan Thee Stallion to perform 'Butter' remix with them and on the last day of the concert, the boys welcomed Chris Martin (Coldplay) to perform their recent hit collaboration 'My Universe'
with them.
BTS's friend Halsey also attended their Concert as a fan, for which she received a lot of cheering and love from the Army's. The group also met Anderson Park and his family at the backstage.
In total, the whole event was nothing but some sort of festival full of excitement and surprises for both BTS and the Armys.
---
7. Meeting of 'My Universe' Crew!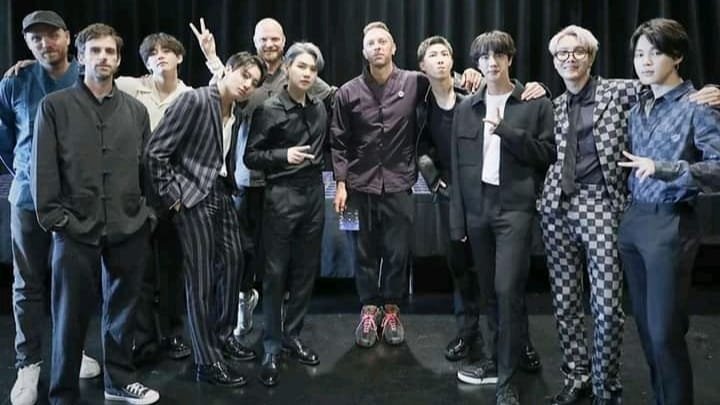 'My Universe' is the collaboration between the two most humble band on the Earth.
The rumours of the collaboration started when BTS covered Coldplay's 'Fix You' at the MTV unplugged in February 2020 for which they received a lot of praise worldwide and from Coldplay too.
After that fans were speculating the collaboration between the two band which later got confirmed by both music giants through their twitter handles. Fans took to Twitter to express their excitement about the upcoming Collab song.
And on 24 September they dropped their collaboration song 'My Universe' which secured the number #1 position on Billboard Hot 100 chart. It was BTS's 6th song with no. #1 hit in a year, while it was Coldplay's first no. #1 hit since 2008 on BB Hot 100 chart.
Fans were delighted by the news, but the collaboration doesn't end here because they also released a documentary that showcase their journey of working together and their personal thoughts about the song 'My Universe'.
BTS's Jin also shared pictures of the guitar gifted by Chris Martin when they met Coldplay in New York. BTS also gave modern hanbok to all the members of Coldplay.
It's not hidden from anyone how much the two band love and respect each other.
BTS always wanted to Collab with Coldplay, while Chris Martin has mentioned many times that he loves BTS and would never miss the opportunity to work with the biggest boy band in the world, and you see it was bound to happen.
The collaboration was a hit and'My Universe' is surely one of the top-notch collaboration of BTS that is still winning the hearts of everyone all over the world.
---
8. BTS at the Harry Style Concert!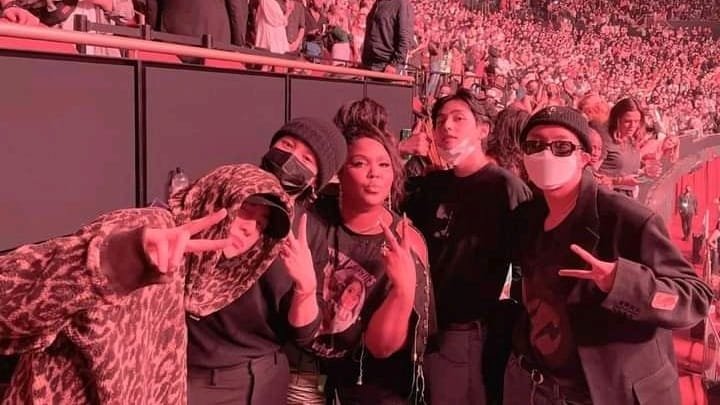 On 19 November BTS member V, Jungkook, Jimin and J hope were spotted vibing at the Harry Style concert in Las Vegas.
The concert was a part of Harry Styles: Love On tour, and BTS surprised everyone with their unexpected appearance.
This immediately made the headlines as Armys saw the boys were having a quality time together while enjoying the concert.
After all, they deserve to let loose sometimes as they work too hard to spread happiness everywhere and Armys were beyond happy to see their favorites having fun without caring much about anything else. But not only from Armys, BTS gained a lot of attention from non fans as well.
BTS's friend Lizzo was also there vibing with the boys. They were dancing and singing their hearts out on songs like 'Falling' and 'What makes you beautiful'.
BTS members and Lizzo also shared their pictures and videos on personal Twitter accounts. Overall, the whole Concert night remained a hot topic among the netizens, as it's fair enough to say that the BTS boys stole the show.
See from the BTS official Twitter account:
---
9. BTS Instagram Debut!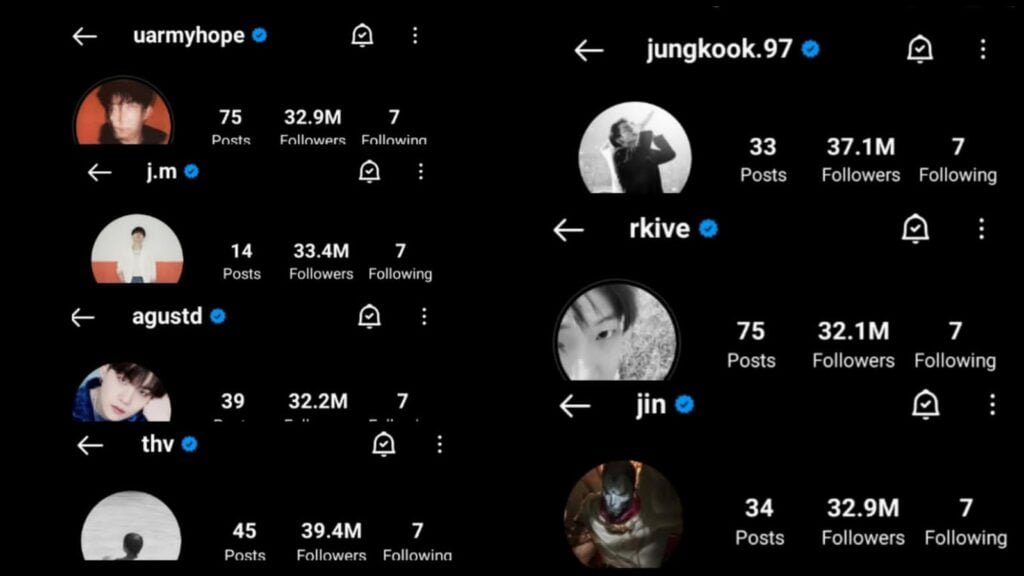 On December 6 BTS broke the internet when all seven members created their personal Instagram accounts.
This happened when the boys announced an "extended period of rest" but who would have thought that they were actually planning their Instagram debut.
Armys were completely blown away by the news and welcomed the boys on the platform with the hashtag #btsoninstagram, which trended at #1 worldwide.
Each gained more than 2 million followers within an hour, and 17 million within 24 hours. Their creative
Insta usernames also gained a lot of attention from the netizens. Since their Instagram debut they are
breaking records after records and definitely Instagram has become a hot mess.
Recently BTS the youngest member Jungkook changed his Instagram username from 'abcdefghi_lmnopqrstuvwxyz' to 'jungkook.97' because according to him, it was too long but Armys still miss his old username because it was cool and unique.
As they are new on Instagram, they are still exploring all the Instagram features and surprising their fans.
Here are the links to BTS members official Twitter accounts:-
V — theV
RM — rkive
SUGA— augustd
JUNGKOOK— jungkook.97
JIN — jin
J-HOPE — uarmyhope
JIMIN — j.m
---
10. BTS Muster Sowoozoo!
Last year BTS celebrated their 8th anniversary with two days Livestream event called Muster Sowoozoo held on 13th and 14th of June at the Jamsil Olympic Stadium of Seoul.
It was BTS's first concert of 2021 and everything about this concert was special. Opening with the song 'Life Goes On' BTS surprised fans with so many unexpected performances.
From the first ever live performance on 'Dis-ease' to unexpected ot7 performance on solo songs like 'Chicken Noodle Soup' and 'Daechwita', the septet amazed everyone with their flexibility to perform.
Armys couldn't have enough of Namjooon and Jimin rapping Backy G's part in Spanish, which remained a hot topic over the social media.
Furthermore, their cute water fights and the fireworks over the Jamsil stadium, everything made Armys crazy despite not being present at the stadium.
Here is their cute water fight shared by Army:
The virtual concert gained over 1.33 million viewership from across 195 countries.
BTS did everything to make Armys forget about their not being present in front of their eyes.
---
No one is ever going to forget about all these wow moments of BTS from 2021. Let's see what more surprises BTS brings in 2022 as they never fail to amaze us.