Korean dramas always manage to win our hearts but few actresses have left an indelible mark on our hearts quite like Park Shin Hye.
With her undeniable talent, breathtaking beauty, and versatility in portraying a wide range of characters, Park Shin Hye has become a cherished icon, earning her a place among the most esteemed actresses in the realm of Korean drama.
From her early breakout roles to her recent triumphs, here I recommend you a definitive list of the 9 best Korean dramas featuring the incomparable Park Shin Hye, celebrating her enduring legacy and contributions to the world of Kdramas.
You must watch these dramas before her new drama releases.
---
1. Stairway To Heaven (2003)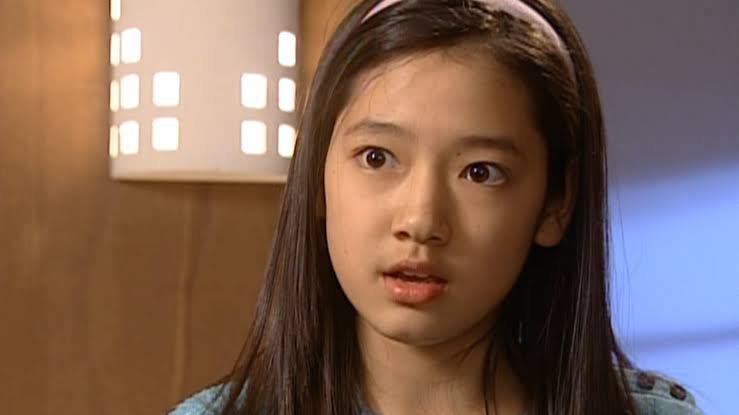 This is the very first drama of Park Shin Hye, debuting as a child actress playing the younger version of the main lead actress, Choi Ji Woo. As this drama had an immense popularity with a rating of 38.8%, and 45.3% for the finale, Park Shin Hye had a very good start for her career. You can watch it on Viki here.
"Stairway To Heaven" tells a complicated and tragic love story of Song Joo and Jung Suh who have been there for each other since their childhood. Things change soon when Jung Suh's mother died and her father remarries. Now she has a step mother and daughter who gives her a hard time. Also Song Joo leaves to study abroad. Before he leaves, they exchange necklaces, symbolizing their love.
But soon after Jung Suh gets lost after a car accident and she suffers from amnesia. Everybody thinks she is dead. However she no longer recognizes Song Joo or remembers their love for each other. In fact, she can't even recall her own name. Then one day Song Joo happens to see someone who looks exactly like Jung Suh.
Here are the Cast and Characters of the drama:
Kwon Sang Woo as Cha Song Joo
Baek Sung Hyun (young)
Choi Ji Woo as Han Jung Suh / Kim Ji Soo
Park Shin Hye (young)
Shin Hyun Joon as Han Tae Hwa / Han Chul Soo
Lee Wan (young)
Kim Tae Hee as Han Yoo Ri
Park Ji Mi as (young)
---
2. Tree of Heaven (2006)
This South Korean-Japanese melodrama is the first adult leading role of Park Shin Hye and she received a lot of praises for her role. As the drama aired in Japan, Park Shin Hye gained many fans from there. "Tree of Heaven" is the final entry in director Lee Jang-soo's Heaven Trilogy which included Beautiful Days (2001) and Stairway to Heaven (2003).
"Tree of Heaven" tells the story of a young Korean girl named Ha Na who is living in Japan with her mean aunt while her mother went on a trip with her new husband. Ha Na now has a stepbrother, Yoon Suh, who rarely cares about anybody. His silent nature is due to a tragic past. Despite this, Ha Na whose aunt gives her a hard time, finds comfort talking to him, but he hardly responds. Gradually her kindness and determination breaks through Yoon Suh's barriers, and they fall in love. But their love is forbidden. Along the way, they face the cruelty of Ha Na's abusive aunt and cousin, who makes their lives miserable.
Here are the Cast and Characters of the drama:
Lee Wan as Yoon Seo
Park Shin Hye as Hana
Reina Asami as Maya
Asahi Uchida as Fujiwara Ryu
Jung Dong Hwan as Yoon Soo Ha (Yoon Seo's father)
---
3. You're Beautiful (2009)
Now here is the drama that highlighted many talents of actress Park Shin Hye. She took a challenging role and even sang two songs for the drama. Though average in Korea, this drama became very popular in Japan and had a cult following as many fans watched it online. You can watch it on Viki, Netflix and YouTube.
"You're Beautiful" tells the story of a new group member Mi Nam who was just added to the boy band A.N.JELL. But he needs to go to the States to repair a botched eye job. For the time being their agent decides to put Mi Nam's twin sister Go Mi Nyeo (disguised as a boy) in place of him. Other members in the group don't know that their new member is actually a girl. In the group Mi Nyeo who actually wanted to become a nun, is hated by Hwang Tae Kyung. Things gets complicated when he discovers she is a girl. Later, with time he falls in love with her while other members Kang Shin Woo and Jeremy also falls for her.
Here are the Cast and Characters of the drama:
Park Shin Hye as Ko Mi Nyeo / Ko Mi Nam
Jang Keun Suk as Hwang Tae Kyeong
Lee Hong Ki as Jeremy
Jeong Yong Hwa as Kang Shin Woo
Uee as Yu Hee Yi
---
4. Heartstrings (2011)
A drama that gained Park Shin Hye the "Most Popular Actress" award, became another one for her rising popularity. The drama reunited Jung Yong Hwa and Park Shin Hye who both starred in the TV series "You're Beautiful". You can watch it on Viki.
"Heartstrings" is a youth romance drama that shows the love story of a girl who plays traditional Korean music and a guy who is in a rock band. Kyu Won is a talented and bright girl known for her exceptional gayageum playing skills. She comes from a family who has the three best pansori singers in the world. Kyu Won is studying in the Korean traditional music department. Whereas, Shin is a seemingly distant and sophisticated young man who possesses extraordinary guitar skills. He is from the applied music department. Despite their different family backgrounds, Kyu Won and Shin initially clash in an argument. However, as time goes by, they begin to develop feelings for one another.
Here are the Cast and Characters of the drama:
Park Shin Hye as Lee Kyu Won
Jung Yong Hwa as Lee Shin
So Yi Hyun as Jung Yoon Soo
---
5. My Cute Guys (2013)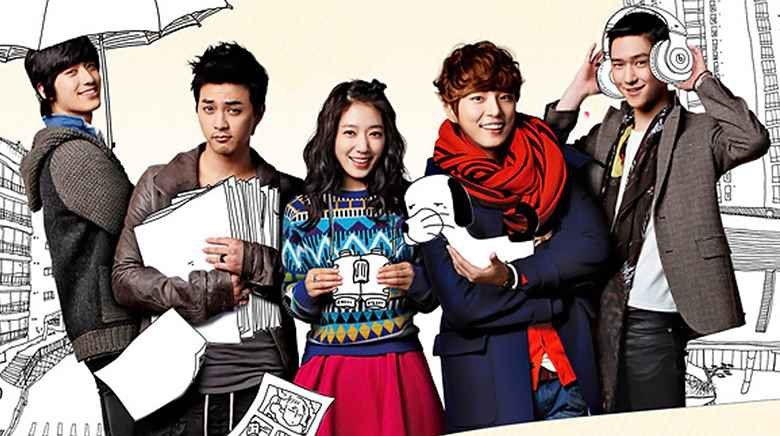 Here Park Shin Hye plays a very fun character who is a shy girl peaking at her handsome neighbours. Her funny expressions in the drama became useful for many fans to make memes. You can watch it on WeTV and Viki.
It tells the story of Dok Mi, a copy editor who lives peacefully in her apartment. She is reserved and refuses to leave her apartment unless its necessary. But her little world crumbles with the arrival of some handsome neighbours. She constantly spies Han Tae Joon, her neighbour with whom she fell in love at first sight. She gets in trouble when Tae Joon's younger brother catch her spying. Ultimately she gets helped by Oh Jin Rak who is a webtoon artist living in the same department building as Dok Mi. He has been in love with her for a long time.
Here are the Cast and Characters of the drama:
Park Shin Hye as Go Dok Mi
Yoon Shi Yoon as Enrique Geum
Kim Ji Hoon as Oh Jin Rak
---
6. The Heirs (2013)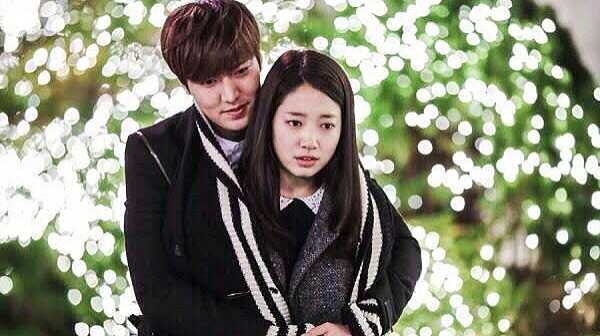 This star-studded drama makes breakthrough and mainstream success for Park Shin Hye. She gained international acclaim and also won many awards for it. You can watch it on Viki, YouTube and Netflix.
Set in a high school where privileged and uber-rich student study "The Heirs" tells the story of Kim Tan, an Illegitimate heir of a conglomerate family who falls in love with Cha Eun Sang at first sight when in US. She is the daughter of his family housekeeper. When Kim Tan and Cha Eun Sang returns to Korea, they are in the same high school. Soon! a complicated love triangle starts when Choi Young Do, heir of Zeus Hotel Group who is better known for his cold and violent behavior also falls for Eun Sang. He used to be a close friend with Kim Tan, but somehow they became enemies. However, their different status also becomes trouble for their love.
Here are the Cast and Characters of the drama:
Lee Min Ho as Kim Tan
Park Shin Hye as Cha Eun Sang
Kim Woo Bin as Choi Young Do
Kang Min Hyuk as Yoon Chan Young
Choi Jin Hyuk as Kim Won
Kang Ha Neul as Lee Hyo Shin
Krystal as Lee Bo Na
Kim Ji Won as Rachel Yoo
Park Hyung Sik as Jo Myung Soo
---
7. Pinocchio (2014)
Again a drama that gained Park Shin Hye many awards! Lee Jong Suk and Park Shin Hye even won the best couple award for this drama. This series particularly became popular in China making it the most expensive Korean drama ever to be sold in China at the time. You can watch it on Viki, YouTube and Netflix.
"Pinocchio" is a drama about youth in journalism field where they realise the importance of protecting the truth. Choi Dal Po is an adopted son whose past life was ruined by media. He decides do become a reporter himself to reveal the truth. He also falls for a girl named In Ha who has a Pinocchio Syndrome due to which she cannot lie without hiccupping. In Ha wants to become a reporter just like her mother. Things get complicated whe he finds out that In Ha is the daughter of the reporter who is the reason for his cruel past.
Here are the Cast and Characters of the drama:
Lee Jong Suk as Choi Dal Po / Ki Ha Myeong
Park Shin Hye as Choi In Ha
Kim Young Kwang as Seo Bum Jo
Lee Yoo Bi as Yoon Yoo Rae

---
8. The Doctors (2016)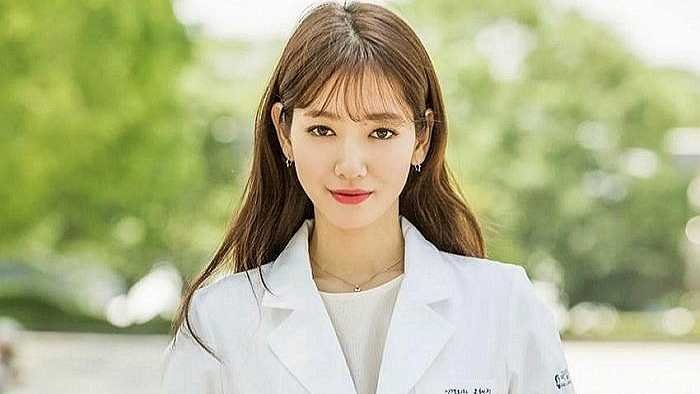 Another hit drama of Park Shin Hye "The Doctors" showed a different side of Park Shin Hye's charm. Her character became very famous among the viewers for its clean action scenes and straightforward lines. Her excellents acting skills got her many awards for best actress. You can watch on Viki, Netflix, YouTube, Amazon Prime and Apple TV.
"The Doctors" will tell the story of Yoo Hye Jung, a troubled teenager who is always ready to fight. Her harsh childhood made her headstrong, and she doesn't open her heart to anyone. Her nature changes after she meets Hong Ji Hong who just shifted his career from a doctor to a teacher. Yoo Hye Jung is Hong Ji Hong's favorite neighbor's granddaughter. So, he helps Hye Jung from being a troubled teenager to becoming a doctor. However, someone complains about their close relationship and both goes their separate ways. 13 years later, they meet again in the same hospital.
Here are the Cast and Characters of the drama:
Kim Rae Won as Prof. Hong Ji Hong
Park Shin Hye as Dr. Yoo Hye Jung
Yoon Kyun Sang as Dr. Jung Yoon Do
Lee Sung Kyung as Dr. Jin Seo Woo
---
9. Memories of Alahmbara (2018)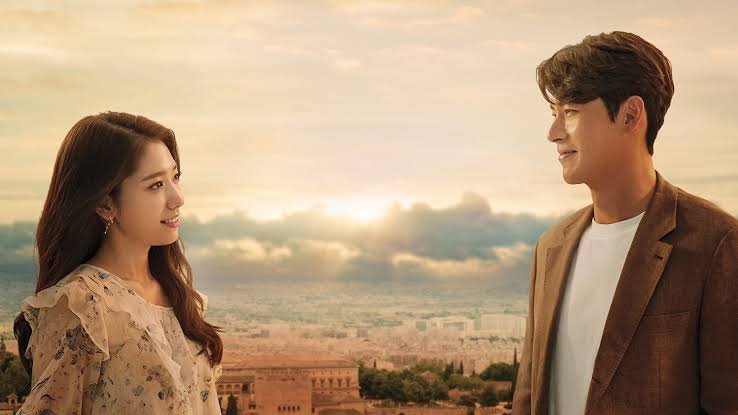 Here Park Shin Hye played a double role starring alongside Hyun Bin. The drama was a huge success as it became the highest rated Korean drama in cable television history. This drama is said to be the Korea's first augmented reality-gaming drama. You can watch on Netflix.
"Memories of Alahmbara" is a fantasy suspense drama that tells the story of Yoo Jin Woo who is the CEO of an investment company. He travels to Spain to find Jung Se Joo, the creator of an AR game. Unfortunately Se Joo is missing and he ends up meeting Jung Hee Joo, sister of Se Joo. She is the owner of a hostel and a former guitarist. Later, Jin Woo finds himself trapped in the game as the border between the AR world and reality starts to fade away.
Here are the Cast and Characters of the drama:
Hyun Bin as Yu Jin Woo
Park Shin Hye as Jung Hee Joo / Emma
Park Hoon as Cha Hyun Suk
---