When the main leads in a Kdrama are cooking together, there is bound to happen some sizzling around. Whether it's in their hearts or on the plate.
Korean dramas with Food and Romance is a tantalizing combination that is simply irresistible. These dramas will transport you into a world where food and love intertwine in the most enchanting ways imaginable.
From royal cuisines with "Jewel In The Palace," to mouthwatering food adventure with "Let's Eat." you'll wish to eat a Korean dish sooner. So don't miss out on these delightful Korean series that will leave your taste buds tingling and your heart fluttering.
---
1. Pasta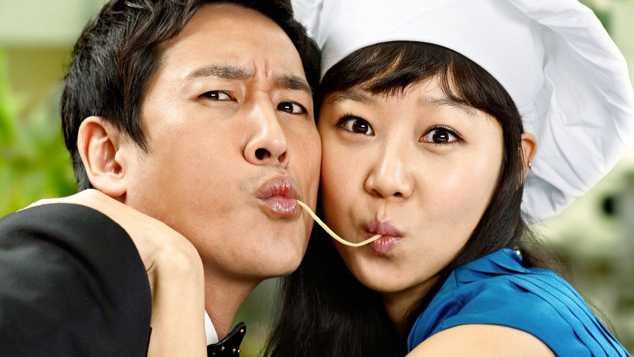 "Pasta" is a unique and unconventional love story set in the kitchen of La Sfera, an Italian restaurant. Seo Yoo Kyung, a talented kitchen assistant, finally gets her chance to become an Assistant Pasta chef, only to face a sudden change when Chef Choi Hyun Wook takes over. Hyun Wook, trained in Italy, is a renowned chef who aims to reform the kitchen and fires all the female chefs, including Yoo Kyung. However, Yoo Kyung comes up with clever ways to be rehired. Eventually, she manages to secure a permanent position by winning a blind taste contest. Meanwhile, an old rival and lover of Hyun Wook, Oh Sae Young and a mysterious customer who has silently admired Seo Yoo Kyung for 3 years complicate the story. Amidst this chaos, Hyun Wook expresses his interest in dating Yoo Kyung outside of the kitchen.
Watch On: Netflix
Here is the drama cast and characters:
Gong Hyo Jin as Yoo Kyung
Lee Sun Kyun as Chef Choi Hyun Wook
Lee Ha Nee as Oh Sae Young
Alex as Kim San
Choi Min as Nemo
Lee Sung Min as Sul Joon Suk
Pyeon Jung Su as Kim Kang
---
2. Jewel in The Palace
Based on a true story "Jewel in the Palace" is set in the heart of the 16th Century Joseon Dynasty. Jang Geum is a young orphan who endures the tragic loss of her parents. Driven by her mother's dying wish, Jang Geum decides to become a junior cook in the royal food court. In a society characterized by hierarchy and patriarchy, she defies all odds as a woman, rising from a lowly kitchen maid to ultimately becoming the King's physician. Given the name "The Great Jang-Geum", she becomes the first female Royal Physician in the Korean history. The drama artfully intertwines the secrets of traditional Korean cuisine and the ancient practices of traditional Medicine in the Joseon dynasty.
Watch On: Viki, Amazon Prime Video, WeTV
Here is the drama cast and characters:
Lee Young Ae as Jang Geum
Ji Jin Hee as Min Jung Ho
Hong Ri Na as Choi Keum Young
Im Ho as King Jungjong
Yang Mi Kyung as Attendant Han
Kyeon Mi Ri as Court Lady Choi
Kim Hye Sun as Park Myeong Hee
---
3. My Lovely Samsoon
"My Lovely Samsoon" tells the story of a girl named by an old fashioned name, Kim Sam Soon. She is a Baker who bakes delicious pastries and cakes. She also has a boyfriend named Min Hyun Woo. It is Christmas today, and she sees her boyfriend cheating on her. Both break up and Sam Soon decides to remain single. But, a man named Jin Hun comes into her life right after the breakup. Jin Hun is the restaurant owner of 'Bon Appetit'. He needs a Baker, so he asks Sam Soon for help. She agrees, but their relationship is quite bitter in the starting as they always fight. Slowly, they develop feelings for each other.
Watch On: Viki, WeTV, AppleTV
Here is the drama cast and characters:
Kim Sun Ah as Kim Sam-soon
Hyun Bin as Hyun Jin-heon
Jung Ryu Won as Yoo Hee-jin
Daniel Henney as Dr. Henry Kim
Kim Ja Ok as Park Bong-sook (Sam-soon's mother)
Lee Ah Hyun as Kim Yi-young (Sam-soon's sister)
Na Moon Hee as Na Hyun-sook (Jin-heon's mother)
---
4. Chocolate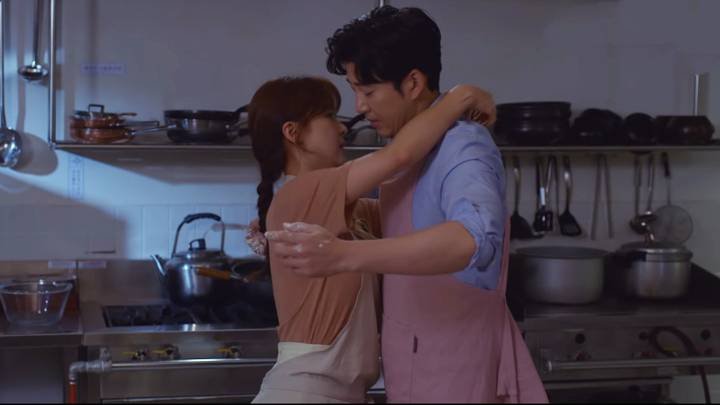 "Chocolate" tells the love story between a neurosurgeon called Lee Kang and a chef named Moon Cha Young. Lee Kang is a perfect in personality who appears to be warm inside and cold outside. He once dreamed of becoming a chef. Cha Young was once inspired by Lee Kang to become a chef and later when she grew up, she even becomes a passionate chef. Food was always the reason that brought them together in the past and even today. Cha Young is a person of bold personality. Both of them start working in the same hospice ward. There they help each other to get through difficult times and end up falling for each other.
Watch On: Netflix
Here is the drama cast and characters:
Yoon Kye Sang as Lee Kang,
Oh Ja Hun as Lee Kang (young),
Ha Ji Won as Moon Cha Young,
Kim Bo Min as Moon Cha Young (young),
Jang Seung Jo as Lee Joon,
Yoo Teo as Kwon Min Sung,
Min Jin Woong as Moon Tae Hyun and more
---
5. Wok of Love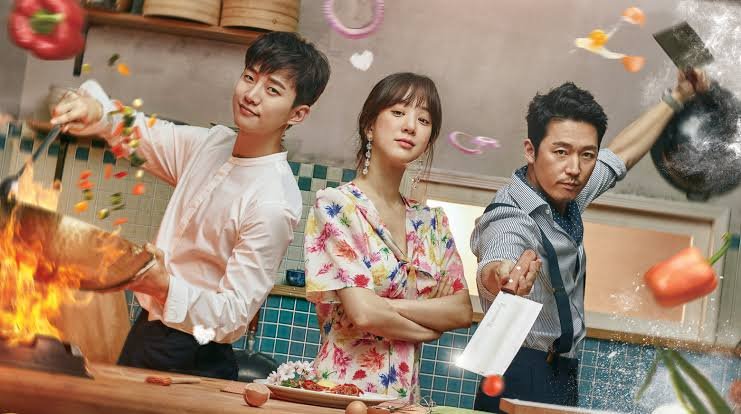 "Wok of Love" tells a captivating love story set in a small Chinese restaurant called Hungry Wok. Doo Chil Sung who used to be a gangster, now runs the restaurant to give his former gang members a fresh start. Seo Poong is a talented chef whose life takes a dramatic turn when his fiancée cheats on him with the hotel CEO and he becomes the target of false accusations. Determined to seek revenge and start anew, Poong leaves his job and takes over the struggling Hungry Wok across the street. Meanwhile, Dan Sae Woo, a once-wealthy heiress, faces a sudden downfall when her father gets arrested, leading to the cancellation of her engagement. Left with nothing, she meets Chil Sung, who instantly falls for her and offers her a job at the revived Chinese restaurant.
Here is the drama cast and characters:
Junho as Seo Poong
Jang Hyuk as Doo Chil Seong
Jung Ryeo Won as Dan Sae Woo
Lee Mi Sook as Jin Jung Hye
Park Ji Young as Chae Seol Ja
Tae Hang Ho as Im Geok Jung
Jo Jae Yun as Oh Maeng Dal
---
6. Cool Guys, Hot Ramen
It tells the story of Yang Eun Bi who dreams of becoming a high school teacher. As she diligently prepares for the teacher certification exam, she continuously crosses paths with Cha Chi Soo, the son of a prominent food conglomerate owner. However, Eun Bi fails to recognize Chi Soo's true identity, mistaking him for an employee of the food company and a university student. But she soon dislikes him after she finds out that he is only a high school student. However, Cha Chi Soo becomes fascinated towards her unique personality. Fate brings them together once again when they both find themselves working at a ramen shop owned by Choi Kang Hyuk. With multiple coincidental encounters, their attraction turns into real love.
Watch On: Viki
Here is the drama cast and characters:
Jung Il Woo as Cha Chi Soo
Lee Ki Woo as Choi Kang Hyuk
Lee Chung Ah as Yang Eun Bi
Kim Ye Won as Kang Dong Joo
Park Min Woo as Kim Ba Eul
Kim Il Woong as Coach Seo
Jo Yoon Woo as Woo Hyun Woo
---
7. Let's Eat series
"Let's Eat" story revolves around the lives of four single individuals: Lee Soo Kyung, a divorced paralegal; Goo Dae Young, a food lover with a mysterious past; Yoon Jin Yi, a design student from a wealthy background; and Kim Hak Moon, a petty lawyer. Soo Kyung, who wants to maintain her dignity, struggles to resist tempting food. Dae Young, known for his ability to describe flavors, sometimes tells white lies but remains considerate of others. Despite enjoying their independent lives, they face the challenge of dining out alone. At Jin Yi's suggestion, they decide to eat together and become involved in each other's lives. In the midst of their shared meals, a murder case occurs in their neighborhood, adding excitement to their daily routines.
Watch On: Viki
Here is the drama cast and characters:
Lee Soo Kyung as Lee Soo Kyung
Yoon Doo Joon as Goo Dae Young
Yoon So Hee as Yoon Jin Yi
Shim Hyung Tak as Kim Hak Moon
Lee Do Yeon as Oh Do Yeon
Jang Won Young as Choi Kyu Sik
Jung Soo Young as Park Kyung Mi
---
8. Mr. Queen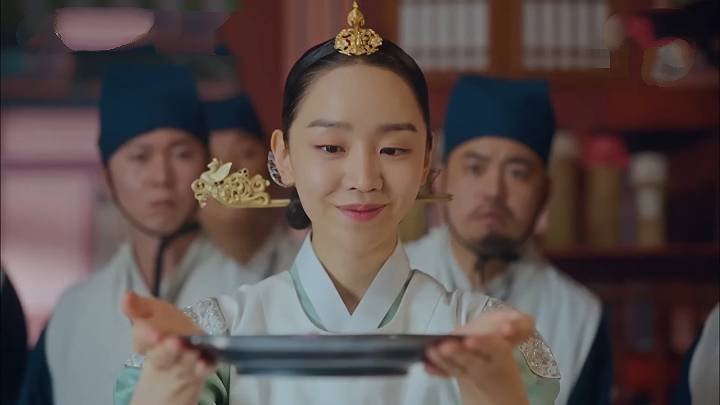 "Mr. Queen" tells the story of a famous modern era chef Jang Bong Hwan who is a head chef at the Blue House. One day, he gets into trouble when a Chinese delegate finds a fish hook in their food. After a near-death experience, miraculously he wakes up in the body of Queen Cheorin in the Joseon Era. She is known as So Yong. Trapped in the body of Queen Cheorin, Bong Hwan discovers that King Cheoljong who appears to be gentle and easy-going, lacks real power. The true authority lies with Queen Sunwon. Now, Bong Hwan aims to win Queen Sunwon's favor by showcasing his cooking skills and finding a way back to his modern body. In his journey to cook exclusive food for the Queen that combines modern day style and traditional taste, Bong Hwan uncovers secrets about So Yong's life and realizes that the seemingly kind King has a hidden dark side.
Watch On: Viki, Netflix, Prime Video
Here is the drama cast and characters:
Shin Hye Sun as Queen Cheorin
Choi Jin Hyuk as Jang Bong Hwan
Kim Jung Hyun as King Cheoljong
Cha Chung Hwa as Court Lady Choi
Jo Yeon Hee as Queen Dowager
Seol In Ah as Hong Yeon
Bae Jong Ok as Queen Sunwon (Grand Queen Dowager)
Na In Woo as Kim Byeong In
---
9. Dae Jang Geum Is Watching
This series revolves around the lives of three siblings—Han San Hae, Han Jin Mi, and Han Jeong Sik—who share a deep love for food and romance. They proudly carry the legacy of their ancestor, Dae Jang Geum. San Hae, the oldest sibling, has an exceptional sense of taste. While working at a company, he becomes involved with Bok Seung A, a passionate rookie employee who ignites his heart. Jin Mi, the second sibling, possesses an extraordinary sense of smell that enhances her culinary experiences. The youngest sibling, Jung Sik, is a talented cook and a YouTube vlogger. With his mouthwatering creations, he captivates viewers' hearts and shares his culinary adventures.
Watch On: Viki
Here is the drama cast and characters:
Shin Dong Wook as Han San Hae
Kwon Yu Ri as Bok Seung A
Lee Yeol Eum as Han Jin Mi
Kim Hyun Joon as Han Jung Sik
Lee Min Hyuk as Min Hyuk
Jung Yi Rang as Lee Na Young
Kim Ki Ri as Won Bin
---