"Law School" is a jTBC and Netflix original drama series that released on 14 April 2021 and is available to watch online on Netflix.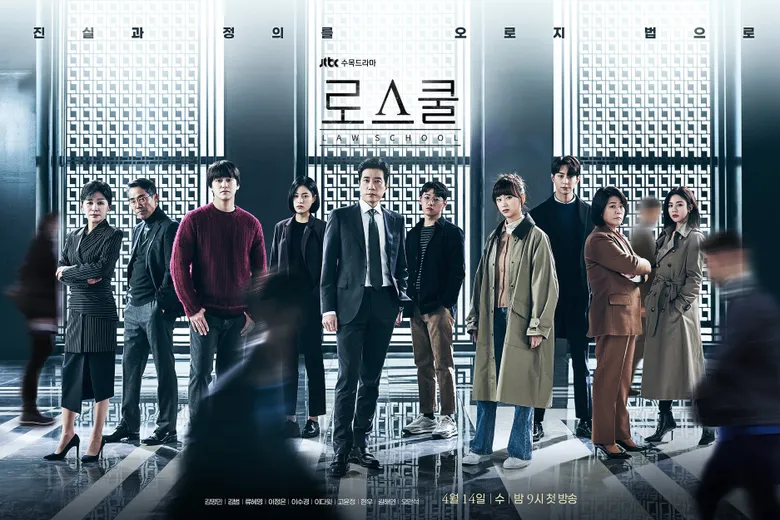 SYNOPSIS
"Law School" kdrama will tell the story about students and professors at law school who learn about law and also gets involved in an unusual crime case.
Yang Jong Hoon (Kim Myung Min) who was a prosecutor before is now a professor at the law school. He is strict with his students and wants to build a team of good people in the law field. Kang Sol (Ryu Hye Young) is a first year student in law school who comes from a poor family. She feels inferior to the rich and smart students in her class. Kang Sol then meets a topper in her batch, Han Joon Hwi (Kim Bum). He is intelligent and good-looking, but there is something about him that others don't know.
GENRE
Legal, Mystery, Crime
MAIN CAST AND CHARACTERS
Kim Myung Min as Yang Jong Hoon
Kim Bum as Han Joon Hwi
Ryu Hye Young as Kang Sol (A)
Lee Jung Eun as Kim Eun Suk
SUPPORTING
Lee Soo Kyung as Kang Sol (B)
Lee David as Seo Ji Ho
Go Yoon Jung as Jeon Ye Seul
Hyun Woo as Yoo Seung Jae
Lee Kang Ji as Min Bok Gi
Kim Min Seok as Jo Ye Bum
Ahn Nae Sang as Seo Byeong Joo
Kil Hae Yeon as Oh Jeong Hee
Woo Hyun as Sung Dong Il
Oh Man Seok as Kang Joo Man
EPISODES
Korean drama "Law School" will have a total of 16 episodes. (could be more)
NOTES
Kim Myung Min previously starred in Korean drama "Miracle That We Met" (2018).
Kim Bum previously starred in Korean drama "Tale Of The Nine-Tailed" (2020).
Ryu Hye Young previously starred in Korean drama "Dear My Room" (2018).
Lee Jung Eun previously starred in Korean drama "Once Again" (2020).
PREVIEW
Opening Teaser
Episode 1, 2, 3,……., Highlights
---