"Taxi Driver" (or "Deluxe Taxi") is an SBS original drama series that released on 9 April 2021 and will soon be available to watch online on Viki*.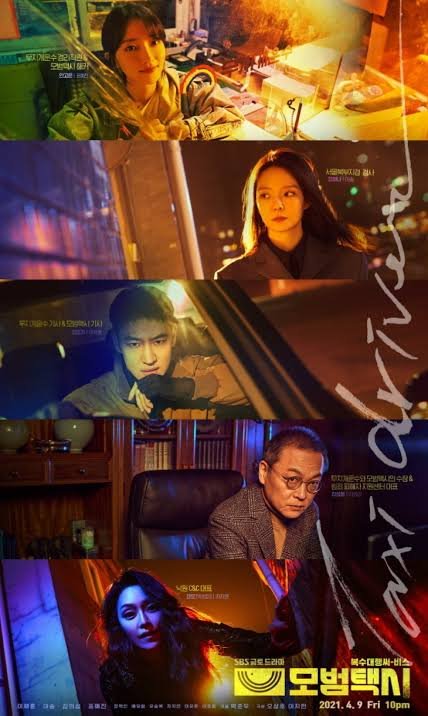 SYNOPSIS
"Taxi Driver" kdrama will tell the story of an extraordinary taxi company and its drivers who are set on a special mission. The mission involves offering the service of revenge for their clients who are also victims. Kim Do Ki (Lee Je Hoon) after graduating started working as a UDT (underwater demolition team) official. But things take a turn after his mother was murdered by a serial killer. Then he started working as a deluxe taxi driver at Rainbow Taxi Company. Go Eun (Pyo Ye Jin) is an IT specialist there who is also called as hacker by the people. Kang Han Na (Esom) who is an attorney tries to find the secret of Rainbow Taxi Company.
GENRE
Action, Crime, Revenge
MAIN CAST AND CHARACTERS
Lee Je Hoon as Kim Do Gi
Esom as Kang Han Na
Kim Hui Sang as Jang Sung Chul
Pyo Ye Jin as Go Eun
EPISODES
Korean drama "Taxi Driver" will have a total of 16 episodes. (could be more)
STILL CUTS
NOTES
Korean drama "Taxi Driver" is based on the webcomic named "Mobeomtaxi". It is written by Carlos and illustrated by Lee Jae Jin and was published via naver "comic.naver.com".
Lee Je Hoon previously starred in Korean drama "Where Stars Land" (2018).
Esom previously starred in Korean drama "Save Me 2" (2019).
Kim Hui Sang previously appeared in Korean drama "Arthdal Chronicles" (2019).
Pyo Ye Jin previously starred in Korean drama "V.I.P" (2019).
Previously K-pop Group April's Lee Na Eun was confirmed to play the Pyo Ye Jin's role of Go Eun, but later she dropped out of the show due to some controversy regarding her.
---
*Drama is subject to regional availability.
---