Overview: "Melancholia" Kdrama is a tvN original drama series that released on 10 November 2021. "Melancholia" stars Im Soo Jung and Lee Do Hyun in the main cast. It is available to watch online on streaming platform Viki* and WeTV*.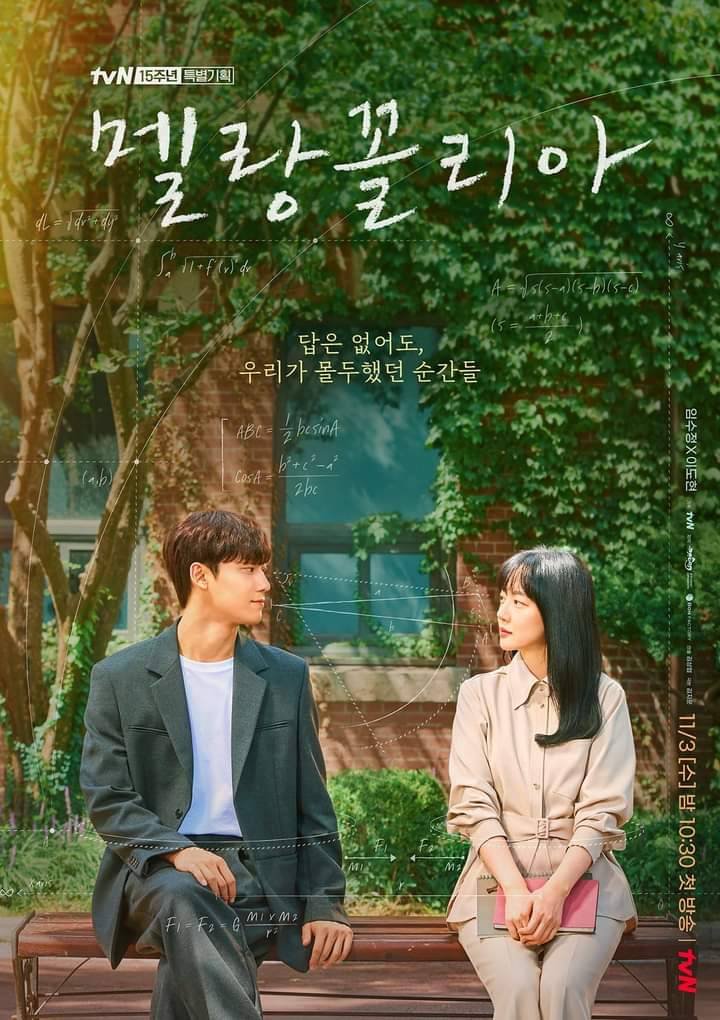 Table of Contents
Synopsis
Genre
Cast
Air Time & Schedule
Episodes & Ratings
Still Cuts
Notes & Facts
Where To Watch Online?
OST
Trailers & Clips
Similar K-Dramas
Synopsis
"Melancholia" Korean drama is centered around a private high school which is actually very corrupt. Math teacher Ji Yoon Soo and a Math prodigy Baek Seung Yoo come together and challenges the social prejudices.
Ji Yoon Soo is a passionate high school math teacher. She is of good nature and often inspire her students to like math.
Baek Seung Yoo is an extraordinary student. He doesn't like to speak much. Baek Seung Yoo is also poor in studies but a genius in Math. He is even a math Olympiad champion.
A sexual scandal between the two causes them to despair. 4 years later they meet again and decides to regain their reputation by opening the corruption in school.
Genre
Main Cast & Characters
Im Soo Jung as Ji Yoon Soo
Lee Do Hyun as Baek Seung Yoo
– Choi Seung Hoon as Seung Yoo (young)
Jin Kyung as Noh Jung Ah
Woo Da Bi as Sung Ye Rin
People around Ji Yoon Soo
Choi Dae Hoon as Ryu Sung Jae (Yoon Soo's fiancé)
Oh Kwang Rok as Ji Hyun Wook
Jun Kook Hyang as Shin Kyung In
Han Ki Joong as Ryu Hyun Il
People around Baek Seung Yoo
Kim Ho Jin as Baek Min Shik (Seung Yoo's father)
Baek Ji Won as Min Hee Seung (Seung Yoo's mother)
People around Sung Ye Rin
Jang Hyun Sung as Sung Min Joon (Ye Rin's father)
Byun Jung Soo as Yoo Hye Mi (Ye Rin's mother)
Lee Yoo Jin as Sung Yoo Chan (Ye Rin's younger brother)
Asung Foundation
Oh Hye Won as Noh Yun Woo
Jang Kwang as Noh In Hyung
Kim Ji Young as Kim Ji Na (Noh Jung Ah's daughter)
Asung High School teachers & administrators
Son Jin Hwan as Oh Jin Taek (principal)
Jun Jin Gi as Choi Sung Hwan (vice-principal)
Yang Jo Ah as Kim Jin Hee (Korean language teacher)
Ahn Sang Woo as Han Myung Jin (math teacher)
Kim Mi Hye as Ah Seung Ko (math teacher)
Asung High School students
Lee Kang Ji as Lee Hyun Jae (Baek Seung Yoo's friend)
Lee Sang Jin as Park Hyung Do (Baek Seung Yoo's friend)
Choi Woo Sung as Jang Kyu Young (Baek Seung Yoo's rival)
Others
Park Sung Yun as Yoo Sun Ah
Lee Se Na as Jo Yoon Ah
Air Time & Schedule
New Episodes every Wednesday & Thursday at 10:30 PM KST.
Episodes & Ratings
"Melancholia" Korean drama will have a total of 16 episodes.
Still Cuts
Notes & Facts
"Im Soo Jung" earlier starred in Korean drama "Search: WWW" (2019).
Lee Do Hyun earlier starred in Korean drama "Youth of May" (2021).
Director: Kim Sang Hyub
Screenwriter: Kim Ji Woon
Where To Watch Online?
You can watch "Melancholia" on Viki here.
OST List
Trailers & Clips
Episodes 1, 2, 3,….., Highlights
You May Also Like
Similar K-Dramas to "Melancholia" (Depicting teacher-student love, the genre could be different)
Romance (2002)
Biscuit Teacher and Star Candy (2005)
I'm Your Teacher (2007)
Loveholic (2005)
Flower Boy Ramen Shop (2011)
Big (2012)
Secret Love Affair (2014)
My Strange Hero (2018)
---
*Drama is subject to regional availability.