Overview: "One Ordinary Day" Kdrama (also known as "That Night") is a Coupang Play original drama series that released on 27 November 2021. It will tell the story of an ordinary college student Kim Hyun Soo who suddenly becomes the main suspect of a murder and only aided by a third rate lawyer Shin Joong Han. "One Ordinary Day" stars Kim Soo Hyun and Cha Seung Won in the main cast. It is available to watch online on streaming platform Viu*.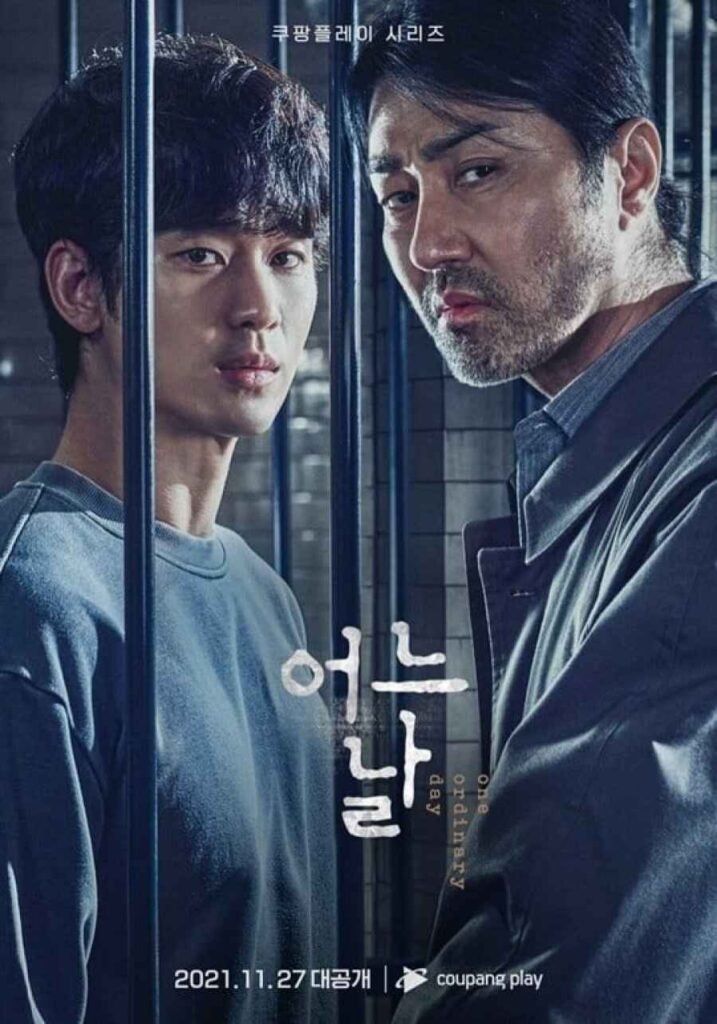 Table of Contents
Synopsis
Genre
Cast
Air Time & Schedule
Episodes & Ratings
Still Cuts
Notes & Facts
Where To Watch Online?
OST
Trailers & Clips
Similar K-Dramas
Synopsis
"One Ordinary Day" tells the story of a college student Kim Hyun Soo (Kim Soo Hyun) whose normal life turns upside down when he becomes the prime suspect of a woman's murder. This happens after Kim Hyun Soo spends the night with a young woman. Next day, when he wakes up, he sees her stabbed to death on her bed.
A third rate lawyer, Shin Joong Won decides to help Kim Hyun Soo. But he barely passed his law exam. Here starts their rough journey when they face the absurdity of Criminal Justice System.
Genre
Crime, Thriller, Suspense, Legal, Mystery
Main Cast & Characters
Kim Soo Hyun as Kim Hyun Soo
Cha Seung Won as Shin Joong Han
Supporting Cast
Lee Seol as Seo Soo Jin (Rookie lawyer)
Yang Kyung Won as Park Doo Shik
Kim Shin Rok as Ahn Tae Hee (Elite prosecutor)
Kim Hong Pa as Park Sang Beom (Team
leader)
Kim Sung Gyu as Do Ji Tae
Jung Ji Ho as NFS staff
Kim Young Ah as Hong Jeong Ah (NFS staff)
Moon Ye Won as Kang Da Kyung (Reporter)
Air Time & Schedule
New Episodes every Saturday and Sunday.
Episodes & Ratings
"One Ordinary Day" Korean drama will have a total of 8 episodes.
Still Cuts
Notes & Facts
Kim Soo Hyun earlier starred in Korean drama "It's Okay To Not Be Okay" (2020).
Cha Seung Won earlier starred in Korean drama "A Korean Odyssey" (2017).
"One Ordinary Day" was previously titled as "That Night".
The drama is based on the British Television series "Criminal Justice" written by Peter Moffat.
Director: Lee Myung Woo
Screenwriter: Kwon Soon Gyu
Where To Watch Online?
You can watch "ViuTV" and "Coupang Play".
Coupang Play is a South Korean subscription-based video streaming service launched by Coupang in December 2020. It is often referred as the "Amazon of South Korea", due its position and corporate size in South Korean online market.—Wikipedia
OST List
Trailers & Clips
You May Also Like
Similar K-Dramas to "One Ordinary Day" (based on the concept of false accusations and solving a murder case)
Class of Lies (2019)
Defendant (2017)
---
*Drama is subject to regional availability.