Overview: "Please Check the Event" web drama (also known as "Check out the Event") is an MBC original drama series that released on 14 August 2021. It will tell the story of two ex-lovers who reunite only to win a free trip meant for couples. "Please Check the Event" stars Bang Min Ah, Kwon Hwa Woon and Ahn Woon Yeon in the main cast. It is available to watch online on streaming platform Kocowa* and Viki*.
Table of Contents
Synopsis
"Please Check The Event" tells the love story of two ex lovers who now pretend to be together. So that they can go to the couple's trip they won somewhere.
Ha Song Yi (Bang Min Ah) is a cute and honest girl who is also a botanical garden curator. Her boyfriend Park Do Kyum is the
leader and vocalist of an indie band. However, one day, Do Kyum disband his group and suddenly asks Song Yi for breakup.
After breakup, Song Yi gets a hard time, and she participates in a competition. She wins a couple's trip. She asks Do Kyum to go with her. He agrees. An essay writer, Seo Ji Gang also become attracted to Song Yi as he becomes their travel guide.
Genre
Youth, Romance, Melodrama, Comedy
Main Cast & Characters
Bang Min Ah as Ha Song Yi
Kwon Hwa Woon as Park Do Kyum
Ahn Woo Yeon as Seo Ji Kang
Supporting Cast
Kim Hee Chang as Kang Jae Nam
Kim Young Sun as Hyun Kyung Mi
Lee Jin Hyuk as Song Jong Ho
Nam Kyu Hee as No Hyo Jung
Lee Joo Myoung as Jang Roo Ri
Cha Seung Yeob as Yoo Min Joon
Ryu Jee Wan as Kang Ho Young
Air Time & Schedule
New Episodes every Wednesday & Thursday at 9:50 KST.
Episodes & Ratings
"Please Check the Event" Korean drama will have a total of 4 episodes. (2 episodes back-to-back)
Still Cuts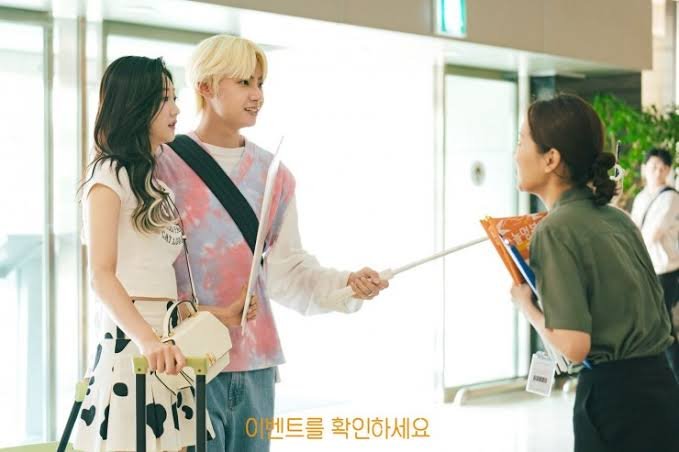 Notes & Facts
Bang Min Ah earlier starred in Korean drama "My Absolute Boyfriend" (2019).
Kwon Hwa Woon earlier appeared in Korean drama "Mouse" (2021).
Ahn Woo Yeon earlier appeared in Korean drama "Mad for Each other" (2021).
Where To Watch Online?
You can watch "Please Check the Event" on Kocowa and Viki here.
OST List
Soon!
Trailers & Clips
You May Also Like
Similar K-Dramas to "Please Check the Event"
---
*Drama is subject to regional availability.