Overview: "Twinkling Watermelon" Kdrama (also known as "Sparkling Watermelon") is a tvN original drama series that released on September 25, 2023. It will tell the story of boy who time-travels to the past and meets his 18 year old father. "Twinkling Watermelon" stars Ryeo Woon, Choi Hyun Wook, Seol In Ah and Shin Eun Soo in the main cast. It is available to watch online on streaming platform Viki*.
Table of Contents
Synopsis
"Sparkling Watermelon" Korean drama tells the story of Eun Gyeol (Ryeo Woon), a perfect student and passionate band guitarist who is the only one in his deaf family who can hear. One day, he accidentally time-travels inside a suspicious musical instrument store, where he meets his father Lee Chan (Choi Hyun Wook), who is 18 years old. Eun Gyeol is surprised to learn that his father had feelings for Se Kyung (Seol In Ah) rather than his mom Chung Ah (Shin Eun Soo).
Chung Ah, like Lee Chan, is also deaf and is popularly known as the ice princess in school. On the other hand, Se Kyung is the school's cello goddess, famous for her cold attitude.
Unexpectedly, Eun Gyeol becomes good friends with his father's younger self, starts a band called "Watermelon Sugar," and falls in love with a girl.
Genre
Romance, Youth, Fantasy, Time-travel
Main Cast & Characters
Ryeo Woon as Ha Eun Gyeol
Seol In Ah as Choi Se Kyeong
Choi Hyun Wook as Ha Yi Chan
Shin Eun Soo as Yoon Cheong Ah
Supporting Cast
Kim Joo Ryoung as Lim Ji Mi (Cheong Ah's stepmother)
Bong Jae Hyun as Ha Eun Ho (Eun Gyeol's brother)
Choi Won Young as Ha Lee Chan (Older)
Koo Jun Hoe as Koo Jun Hyung (Spine9's vocalist)
Seo Young Hee as Yoon Cheong Ah (Older)
Chun Ho Jin as (Viva grandpa / Eun Gyeol's mentor)
Yeon Oh as Jung Ji Oh (Spine9's drummer)
Yoon Jae Chan as Kang Hyun Yul (Bassist)
Lee Suk Hyeong as Jung Bal San (College student)
Lee Su Chan as Noh Se Bum (Keyboardist)
Lee So Yeon as Choi Se Kyeong (Older)
Go Doo Shim as Go Yang Hee (Lee Chan's grandmother)
Lee Soo Min as Yoon Sang Ah (Se Kyeong's friend)
Ahn Do Kyu as Oh Ma Ju (Band manager)
Kim Tae Woo as Yoon Gun Hyung (Cheong Ah's father)
Kwon Do Hyung as Yoon Joo Yeop (Cheong Ah's stepbrother)
Park Ho San as Choi Hyun (Owner Baekya Music)
Jung Sang Hoon as (Master)
Air Time & Schedule
New Episodes every Monday & Tuesday at 8:50 p.m. KST.
Episodes & Ratings
Korean drama "Twinkling Watermelon" will have a total of 16 episodes.
Still Cuts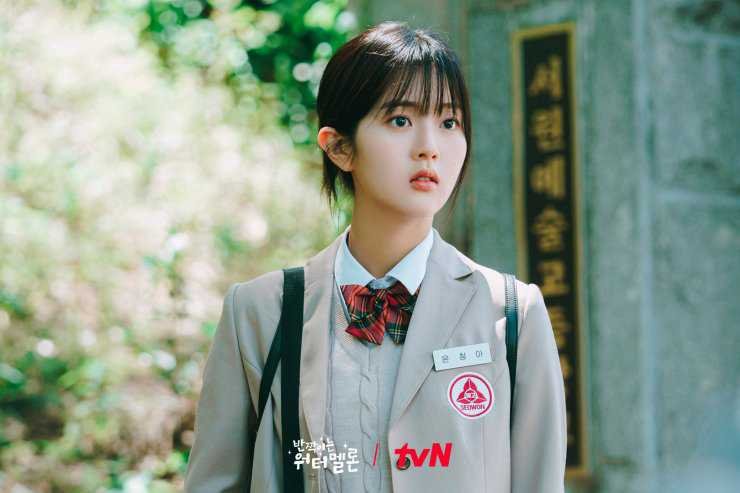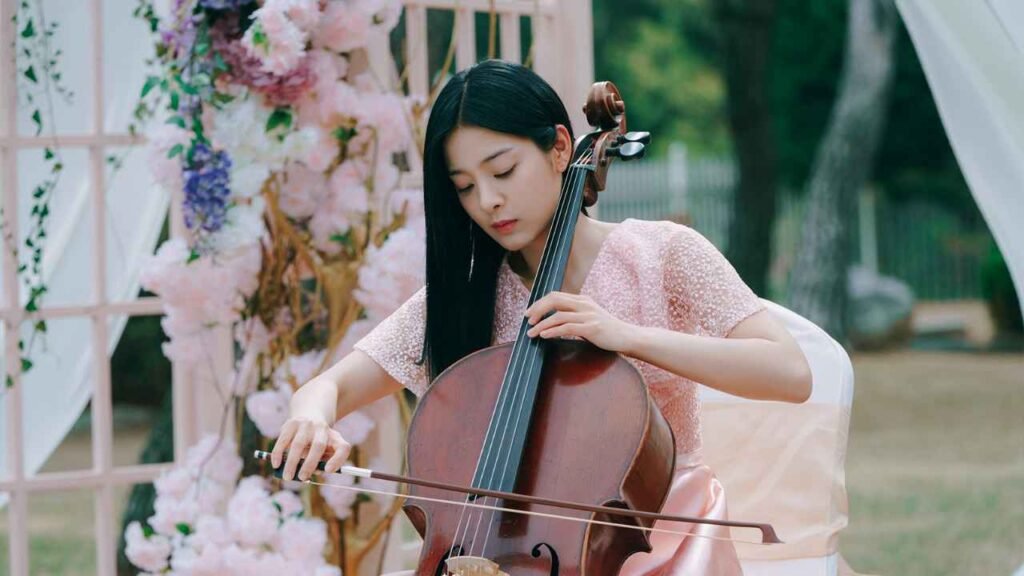 Notes & Facts
Ryeo Woon earlier starred in Korean drama "The Secret Romantic Guesthouse" (2023).
Seol In Ah earlier starred in Korean drama "Oasis" (2023).
Choi Hyun Wook earlier starred in Korean drama "Weak Hero Class 1" (2023).
Shin Eun Soo earlier starred in Korean drama "Summer Strike" (2022).
Previous drama on this time slot of tvN: My Lovely Liar
Director: Son Jung Hyun
Writer: Jin Soo Wan
Where To Watch Online?
You can watch "Twinkling Watermelon" online on Viki here.
Trailers & Clips
*Drama is subject to regional availability.