11. Bring It On, Ghost (2016)
Based on the webtoon of same name, "Bring It On, Ghost" or called "Let's Fight, Ghost" stars K-pop group 2PM's Ok Taec-yeon, Kim So Hyun and Kwon Yul in the main cast.
"Bring It On, Ghost" tells the romance and thriller story of ghost Kim Hyun Ji (Kim So Hyun) and Park Bong Pal who can see ghosts. An accident causes Kim Hyun Ji to become a spirit. Now she wanders on Earth for a long time, until she finds Park Bong Pal and becomes hopeful. Born with the ability to see ghost, Park Bong Pal becomes an exorcist so that he could treat himself later with the money he collects from it. Both Kim Hyun Ji and Park Bong Pal end up falling in love while working together. And an evil spirit is stalking them.
Ranked as the 9th most watched cable drama in Korea during 2016 "Bring It On, Ghost" was liked both in Korea and abroad. Its many genres like horror, comedy, and romance makes it an entertaining watch. The chemistry between 2PM's Ok Taec Yeon and Kim SonHyun is so charming and lovely. It even has a Thai remake by the name "Let's Fight Ghost" (2021).
You can watch* "Bring it On, Ghost" online on :- Viki, WeTV , Viu
---
12. Reply 1988 (2015)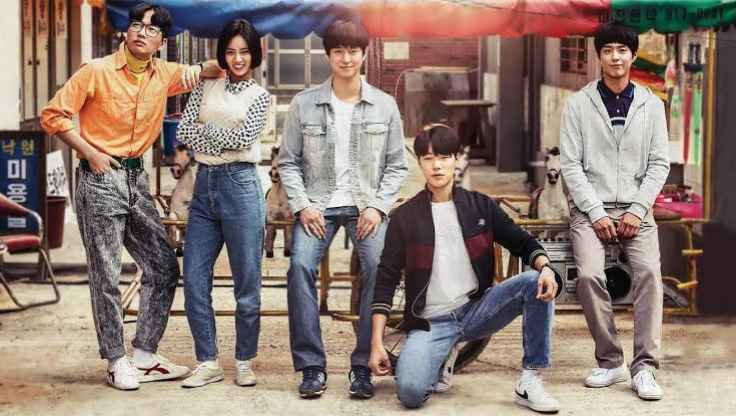 "Reply 1988" is a Gem in Kdrama world. It stars one of the youngest members of girl group Girl's Day Lee Hyeri along with Ryu Jun Yeol, Go Kyung Pyo, Park Bo Gum and Lee Dong Hwi.
Also known as "Answer Me 1988" is a drama about the people living in Ssangmundong neighborhood of Seoul in the year 1988. It follows the growing up stories of five childhood friends now in their teen years, along with their parents in those simpler times. This is the third part of the Reply series after 'Reply 1997' and 'Reply 1994'. Although each has no connection with the other.
"Reply 1988" is the preeminent series when it comes to showing the old times. The script has been kept so simple yet engaging. It is a drama that will walk you through a memory lane. A wide range of unique and lively characters and covering all the important aspects of basic human emotions and life, the drama is sure to warm your heart. It is still very popular among the fans today. Currently, it is the fourth-highest rated drama in Korean cable television history.
You can watch* "Reply 1988" online on :- Viki, Netflix and Viu
---
13. The Red Sleeve Cuff (2021)
Another Korean drama starring a member of K-pop boy group 2PM "Red Sleeve Cuff" is a recently released drama. It stars Lee Jun Ho from 2PM, Lee Se Young and Kang Hoon.
"The Red Sleeve Cuff" story goes like this. In the 1700s, crown prince Yi San's father dies a cruel death. Yi San's grandfather is the current King, who is behind the death of his father. He dies too, and Yi San becomes the King. He decides to be a good King who wants to change the laws for good. One day, he meets court lady Sung Deok Im and falls in love with her. Yi San truly loves Sung Deok Im and asks her to become his official concubine. At first, Sung Deok Im rejects the offer. She wishes to avoid sacrificing her freedom, but later she understands and decides to become one so that she can protect the King.
Awarded as the Drama of the Year, Best Couple, Best Writer and more at the 2021 MBC Drama Awards, "The Red Sleeve Cuff" has been loved internationally as well. It has a perfect script and many call this series as their best historical watch ever. Lee Jun Ho, Lee Se Young and more has done their best in the series. Truly a worth watch.
You can watch* "The Red Sleeve Cuff" online on :- Viki and Viu
---
14. Love Rain (2012)
"Love Rain" stars Girls' Generation Im Yoon Ah (Yoona) and Jang Keun Suk in dual roles.
It tells the story of love of two generations. It's the time in the 70s when two college students Suh In Ha and Kim Yoon Hee falls in love with each other. But somehow, they can not express to each other. Later both ends up living their life without confessing.
Now, it's present day, a boy called Suh Joon meets Ha Na and falls in love. Suh Joon is Suh In Ha's son, while Ha Na is Kim Yoon Hee's daughter. They both are completely opposite in personality from their parents, and they also start dating each other. The trouble comes when Suh In Na and Kim Yoon Hee confesses their feelings and decides to get married, which literally makes Ha Na and Suh Joon step-siblings.
Did you read the last line of "Love Rain" synopsis? The series is getting more interesting here. This drama is so sweet, filled with many emotions and has an intriguing storyline to follow. Also, it is not like a typical rom-com but has a melodramatic tone to it. Although the series got low viewership ratings in Korea, it received good reviews overseas. Moreover, it was the most expensive Korean drama presold to Japan in 2012.
You can watch* "Love Rain" online on :- Viki and Amazon Prime
---
15. Snowdrop (2021)
And last but not at all the least "Snowdrop" which stars the popular girl group Blackpink's member 'Jisoo', Jung Hae In, Yoo In Na, Jang Seung Jo, Yoon Se Ah, Kim Hye Yoon and Jung Yoo Jin in the main cast.
"Snowdrop" Korean drama tells the romance story of two students from a prestigious university, set against the backdrop of the 1987 Democracy Movement of Korea. Im Soo Ho (Jung Hae In) grew up in Germany. Currently, he is a graduate student at a university in Korea. He is charming and handsome, but something is mysterious about him. He meets Eun Young Ro (Jisoo) on a blind date.
Eun Young Ro is in the first grade of Hosoo Women's University. She is a major in English literature. Eun Young Ro is of cheerful personality, and she falls in love with Im Soo Ho at first sight. One day, Im Soo Ho jumps into the dormitory at the University all covered in blood. Eun Young Ro then hides him from others.
Just about to air its final episode, this fresh drama "Snowdrop" is another one starring our favorite idol. Although, it got surrounded by controversy in South Korea, "Snowdrop" is well received internationally. It has a very intriguing plot which is simple to understand and enjoyable to watch. The casting is so good. It even manages to put humor in its dark tone. A must-watch for the Blinks because this is Jisoo's first Korean drama as main lead.
You can watch* "Snowdrop" online on :- Disney+
---
Follow Korean all Day on Twitter for Daily updates!
So, this it. I know there can be more K-pop idol starring Korean dramas in the above list, but these are certainly the best. So, how many have you watched? Or did you get your next drama to watch? Do tell me everything in comments.
Anneyeong 😊❤️
---
*Drama is subjected to regional availability and some apps requires subscription to watch dramas