From award-winning to heart stealing, I have collected every gem that Korean cinema has to offer, especially for beginners.
These nine awesome Korean movies make for a fantastic introduction to the world of Korean cinema. Whether you're into romance, comedy, horror, or thought-provoking stories, there's something here for everyone. Trust me; Korean cinema has a lot to offer, from heartwarming romances to spine-tingling thrillers.
So get ready as you're stepping into the mesmerizing world of Korean movies and dramas. You're in for a treat! So, without further ado, let's dive into our list of nine fantastic Korean movies that are perfect for beginners.
---
1. My Sassy Girl (2001)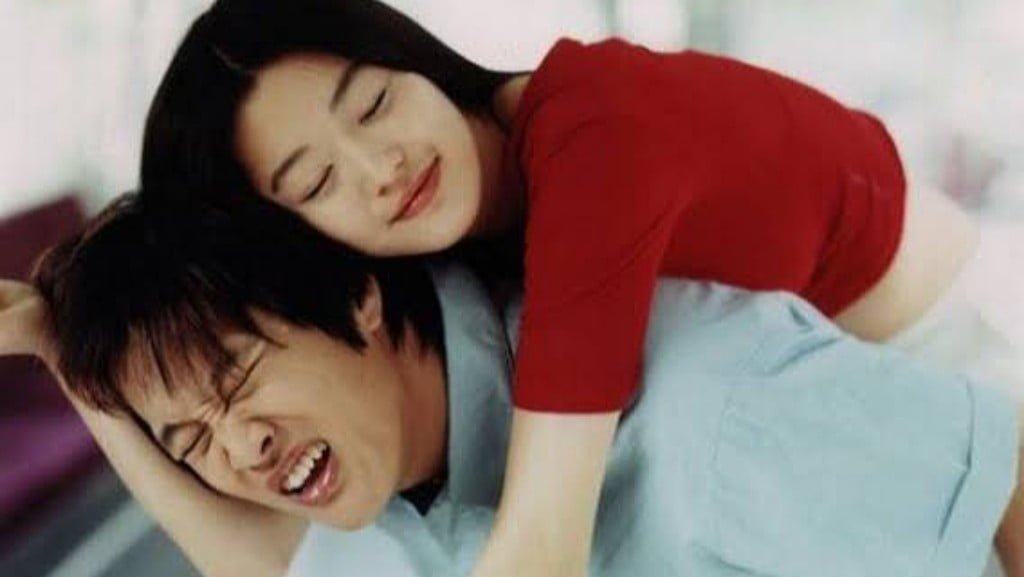 Let's start with "My Sassy Girl." This film was such a massive hit in its time that its success in Asia drew comparisons to that of "Titanic." It played a significant role in spreading the Korean Wave. This one holds a special place in my heart as "My Sassy Girl" was my first Korean movie, and I absolutely adored Jun Ji Hyun and Cha Tae Hyun's humorous characters.
"My Sassy Girl" is a romantic comedy that takes you on a hilarious rollercoaster of emotions, following the adventures of Gyun Woo, a college student who unexpectedly becomes the boyfriend of a drunken girl he saves from falling onto the railway tracks. However, this girl is anything but ordinary – she's unpredictable, eccentric, and self-centered, always keeping him on his toes. Despite her antics, he finds it impossible to get over her. This movie had me laughing so hard at times, so get ready to laugh and swoon along!
Movie's Main Cast:
Jun Ji Hyun as Gyun Woo
Cha Tae Hyun as The Sassy Girl
---
2. Memories of a Murder (2003)
Laced with numerous awards "Memories of Murder" is widely considered one of the best East Asian films ever made. Directed by none other than Bong Joon Ho, the genius behind "Parasite," this crime thriller is based on real events. It keeps you on the edge of your seat as detectives attempt to solve a series of gruesome murders.
It tells the story of 1986 in Gyunggi Province; a young woman is brutally raped and murdered. More similar crimes follow, sparking fears of a serial killer. Then, a special task force is formed with detectives Park Doo Man, Jo Young Goo, and a Seoul detective Seo Tae Yoon. From the fact that not a single hair is ever found at the scene, all three use various tactics to solve the case that has shocked whole of Korea. However, the case keeps becoming more confusing.
Movie's Main Cast:
Song Kang Ho as Park Doo Man
Kim Sang Kyung as Seo Tae Yoon
Kim Roe Ha as Jo Yong Koo
---
3. 20th Century Girl (2022)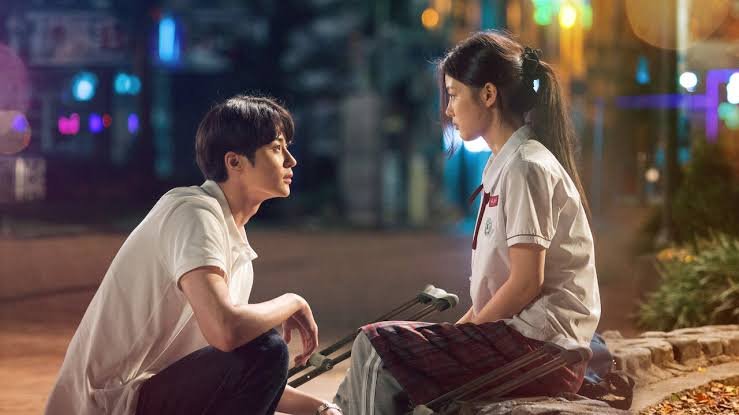 A recent Netflix Korean Movie that has successfully landed among the top 10s has won the hearts of many fans for its sweet representation of firs love and friendship and also taking on an emotional toll. You'll find it interesting to know that Director Bang Woo Ri wrote the script based on her personal experience of exchanging diaries with her friend and also film is set in Cheongju, the director's hometown.
Set in the 1999, a kind-hearted teen named Bo Ra keeps a watchful eye on a popular classmate for best friend, Yeon Du who has a crush on him. Bo Ra is a talented taekwondo student and a member of the school's broadcasting club. As Yeon Du undergoes heart surgery, Bo Ra grows closer to Hyun Jin and his best friend Woon Ho. During this period, Bo Ra falls in love with Hyun Jin's best friend Woon Ho. Now, her friend returns and she realises that she has been following the wrong guy and right one is the one Bo Ra has fallen for.
Movie's Main Cast:
Kim Yoo Jung as Na Bo Ra
Byeon Woo Seok as Poong Woon Ho
Roh Yoon Seo as Kim Yeon Doo
Park Jung Woo as Baek Hyun Jin
---
4. Parasite (2019)
You've probably heard of this one! Directed by Bong Joon Ho, "Parasite" made history by snagging the Academy Award for Best Picture making Korea's first ever movie to win such award and also becoming the first non English-language film. This dark comedy-thriller delves into class struggle and societal issues, leaving you pondering long after the credits roll.
It tells the story about a poor family called the Kims. They live in a tiny basement apartment and struggle to find work. Then, one of them gets a job as a tutor for a rich family, the Parks. The Kims family makes a plan to work for them as individuals by pretending to be really good at different jobs and act like they don't know each other. This way, they get into the Park's family house and start working there. But things get complicated when an old housekeeper returns to the Parks' house and finds out the Kims' secret.
Movie's Main Cast:
Song Kang Ho as Kim Gi Taek
Lee Sun Kyun asPark Dong Ik
Cho Yeo Jung as Choi Yun Gyo
Choi Woo Shik as Kim Gi Woo
Park So Dam as Kim Gi Jung
Jang Hye Jin as Park Chung Sook
---
5. Train to Busan (2016)
Hold onto your seats for "Train to Busan," which set a record as the first Korean film of 2016 to break the audience record of over 10 million theatergoers. This thrilling horror film will have your heart racing as passengers fight for their lives during a zombie apocalypse on a train. It's a wild ride!
It tells the story of Seok Woo, a busy dad from Seoul, who agrees to fulfill his daughter's birthday wish: a trip to Busan on a fast train. But things get crazy when a terrifying zombie sneaks on board and starts turning people into zombies too! Outside the train, the whole city is overrun by zombies. Seok Woo and the other survivors must use their wits to stay safe until they reach Busan, which is zombie-free. Can they do it and save Seok Woo's daughter?
Movie's Main Cast:
Gong Yoo as Seok Woo
Jung Yu Mi as Sung Kyung
Ma Dong Seok as Sang Hwa
Kim Soo An as Seo Soo Ahn
Kim Eui Sung as Yong Suk
Choi Woo Shik as Min Young Guk
Ahn So Hee as Kim Jin Hee
---
6. On Your Wedding Day (2018)
Grab your tissues for this one! Directed by Lee Seo Geun, this romantic drama takes you on a nostalgia-filled journey as a man reminisces about his unrequited love during a friend's wedding. "On Your Wedding Day" is a heart-melter.
Hwang Woo Yeon gets a wedding invitation from his first love, Hwan Seung Hee, after more than ten years. He finally understands she's the one he shouldn't have let go. Back in school, Seung Hee stole his heart when they first met. Woo Yeon worked hard to make her like him, and it worked. But they got separated, and for ten years, they remained friends but nothing more. Now, Woo Yeon realizes that what he wants most is a second chance with Seung Hee, but it might be too late.
Movie's Main Cast:
Park Bo Young as Hwan Seung Hee
Kim Young Kwang as Hwang Woo Yun
---
7. 200 Pounds Beauty (2006)
Directed by Kim Yong Hwa, this comedy-drama follows the journey of a talented but overweight singer who transforms herself to pursue her dreams. It's all about self-discovery and self-acceptance, and it's bound to make you smile. "200 Pounds Beauty" is the third best-selling domestic film of 2006 in Korea.
Kang Han Na, despite her amazing voice, hasn't been able to become a pop star due to her weight. She provides the voice for idol Amy but stays in the shadows. She secretly likes Amy's music producer, Sang Joon. Amy plays a cruel joke on her, unaware of her feelings, pushing Han Na to a breaking point. Frustrated with her life, Han Na undergoes a drastic plastic surgery, becoming Jenny. Now she hopes to impress Sang Joon and also become a pop-sensation. Will this change bring her happiness or new challenges?
Movie's Main Cast:
Joo Jin Mo as Han Sang Jun
Kim Ah Joong as Jenny / Kang Han Na
---
8. Exit (2019)
Buckle up for some action and comedy with "Exit." The movie was huge success in Korea and globally making it the South Korea's third highest-grossing domestic film for 2019. It's an adventure as a man and a woman try to escape a city covered in toxic gas. Laughs and thrills are guaranteed! "Exit" is also YoonA's first film with a leading role.
Yong Nam was once a highly skilled college rock climber. However, since graduating, he's faced a series of job rejections, forcing him to depend on his parents for financial support. On his mother's 70th birthday, he decided to celebrate at Dream Garden, primarily because his former crush, Eui Ju, is employed there. But when an unforeseen catastrophe envelops an entire district in Seoul with an enigmatic white gas, Yong Nam must put his rock climbing prowess to the test, teaming up with Eui Ju to ensure the safety of everyone affected.
Movie's Main Cast:
Jo Jung Suk as Lee Yong Nam
Im Yoon Ah as Eui Joo
---
9. The Silenced (2015)
This one's a historical thriller by Lee Hae Young, set in a girls' boarding school during the Japanese occupation of Korea. It's a mysterious, eerie, and suspenseful ride that'll keep you guessing.
"The Silenced" tells the story of Ju Ran, who has a long-lasting health problem, goes to a special boarding school with a hospital. At this new school, her health gets better, thanks to her new friend Yeon Deok and a unique treatment plan set up by the principal. However, something strange starts happening – her classmates start disappearing one by one, and she notices weird changes in her own body. She thinks the school might be behind all of this, so she decides to investigate and find out the truth.
Movie's Main Cast:
Park Bo Young as Joo Ran
Uhm Ji Won as Kato Sanae (Headmistress)
Park So Dam as Yeon Deok
---