"Because This Is My First Life" is a slice of life rom-com drama. It is centered around love story of a computer designer Nam Se Hee and an assistant screenwriter Yoon Ji Ho. Both are almost in their thirties and have their own reasons of not marrying. Somehow, they end up being the roommates and marrying each other with terms and conditions. The drama mainly focused on the struggles of careers, relationships and marriages that today's youth has to face comparatively to the times of before.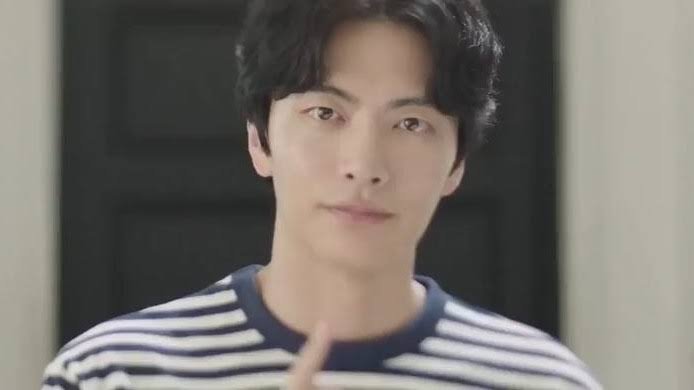 Nam Se Hee played by Lee Min Ki is a computer engineer and has his own house in Seoul on debt. He is of unique personality who has unorthodox views about life. He also has a cat to which he adores more than anyone. In order to pay the debt of his house he rents out one extra room. But he is very strict about deciding his tenant. Thinking Yoon Ji Ho as a boy he makes her new tenant on friend's recommendation.
Yoon Ji Ho played by Jung So Min is an assistant screenwriter. She wishes to write her own script one day but due to some issues she quits her job and starts as a freelancer. Jobless and broke she takes the room at Se Hee's house after she mistook him as a girl. She faces a hard time pursuing her dream as her parents wants her to marry and settle down soon.
Woo Su Ji and Yang Ho Rang played by Esom and Kim Ga Eun respectively are Yoon Ji Ho's best friends since school. Woo Su Ji works at corporate office and wishes to becomes the CEO of a company on day. Yang Ho Rang works at a bar and her only dream is to become a housewife and marry her longtime boyfriend Sim Won Seok.
Ma Sang Goo played by Park Byung Eun is a long time friend and the CEO of company where Nam Se Hee works. Sim Won Seok played by Kim Min Seok is Yang Ho Rang's boyfriend. He is currently struggling with his own start-up company so he keeps dropping the topic of marriage with Ho Rang.
"Because This Is My First Life" as the title suggest goes around the life of 6 individuals each having unique personalities and their own dreams they wish to fulfill. It depicted everything a person experience in life is their first time and first times are always hard. The drama was a warm hug to me. It was so relatable. The characters are so real that you will definitely find one to relate to. Their development throughout the series is really inspiring and encouraging to watch. You will definitely click well with them while enjoying the show.
One wants to follow her passion, one wants to become a CEO, while the other simply wants to become a wife. Woo Su Ji is a bold person who says what she wants to say. She is a kind of friend that will be ready to scold you if you don't go right way. And at the same time will always protect you. Yang Ho Rang is someone with warm heart. She is a kind of friend that will always be your talk buddy.
CEO Ma Sang Goo has everything in life expect a girlfriend. He is a kind of person that can handle any kind of person. That is why he has a friend like Nam Se Hee and becomes boyfriend of Woo Su Ji. We all have met someone like them in our life. The writer did an excellent work setting it as the backdrop of the script.
Yoon Ji Ho and Nam Se Hee were amazing characters as well. After quitting her long time job of assistant writer Yoon Ji Ho decides to be a freelancer. At the same time she is naive and knows nothing about the world. Despite all, she still makes bold decisions in her life. I found her character full of positivity and determination. She is a kind of girl who doesn't stays on the ground for long and gets up every time even stronger than before.
Nam Se Hee is someone who is full of unorthodox views. He literally has theories for everything happening with the people's life and goes with his own terms whenever possible. He rarely smiles. But above all, he is honest and says what he has to say without caring about what others will say. I found his character pretty humorous and laughed a lot because of his unique personality and views.
So according to me these two made a unique but amazing pair together. A girl who knows nothing, living by herself for the first time, decides to be a freelancer. And a man who don't like people easily, ends up liking his roommate very much. Their romance started out slow as both were people with their own views. It took long for them to realize their actual feelings for each other. So this maintains the interesting pace of the series and it worked well with the third person between them.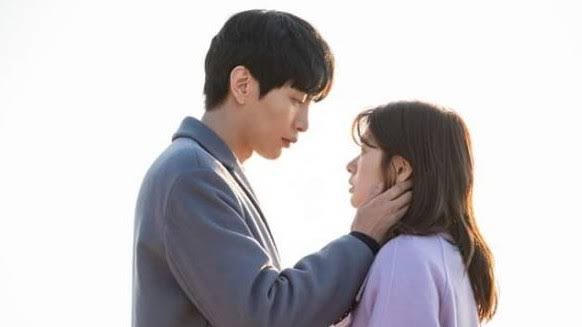 Their characters took a complete U-turn after they fell in love. They realized that their perspective about life was wrong. The ending of the drama is something you will not expect but definitely like it. "Because This Is My First Life" didn't give us some strict rules about life unlike other slice of life dramas. It showed that our thoughts are flexible and are likely to change in the future according to our situations. I liked that it remained real here as well.
But the drama is not just real it is actually a combination of fiction and reality. Although the story revolves around real life problems, but still it has many fictional aspects which only adds fun to the drama. Yoon Ji Ho's problematic but exciting life, Nam Se Hee' unorthodox views, Woo Su Ji's bold character, Yang Ho Rang waiting for a proposal from her longtime boyfriend, their friendship and interlinking of all these characters added up to an overall enjoyable story. I also liked how Yoon Ji Ho was looking time to time at the camera to explain the viewers how messy her life is.
So to wrap up "Because This Is My Life" is a rom-com drama with the juice of life in it. The drama holds a good sense of humor with some characters you will be able to connect well with. It will literally hug you as it talks about you. An interesting story with amazing cast. Overall an enjoyable drama with a mix of life and spice. There are not many dramas like this one out there so it is a must watch.
My Ratings : 8 / 10
---