"Class Of Lies" also called "Mr. Temporary" is a crime mystery Korean drama related to an elite high school. Its story goes like this. A popular student from Chunmyung high school is murdered in her own house. Her classmate is caught at the scene of murder. Now he is accused of killing her.
A high winning rate lawyer Gi Moo Hyuk defends him for the crime. But unfortunately, this case ruins his reputation as a lawyer. Gi Moo Hyuk then decides to solve the case own his own. He changes his identity and starts working as a temporary teacher in the Chumyung high school. There he not only tries to catch the real culprit but also discovers some ugly secrets of the school and some powerful people.
Gi Moo Hyuk played by Yoon Kyun Sang is a highly skilled lawyer working at the best law firm in the country, Songha. Gi Moo Hyuk loses his job and also his reputation as a lawyer after the murder case of a high school student. Disguising as Gi Kang Jae, he starts working as a substitute teacher of Laws, Politics and German in the same high school to gain his reputation back.
Yoo Beom Jin played by Lee Jun Young studies at Chunmyung high school. He is literally perfect in anything he does. He is famous among students for his kind and helping nature. Yoo Boem Jin is also the president of 'Veritas Club', a group by some elite students of the school. Lee Gi Hoon, Han Tae Ra, Na Ye Ri are also in the same club. All three along with Boem Jin are highly suspected of Jeong Soo Ah's murder by Gi Moo Hyuk.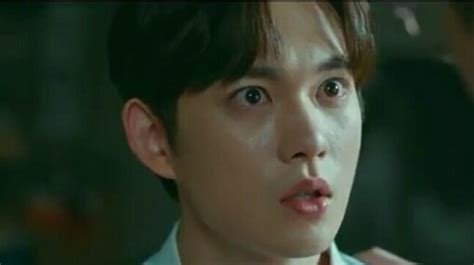 Lee Gi Hoon played by Choi Kyu Jin is the son of lawyer Gi Moo Hyuk's boss and also the president of Songha Law firm. He likes to do photography and has no interest in studies. He used to stalk Jeong Soo Ah, the girl who was murdered.
Han Tae Ra played by Han So Eun is the School's 'Queen Bee'. She and Beom Jin are a famous couple in the school. Na Ye Ri played by Kim Myung Ji is the idol trainee. Both of them were jealous of Jeong Soo Ah and often bullied her.
Kim Han Soo played by Jang Dong Joo is an orphan and also Jeong Soo Ah's classmate. He is accused of her murder and is defended by lawyer Gi Moo Hyuk. He claims himself to be innocent as he was a childhood friend of the victim.
Ha So Hyun played by Keum Sae Rok is P.E. teacher and counselor at the Chunmyung high school. She is also the homeroom teacher of class 3 where Kim Han Soo is. Ha So Hyun loves her students a lot and has a different perspective of seeing the teenagers as criminals than Gi Moo Hyuk. She likes to stand with the truth and is brave enough to do so.
I was really excited for "Class Of Lies". I was looking for a drama that involves solving only one case throughout and Class Of Lies was right here. Although I got what I came for. It was pretty thrilling and exciting to watch the drama till the end and find out the murderer. But I didn't like the fact that they exaggerated the high school life too much. It felt unreal in the beginning. And I think the story was possible if the premise was not set in a high school itself. Also in the starting the murder case investigation directed to some other issues. And in my opinion it didn't make sense there.
But these disappointments lasted only for a few episodes. Later I didn't care and was much more interested in finding out the culprit. Moreover, it might not bother many viewers.
The writer has successfully wrote some scenes that creates suspense and mystery in each episode. The intensity of the suspense is really at the peak in some scenes that it will make your jaw drop. With many shocking revelations in each episode the drama successfully maintains the viewers interest. It even gets scary sometimes, "Class of Lies" is a total thrill ride. It was totally amazing to see a secret investigation going in the school by a lawyer disguised as a teacher.
I actually liked the P.E. teacher Ha So Hyun character. She was caring towards her students. Upon finding out some ugly truths of her students, as a teacher she was concerned. She thought to herself what made them do such things rather than judging them. I know a lot of people didn't like her character, but as a teacher she was right at her place and writer has been careful of her character.
It was really nice and refreshing to see the teacher's perspective for her misdirected students. They showed the side of a teacher that how would a teacher feel if she finds out that her students are criminals. The show is really positive here. As a teacher she doesn't jump to conclusions about her students like others and tried to find out the reasons students take wrong path. I absolutely loved that they kept this thing real here.
The drama also covered some social issues like bullying, corruption, partiality, mental health in teenagers. All these issues are addressed well. It will really make you question the way our society works. I'm glad they didn't miss out on these.
I also liked the relationship Gi Moo Hyuk developed with his students throughout the series. In the end he changed his perspective towards students and learned a lot about them along the way. At last, he realizes what it is like being a teacher. During the series he gave very useful advices to his students about law. Even I made some notes and regretted that I never had such useful class during my high school. It was interesting to know about everything. Also it made me realize how important it is to have the knowledge of law.
All the characters developed well along with time and in the end it was really satisfying to see the changes in them. They learned some new lessons in life and moved on well.
To wrap up, "Class of Lies" was an intriguing and entertaining watch. It is a drama full of suspense and thrill. You will even find it scary and certainly hard to predict. It highlights the causes that lead teenagers into crime and even throw light on some social issues. You will learn a few things about law. And all comes with a highly engaging script to enjoy. If you are looking for single murder case drama then this one is for you. It was good and enjoyable but it could be better. Still, a must-try!
My Ratings : 7.5 / 10
---