If you ask me what kind of Korean drama is the most romantic and have a great couple chemistry, then I would say these are the Office Romance Korean dramas.
The following Office Romance Korean dramas in the list will make your heart flutter with their sizzling chemistry. It is so good that you could feel the chemistry between leads right in your heart. So let's see!
1. She Was Pretty
What will happen when your dear childhood friend and love whom you lost contact with comes again in your life as your boss? And you don't even look as good and successful as he is now. Well! This scenario surely will bring a lot of crazy scenes and laughs. "She Was Pretty" is an old-time hit series that is still a must-watch. The chemistry is a little off in the starting here, but later it gets so swoony.
Starring: Hwang Jung Eum, Park Seo Joon, Go Joon Hee and Choi Si Won
"She was Pretty" tells the story of Hye Jin and Sung Hoon who were once childhood friends. Hye Jin was a pretty girl while Sung Hoon was unattractive. He was often bullied at his school. Today, Hye Jin after so much struggle gets a job as an intern at the editorial department of a fashion magazine. To her surprise, her boss is Sung Hoon. What surprises her the most is that she, who used to be beautiful, has become ugly while her friend who used to be ugly has become handsome and successful. Despite missing his old friends so much, Sung Hoon doesn't recognise Hye Jin. Hye Jin also decides to hide the fact. However, Sung Hoon is a rude boss to her. Will things change if Hye Jin reveals the truth?
---
2. Monthly Magazine Home
Although we see the relationship between the boss and the employee here, but they can be related to just like any other ordinary couple. Workplace environment and romance in the air, "Monthly Magazine Home" will remind you of many classical Korean drama troops. And the comedy scenes are so dramatic that you'll laugh a lot.
Starring: Jung So Min, Kim Ji Seok, Jung Gun Joo and Kim Won Hae
"Monthly Magazine Home" basically tells the story of two completely opposite individuals who have different opinions about houses. One is a real state expert and a CEO lifestyle magazine, Yoo Ja Sung. He believes that house is a thing to earn money. The other is an employee at the lifestyle magazine Na Young Won. She thinks the house is a place where you can relax after a long, tiring day. After losing her job and the rental house, Na Young Won gets hired at a place. But later she finds out that the job she is hired for has been quit by many people. All because of their strict CEO. The worst thing comes when Na Young Won finds that her CEO is someone she didn't have a good first impression with. Can love bloom between the two, despite having different opinions about life and houses?
---
3. My Secret Romance
Can you imagine the romance blooming between the awkwardness when two people meet again after having a one-night stand three years ago? This drama has a romantic and flirtatious tone too it. You'll swoon for sure.
Starring: Sung Hoon, Song Ji Eun and Kim Jae Young
My secret romance kdrama starts with a one-night stand between the leads. Wait! It is not as bad as you think. Cha Jin Wook is a spoiled son of a chaebol family who never fell in love with anyone deeply. While Lee Yoo Mi is a nice girl who never had a boyfriend. Both meet unexpectedly and had a one-night stand. Yoo Mi after the one-night stand breaks her heart, feeling like she is following the footsteps of her mother, who was a porn actress. When they meet again after three years, they felt a feeling of belongingness to each other. But things aren't that easy, specially for Yoo Mi when she has to feel embarrassment every time because of her mother. How will they overcome all the awkwardness and embarrassment? Does their love have a chance?
---
4. Strong Woman Do Bong Soon
When the boss and the employee have to stick together for the whole day, it is more likely they fall in love. "Strong Woman Do Boong Soon" shows an adorable romance between the CEO and his female bodyguard. A unique plot own its own incorporates a unique love story as well.
Starring: Park Hyung Sik, Park Bo Young and Kim Ji Soo
This is a story of Do Bong Soon who belongs to a family where all the women are gifted with some special superhero powers. But if they use their powers for something bad, it will be taken back. Ahn Min Hyuk, the CEO of a gaming company, gets threatened by an unknown enemy. He then finds out about the special powers of Bong Soon and hires her as his bodyguard. Gradually he falls in love with her, but Bong Soon loves her childhood friend In Guk Doo who is a police officer. When the news of a series of kidnapping in her hometown spreads around, she decides to use her powers to confront the evil. But the kidnapper finds about her secret and plans to manipulate her powers. Will she end up losing her powers to the evil?
---
5. Touch Your Heart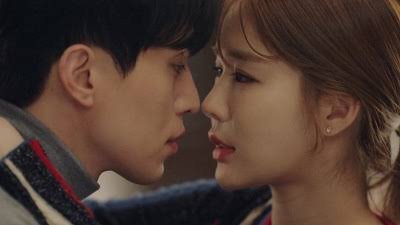 A cold-hearted lawyer and his new cheerful and bubbly secretary who is also a celebrity, has never worked in the law field makes a crazy love story drama. How they overcome their prejudices and fall in love with each other is worth to see.
Starring: Lee Dong Wook and Yoo In Na
Oh Yun Seo is a beautiful actress who is well-known for her looks, but is often criticized for her acting. She loses her popularity after she gets involved in a scandal. Few years later, Oh Yun Seo decides to work again and gets interested to star in a legal drama. But due to her bad reputation of acting, the writer of the drama wants her to take an actual experience as a lawyer before she acts in the drama. So, she takes the job of the secretary of Lawyer Kwang Jung Rok for 3 months. He is of stiff personality and a sudden immature secretary gives him a hard time. But with time, they both starts to like each other.
---
6. My Introverted Boss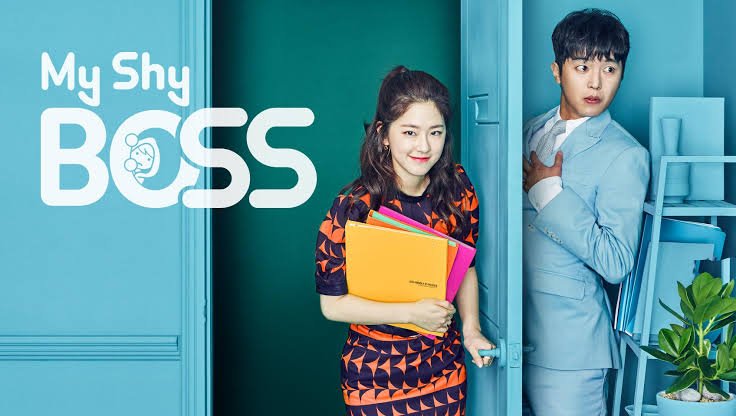 A beautiful romance story between an introverted boss and his extroverted employee is all you'll need to watch. It's a fun and romantic drama at the same time. So much so meaningful as well.
Starring: Yeon Woo Jin, Park Hye Soo, Gong Seung Yeon
Chae Ro Woon is an energetic and hardworking woman who just started working at a new company, whose boss is known by the nickname of "Silent Monster". There she tries to find out about her mysterious boss Eun Hwan Ki who is also the CEO of the company. Eun Hwan Ki is of shy personality and always covers himself with a hood in front of people and never allows anyone to get close to him. This attitude made him a mysterious and cold CEO in front of everybody. Ro Woon decides to bring his boss out of the walls that he created around him, but will she be successful?
---
7. What's Wrong with Secretary Kim?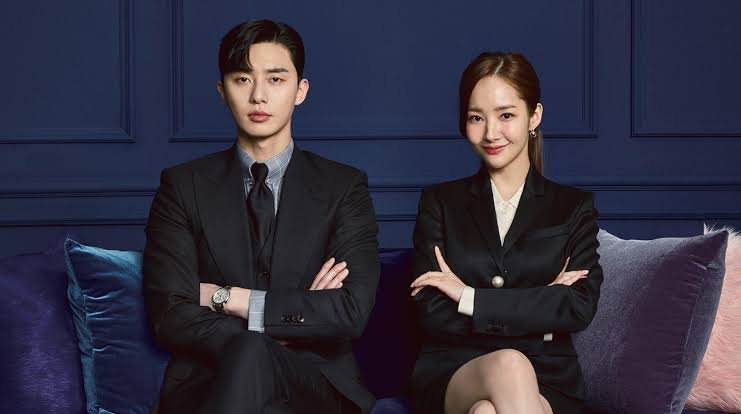 Is it possible that your self-obsessed boss can fall in love with you? Impossible as it may seem, but here is not the case. With Rom-com stars Park Seo Joon and Park Min Young as leading cast, "What's Wrong with Secretary Kim?" has the perfect chemistry anyone can imagine. So much so, that they both got into dating rumours.
Starring: Park Seo Joon and Park Min Young.
The drama tells an office romance story between a self-loving vice chairman Lee Young Joon and his secretary for 9 years, Kim Mi So. Whatever Lee Young Joon is today, it is all because of his secretary, Kim Mi So. However, he never truly cared for her. One day, Kim Mi So decides to quit her job as Lee Young Joon's secretary. This shocks Lee Young Joon, and it shakes his entire world. He realises that he cannot survive without her. So, after taking the advice of his friend, he decides to win her back at all cost. During this period, they come to realise that maybe they both are made for each other, as they heal each other's traumatic past. So, they end up falling in love with each other.
---
8. Suspicious Partner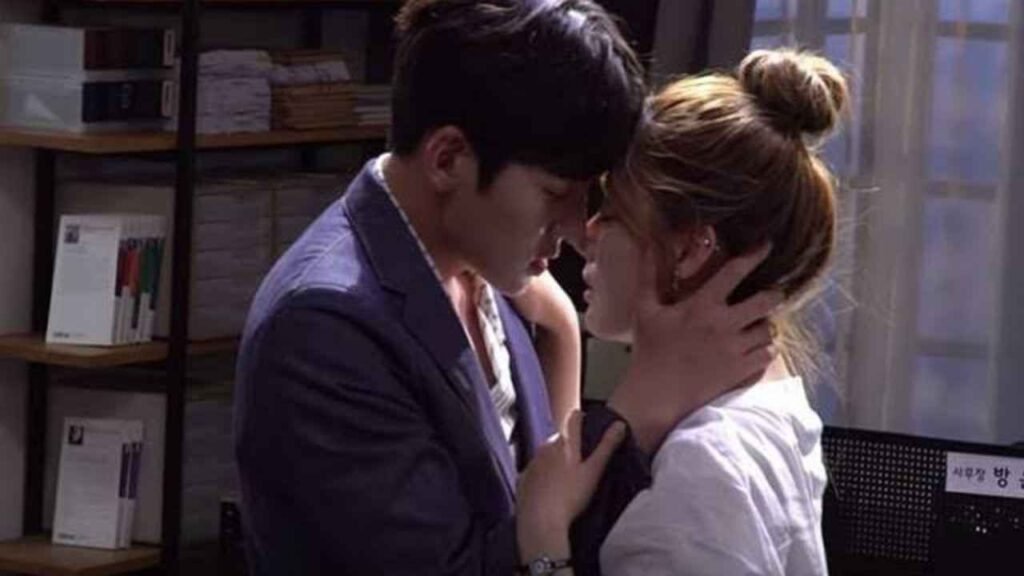 Oh! This is probably the most famous drama couple in this 'Office Romance' drama list. Famous for their steaming chemistry with kiss scenes so swoon worthy. They have a crazy, sparking chemistry that your heart will surely flutter.
Starring: Ji Chang Wook and Nam Ji Hyun, with Choi Tae Joon and Kwon Nara
"Suspicious Partner" tells a complicated love story of Noh Ji Wook, an intelligent and handsome lawyer in Sunho district and Eun Bong Hee, a prosecutor trainee at Ji Wook's office. Suddenly, one day, Eun Bong Hee becomes the suspect of her ex-boyfriend's murder, as his dead body was found at her house. Although their first encounter wasn't that pleasant, but Ji Wook defended her and during the process she falls for him. But he didn't accept her feelings. Later Ji Wook finds that he too has feelings for her but again swayed by the fact that Bong Hee's father might be involved in the death of his parents. Can their romance bloom in between the tension of their past and present?
---
9. Business Proposal
Imagine going on a blind date in disguise with the president of your company, and the next day he asks to marry you! What 'll you do? Well! Things are not as simple as it sounds here. "Business Proposal" is a perfect blend of romance and humor. This is the latest rom-com hit among fans which you shouldn't miss out at all.
Starring: Ahn Hyo Seop, Kim Se Jeong, Seol In Ah and Kim Min Kyu
"A Business Proposal" story goes like this. One day, Jin Young Seo who is the daughter of a chaebol family is set up on a blind date by her parents. She doesn't want to go, so she asks her friend Shin Ha Ri to go instead. Shin Ha Ri is a single woman who has liked her best friend for a long time. Jung Young Seo is so desperate to send her friend that she even offers her money for doing so. Ha Ri finally agrees. There, Ha Ri gets shocked to see that she is on a blind date with the CEO of the company she works in. He is Kang Tae Mo, whose grandfather has set up this blind date for him. Because he wants him to marry soon. But, Kang Tae Mo always rejects dating and out of frustration, he decides to marry the next girl he goes on a blind date with. To her surprise, Ha Ri gets a call from Kang Tae Mo the next day, asking her to marry him.
---
10. Secret Life of My Secretary
Talking about going on a blind date with your boss. Here is another swoon worthy Office Romance Korean drama. "The Secret Life Of My Secretary" is a fun watch from starting until the end. It is full of laughter and heartfelt moments, with amazing characters helping to make the drama even more attractive. You'll be intrigued in it right from episode 1.
Starring: Kim Young Kwang, Jin Ki Joo, Kim Jae Kyung and Koo Ja Sung
"The Secret Life Of My Secretary" drama tells an office romance story between a cold boss and his obedient but hot-tempered secretary. Do Min Ik is the cold boss who is the chief of a team at T&T Mobile Media. Until now he has always treated his secretary Gal Hee very badly despite her hard work. After an accident, he suffers from face blindness disorder. Jung Gal Hee is the only person Do Min Ik can recognize, despite his illness. Things change between them after Gal Hee pretends to be Veronica Park, the CEO of film production company Cine Park while on a date with Do Min Ik. He falls for fake Veronica Park without realising she is actually her secretary.
---
11. Her Private Life
Here again, the boss and employee are making the mistake of faking their relationship. We know they will end up dating for real. "Her Private Life" has steaming chemistry between the leads. Take my word for it, you'll be feeling it in your heart as well. This series is definitely worth your precious time.
Starring: Park Min Young, Kim Jae Wook, and Ahn Bo Hyun
"Her Private Life" is a romance comedy drama about Sung Deok Mi who is a museum curator. She is also a crazy fan girl of White Ocean's Cha Shi An and also runs a fan site despite being a career girl and no one knows about it. She meets Ryan Gold, her new art director at the museum, after her previous boss gets investigated for embezzlement. Some rumors spread around claiming Deok Mi and Shi An are dating that cause a threat to her life. To save her from this Chaos Ryan suggests an idea for which they have to pretend like they are dating. But, later, they realise that they are actually attracted to each other.
---