Overview: "Adamas" Kdrama is a tvN original drama series that released on 27 July 2022. It will tell the story of twin brothers who fight against the evil to uncover the truth behind their stepfather's murder and to prove the innocence of their biological father who was wrongly accused of that murder. "Adamas" stars Ji Sung, Seo Ji Hye and Lee Soo Kyung in the main cast. It will soon be available to watch online on streaming platform Disney+ Hotstar*.
Table of Contents
Synopsis
Genre
Cast
Air Time & Schedule
Episodes & Ratings
Still Cuts
Notes & Facts
Where To Watch Online?
Trailers & Clips
Synopsis
"Adamas" Korean drama tells the story of twin brothers Ha Woo Shin (Ji Sung) and Song Soo Hyun. During their childhood, their step-father was killed. Today, Ha Woo Shin is a best-selling mystery novelist and Song Soo Hyun is a prosecutor. They find that their biological father has been framed for the murder of their step-father and has received death sentence for it.
They decide to find the truth. Only evidence of the murder they have "Adamas". Eun Hye Soo (Seo Ji Hye) who is married in a wealthy family and Kim Seo Hee, a reporter for TNN local news, secretly helps the twin brothers to find the truth. Kim Seo Hee (Lee Soo Kyung) also knows a secret related to Ha Woo Shin and Song Soo Hyun.
The mystery novelist Ha Woo Shin is of soft and warm personality who always follows his heart, while the other Song Soo Hyun is a prosecutor who is rough and does things without thinking.
Eun Hye Soo who is married to a wealthy family of Haesong Group, once lost her loved one and was forced to marry someone else. She knows all the dirty secrets of Haesong Group.
Genre
Thriller, Mystery, Investigation
Main Cast & Characters
Ji Sung as Ha Woo Shin/ Song Soo Hyun
Seo Ji Hye as Eun Hye Soo
Lee Soo Kyung as Kim Seo Hee
Supporting Cast
Jo Dong In as Manager Lee
Heo Sung Tae as Choi Tae Sung
Seo Hyun Woo as Kwon Hyun Jo
Shin Hyun Seung as Dong Rim
Heo Tae Hee as Han Min Soo
Jo Sung Ha as Lee Chang Woo
Go Yoon as Park Yo Won
Won Hyung Hoon as Mr. Han
Oh Dae Hwan as Team Leader Lee
Lee Shi Won as Secretary Yoon
Woo Hyun Joo as Mrs. Oh
Hwang Jung Min as Butler
Choi Chan Ho as Kim Yo Won
Jeong Bo Seok
Jang Jin Hee
Lee Kyung Young
Choi Deok Moon
Park Hae Eun
Air Time & Schedule
New Episodes every Wednesday & Thursday at 10:30 P.M KST.
Episodes & Ratings
Korean drama "Adamas" will have a total of 16 episodes.
Still Cuts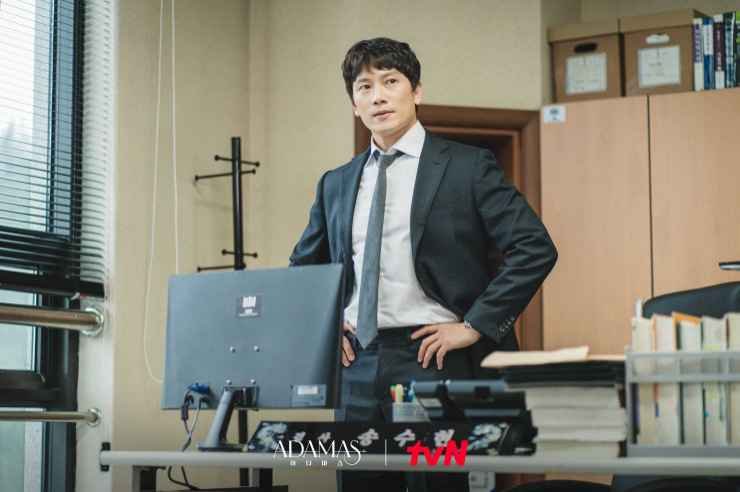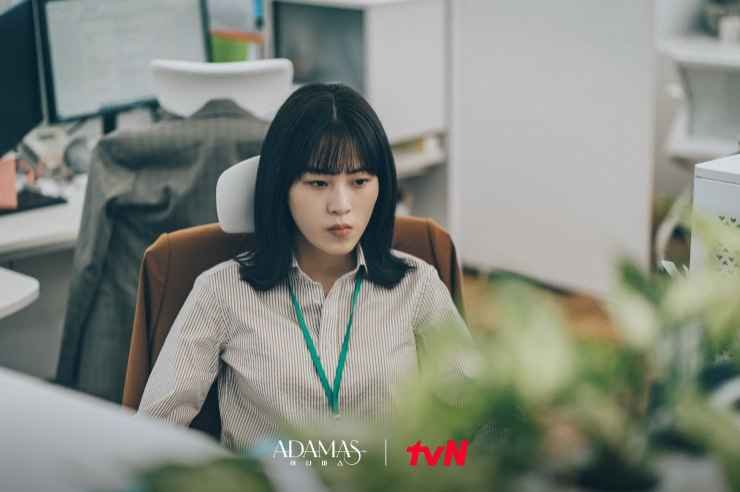 Notes & Facts
Ji Sung earlier starred in Korean drama "The Devil Judge" (2021).
Seo Ji Hye earlier starred in Korean drama "Kiss Sixth Sense" (2022).
Lee Soo Kyung earlier appeared in Korean drama "Law School" (2021).
Director: Park Seung Woo
Scriptwriter: Choi Tae Kang
Where To Watch Online?
You can watch "Adamas" on Disney+ Hotstar later here.
Trailers & Clips
Episodes 1, 2, 3,……., Highlights
---
*Drama is subject to regional availability.