Overview: "Bad and Crazy" Korean drama is a tvN and iQiYi original drama series that released on 17 December 2021. "Bad and Crazy" stars Lee Dong Wook, Wi Ha Joon and more in the main cast. It is available to watch online on streaming platform iQiyi*.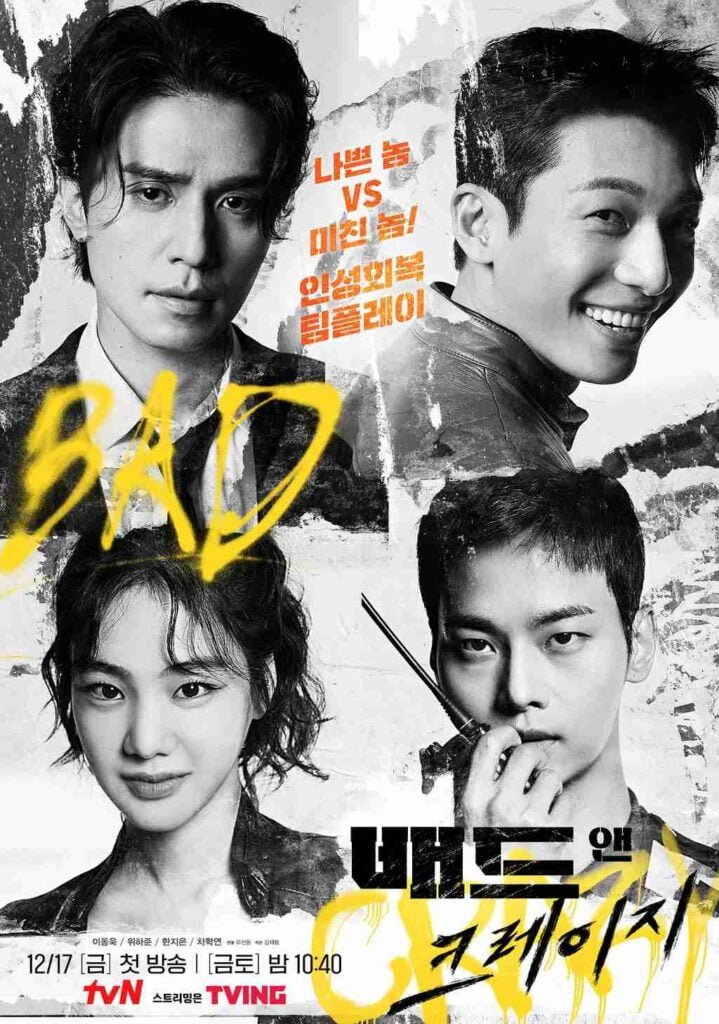 Table of Contents
Synopsis
Genre
Cast
Air Time & Schedule
Episodes & Ratings
Still Cuts
Notes & Facts
Where To Watch Online?
OST
Trailers & Clips
Similar K-Dramas
Synopsis
"Bad and Crazy" tells the story of detectives who fights against police corruption.
Soo Yeol is a police officer who can become bad to achieve success. Everything was going fine until one day he meets K. K is a crazy yet righteous person who thinks he is the last hero on earth and that he needs to combat injustice.
Meanwhile, Lee Hee Kyun is a police lieutenant of the drug squad and Soo Yeol's ex-girlfriend. She is passionate towards her job and truthful.
Genre
Action, Comedy, Thriller, Mystery
Main Cast & Characters
Lee Dong Wook as Soo Yul
Wi Ha Joon as K
Han Ji Eun as Hee Kyum
N as Oh Kyung Tae
Supporting Cast
Sung Ji Roo as Bong Pil
Lee Joo Hyun as Min Soo
Cha Si Won as Jae Sun
Kang Ae Shim as Seung Sook
Kim Dae Gon as Dong Yeol
Im Ki Hong as Yoo Gon
Lee Hwa Ryong as Kye Sik
Shin Joo Hwan as Heo Jong Goo
Jo Dong In as Chan Ki Jeong
Lee Sang Hong as Do In Beom
Kim Hee Ra as Brave Chief
Woo Hyun Jun as Andrei
Nam Woo Joo as Hyeon Soo
Park Se Joon as Nam Seok Nam
Air Time & Schedule
New Episodes every Friday and Saturday at 10:40 PM
Episodes & Ratings
"Bad and Crazy" Korean drama will have a total of 12 episodes.
Still Cuts
Notes & Facts
Lee Dong Wook earlier starred in Korean drama "Tale of the Nine-Tailed" (2020).
Wi Ha Joon earlier starred in Korean drama "Squid Game" (2021).
Han Ji Eun earlier starred in Korean drama "Love Struck in the City" (2020).
Cha Hak Yeon earlier appeared in Korean drama "Mine" (2021).
Director: Yoo Sun Dong
Screenwriter: Kim Sae Bom
Where To Watch Online?
You can watch "Bad and Crazy" on iQiYi here.
OST List
Soon!
Trailers & Clips
Episodes 1, 2, 3,….., Highlights
---
*Drama is subject to regional availability.