Overview: "Evilive" Kdrama (also known as "Biography of a Villain") is an ENA, Genie TV original drama series that released on October 14, 2023. It will tell the story of a livelihood lawyer who turns into a villain after meeting a cruel member of a criminal organisation. "Evilive" stars Shin Ha Kyun, Kim Young Kwang and Shin Jae Ha in the main cast. Currently, it is not available to watch online on any streaming platform globally.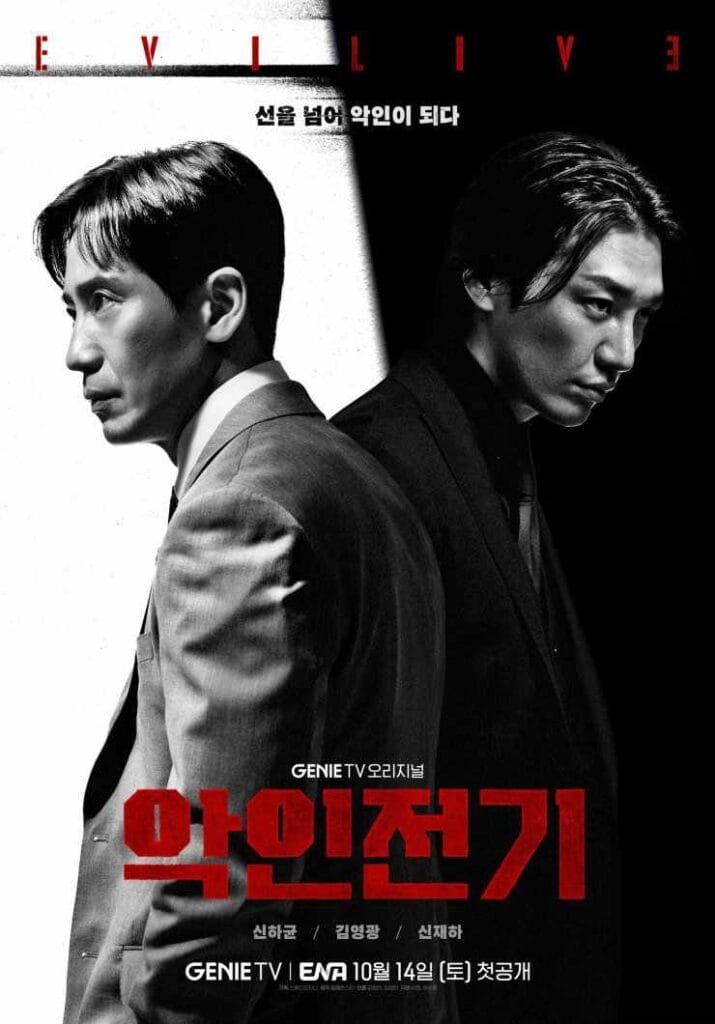 Table of Contents
Synopsis
"Evilive" Korean drama tells the story of Han Dong Soo (Shin Ha Kyun), a poor lawyer who randomly picks the cases of prisoners. Behind his rational personality, he hides his dark side, which got triggered by a case brought by his half brother Han Beom Jae that made him enter the world of evil.
Han Beom Jae (Shin Jae Ha) is employed at a second-hand computer workshop as a computer programmer. He often brings clients to Han Dong Soo. One day, he noticed the change in Dong Soo's behavior ever since he brought him the case of Seo Do Young.
Seo Do Young (Kim Young Kwang) is a former baseball player who appears to be handsome, but in reality he's a cruel and unpredictable member of a criminal organization.
Genre
Thriller, Mystery, Crime, Drama
Main Cast & Characters
Shin Ha Kyun as Han Dong Soo (A Lawyer)
Kim Young Kwang as Seo Do Young (A former baseball player)
Shin Jae Ha as Han Beom Jae (Dong Soo's half brother)
Supporting Cast
Choi Byung Mo as Moon Jae Joon (A Lawyer at Myeong Law Firm)
Choi Jung In as Hye young (Dong Soo's wife)
Bae Na Ra as Kwon Oh Jae (Do Young's loyal subordinate)
Lee Kang Ji as Lee Seok (Beom Jae's friend)
Kwon Hyuk as Chul Jin (Detective)
Hwang Ja Neung as Oh Soon Kyung (A homicide detective)
Jo Hyun Woo as Lee Su Ho (A homicide detective)
Song Young Chang as Moon Sang Gook
Choi Yoo Ha as Park Je Yi
Jo Dal Hwan as Lee Sun Gyo (Office Manager)
Choi Min Cheol as Bae Jong Ha
Park Sang Won as Sang Woo
Kwak Jin Seok as Song Yong Chan (A bodyguard)
Air Time & Schedule
New Episodes every Saturday and Sunday at 10:30 p.m. KST.
Episodes & Ratings
Korean drama "Evilive" have a total of 10 episodes.
Still Cuts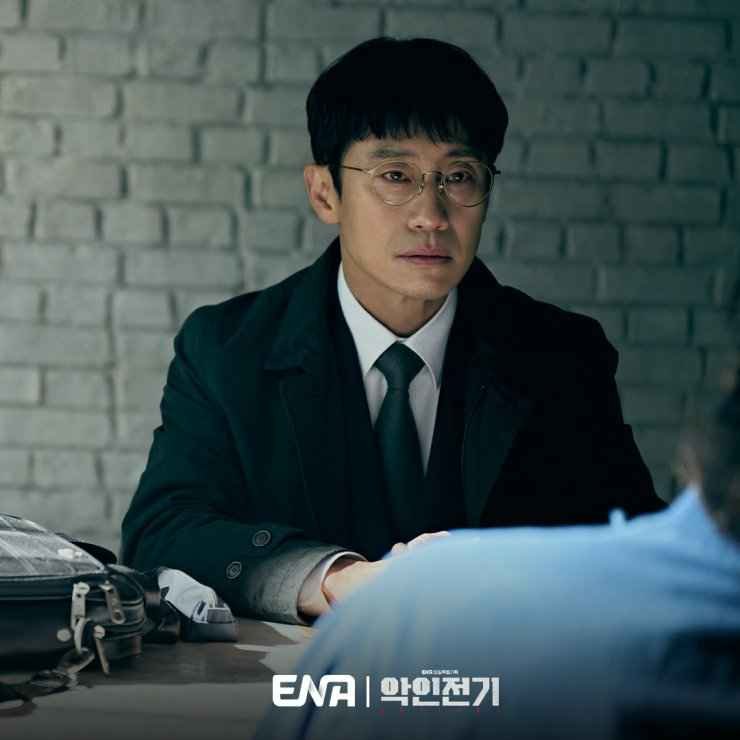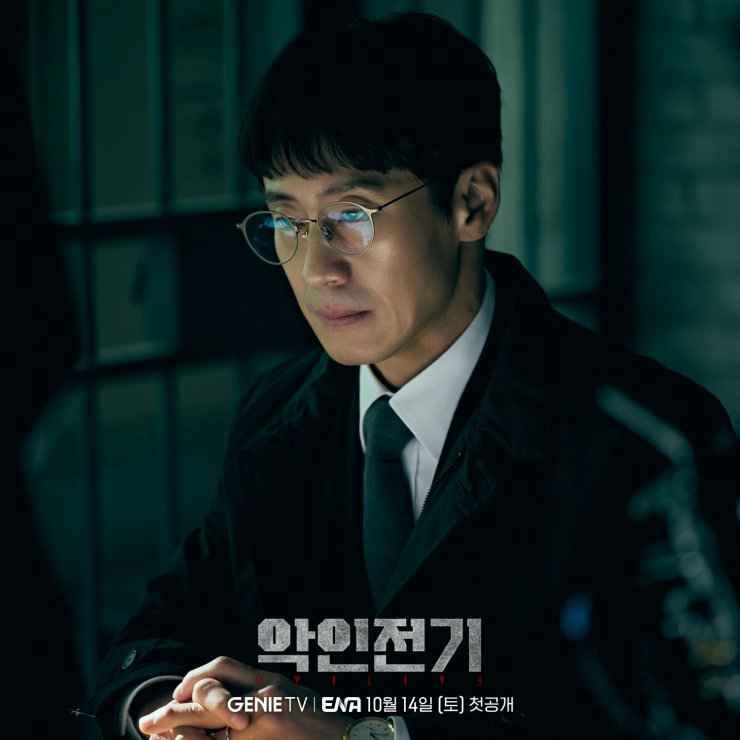 Notes & Facts
Shin Ha Kyun earlier starred in Korean drama "Yonder" (2022).
Kim Young Kwang earlier starred in Korean drama "Call It Love" (2023).
Shin Jae Ha earlier appeared in Korean drama "Taxi Driver Season 2" (2023).
Director: Kim Jung Min, Kim Sung Min
Scriptwriter: Lee Seung Hoon
Where To Watch Online?
Currently drama "Evilive" is not available to watch online on any streaming platform, globally. It is an original drama of Genie TV, and is available for streaming on its platform.
Trailers & Clips
Episodes 1, 2, 3,…., Highlights
*Drama is subject to regional availability.
---