"Moon Embracing The Sun" is a historical romance drama. It told the story between the King of Joseon Dynasty and a female shaman at a Korean traditional palace. Heo Yeon Woo and crown prince Lee Hwon first met each other during their teenage years. It was a ceremony in the palace and they both fell in love. Somehow they are about to marry that Yeon Woo dies due to a mysterious illness. Eight years later king Lee Hwon meets shaman Wol who looks exactly like Yeon Woo. The king now begins the investigation of the death of Yeon Woo and unfolds some grave secrets.
King Lee Hwon played by Kim Soo Hyun (as young played by Yeo Jin Goo) is a quick-witted and kind-hearted Joseon king. He is unable to forget his first love, the girl he was almost about to marry, Heo Yeon Woo. She died before the wedding. King Lee Hwon was then married to the daughter of one of the palace minister. I found his character really charismatic.
Shaman Wol played by Han Ga In (Heo Yeon Woo as young played by Kim Yoo Jung) is a palace Shaman. She is actually the king's first love Yeon Woo. Currently she don't remember her past. Somehow, she end up as a human talisman for the king. During this she gets attracted to the king without realizing her past. Her character holds a sweet innocence to it which was pleasing to watch.
Prince Yang Myung played by Jung Il Woo (as young played Lee Tae Ri) is the King's half-brother. He is a son of the king's concubine. He is also friend to Yeon Woo and secretly loves her. Later when he meets Shaman Wol he gets attracted to her as she looks exactly like Yeon Woo. His character was enthusiastic. He filled the drama with positive aura.
Yoon Bo Kyung played by Kim Min Seo (as young played by Kim So Hyun) is the palace Queen. She married prince Lee Hwon after Yeon Woo's death. She likes the king but Lee Hwon still loves Yeon Woo. Her marriage was plotted by the Queen mother and her father, Prime Minister Yoon. So that they could maintain their clan's power. Her character was both frustrating and sad to watch. As she was used by the antagonist throughout the drama.
"Moon Embracing The Sun" is my first historical Korean drama. I heard a lot about it so I decided to watch it as my first historical. The story was interesting as the romance drama twirled with it mystery, politics and an urge to see our main couple reunite.
The drama starts by showing how the King Lee Hwon and Heo Yeon Woo met each other during their teenage years and fell in love. Somehow their love is going to get a new height as the two are about to marry. But the politics of some palace ministers comes in the way and Heo Yeon Woo becomes a dead person for the world. She survived but now is a shaman Wol and has no memory left of her past.
This part of the drama has been dedicated a total of 5-6 episodes and I was pretty much intrigued here as the story was developing at the right pace. And most importantly the young actors here were amazing in their roles. No wonder today they are huge stars. I was especially impressed by Yeo Jin Goo. His soft side with Yeon Woo and a tough side in the palace made him so delightful to watch.
I felt their romance developed a bit early and felt there could be more of their time together before marriage. But it was necessary as the main story of the drama starts after Yeon Woo's death. May be I was loving the young cast more. Surely, you would love them too, they were so lovely to watch.
Besides, I was really pleased to see the historical setup. The close to nature scenes, costumes, background music, culture everything was a first time for me. It brought me new kind of feels while watching it. I got interested and it convinced me to watch a few more historicals.
Now shaman Wol reunited with King Lee Hwon after 8 years but none of them recognize each other. However Lee Hwon get attracted to her as she looked exactly like Yeon Woo. At one time he thought that she could be Yeon Woo as there were a lot of similarities in Wol's personality with Yeon Woo. As a person who is still not able to forget his love, when he saw her look alike made him even more sadder. And a girl who unknowingly feels attracted to her past love made the drama a poignant romantic to watch. I liked the drama up to this part.
(Spoiler)
But later their bad fate hit again and as I thought the two could finally be together the antagonist in the show are ready to make it stressful to watch. I didn't like the drama here. It broke the interest for me and I thought it went from beautiful to a little ugly. I waited for the sad part to end soon but it took so many episodes of the drama. They could have given us a bit ease in between the political stress but it was very less. I lost the touch here and still feel like I need to see more of King and Yeon Woo get together. So I liked when they got together and recognized each other but I wish it was more. May be I would read the novel on which the drama is based. So that I can get the elaboration of the story.
We do get a happy ending but it came at the cost of so many tears. But it's okay as all's well that ends well.
(Spoiler Ended)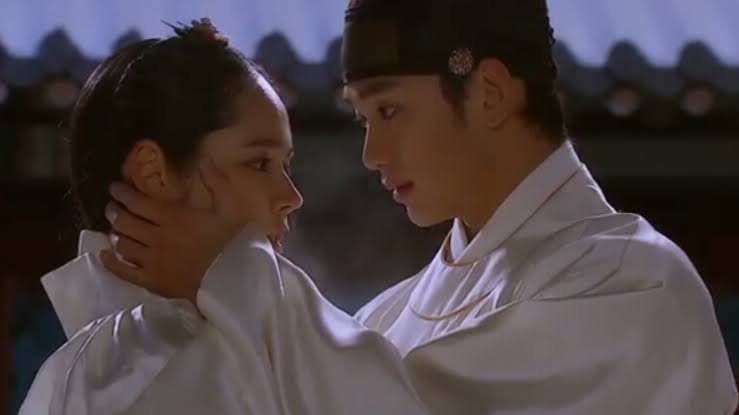 So overall "Moon Embracing The Sun" was a good watch but something will leave you restless. It felt like the romance got lost somewhere between the politics. And as soon as it is found back the drama ends. For me it was just like that. The characters were well polished, the cast was great, the story was intriguing, the feels are there but still it felt incomplete. I am still not sure I liked it or not. But one definitely need to watch it once due to the classic appeal of the drama.
My Ratings: 7.5 / 10