Overview: "Police University" Korean drama is a KBS2 original TV series that released on 9 August 2021. It will tell the stories of students and teachers at a police university. "Police University" stars Cha Tae Hyun, Jin Young and Krystal Jung in the main cast. It is available to watch online on streaming platform Viki*.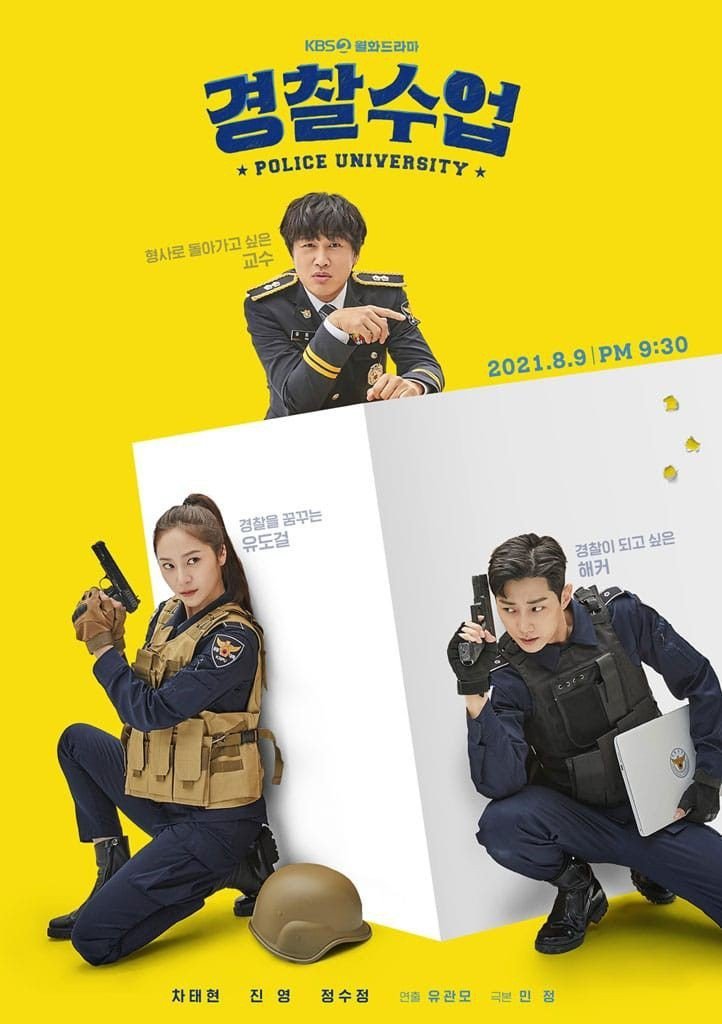 Table of Contents
Synopsis
Genre
Cast
Air Time & Schedule
Episodes & Ratings
Still Cuts
Notes & Facts
Where To Watch Online
OST
Trailers & Clips
Similar K-Dramas
Synopsis
"Police University" tells the stories of teachers and students in a police university. They all together try to investigate a mysterious case.
Oh Kang Hee (Krystal) is a first year university student who has always dreamt of becoming a police officer. Kang Sun Ho (Jinyoung) is also a first year student at the police university. He is also a hacker.
Kang Sun Ho joined the police university because he likes Oh Kang Hee. There he meets Yoo Dong Man (Cha Tae Hyun), a teacher and a detective at the university. Kang Sun Ho shares a bad past with teacher Dong Man.
Genre
Romance, Comedy, Youth, Investigation
Main Cast & Characters
Cha Tae Hyun as Yoo Dong Man
Jin Young as Kang Sun Ho
Krystal Jung as Oh Kang Hee
Supporting Cast
First-year students
Choo Young Woo as Park Min Kyu
Lee Dal as Noh Bum Tae
Yoo Young Jae as Jo Joon Wook
Park Seung Yun as Min Jae Kyung
Lee Do Hoon as Cha Sung Soo
Jung Ha Joon as Park Dong Koo
Min Chae Eun as Ahn Hae Joon
Ah In as Jo Sung Eun
Senior-year students
Kim Jong Hoon as Han Min Kook
Kim Jae In as Yoon Na Rae
Byun Seo Yoon as Lee Yun Joo
Kim Tae Hoon as Kang Myung Joon
Yoo Hyun Jong as Byun Tae Jin
The Faculties
Hong Soo Hyun as Choi Hee Soo (professor of judo department)
Lee Jong Hyuk as Kwon Hyuk Pil (a law professor)
Kang Shin Il as Seo Sang Hak (professor of science of public administration)
Seo Ye Hwa as Baek Hee (the director of guidance department)
as Cheif Hyun
Shin Seung Hwan as Professor Ko
Regional Police Department
Song Jin Woo as Park Chul Jin
Yoon Jin Ho as Team leader Choi
Choi Seo Won as Sergeant Joo
Yoo Tae Woong as Chief Han
Sun Ho's family
Oh Man Suk as Yoon Taek Il
Choi Woo Sung as Yoon Seung Bum
Kang Hee's family
Kim Young Sun as Madam Oh
Air Time & Schedule
New Episodes every Monday & Tuesday at 9:30 p.m. KST.
Episodes & Ratings
"Police University" Korean drama will have a total of 16 episodes.
Still Cuts
Soon!
Notes & Facts
Cha Tae Hyun earlier starred in Korean drama "Team Bulldog: Off-duty Investigation" (2020).
Jin Young earlier starred in Korean drama "My First First Love 2" (2019).
Krystal Jung earlier starred in Korean drama "Search" (2020).
Where To Watch Online?
You can watch "Police University" on Viki and Kocowa.
OST List
Soon!
Trailers & Clips
Soon!
Episodes 1, 2, 3,……., Highlights
Soon!
You May Also Like
Similar K-Dramas to the "Police University"
---
*Drama is subject to regional availability.