From mermaid ruffled gown to a modern minimalist style, these are the most beautiful wedding dresses ever seen in Korean dramas.
Wedding scenes are the most important and special part of Korean dramas.
And our favourite Korean actresses always shows up to the aisle in style and are ready to steal the hearts. Their wedding dresses are an absolute fashion-statement and their complete attire is always show-stopping. Wedding dresses they wear, perfectly illuminates their unique — and awesome — personality.
These 15 Wedding Dresses has been selected for their timeless fashion looks which women in every era would love to wear. From mermaid ruffled gown to a modern minimalist style, these are the most beautiful wedding dresses ever seen in Korean dramas.
---
1. 'Minimalist Beauty' from Start-Up
This dress worn by Bae Suzy in her hit Korean drama Start-Up goes well for a minimalist. It is simple yet strikingly beautiful. Lotus sleeves add a modern twist to it, enhancing her natural beauty. Even that minimalist crown and earrings goes well with the cute hair bun.
---
2. 'First Love' from Laughter in Waikiki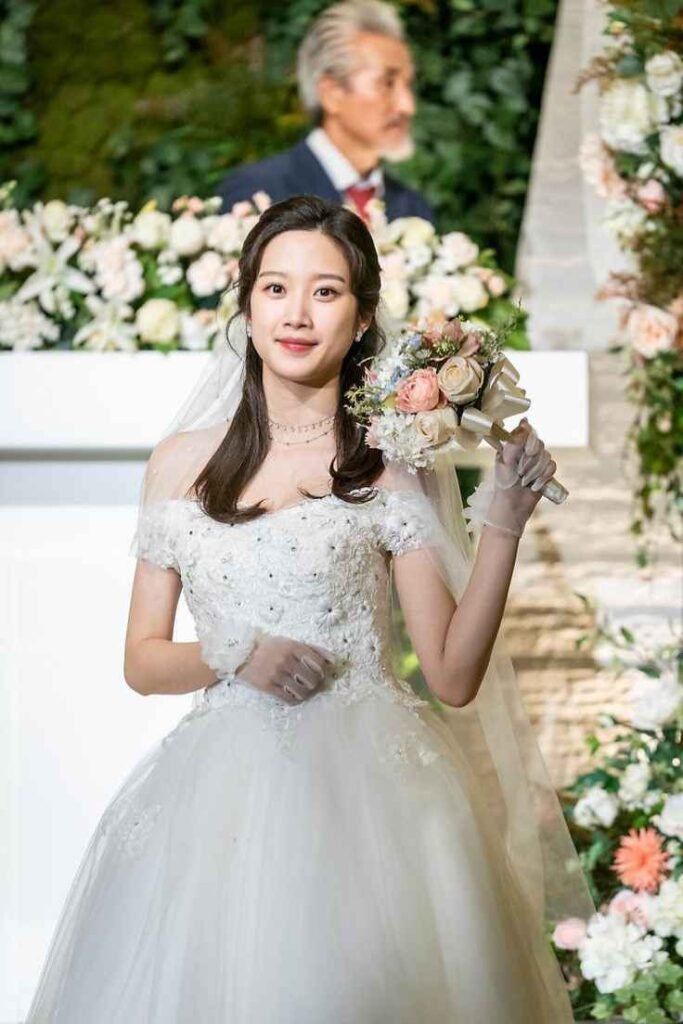 Actress Moon Ga Young had a short wedding scene in the first few episodes of "Laughter in Waikiki". She plays the first love of all three male leads, and her first appearance in the series has to be in a wedding dress. So, an angelic dreamy dress with a flowery off shoulder top depicted perfectly her as anyone's first love.
---
3. 'Timeless Look' from Hometown Cha-Ch-Cha
Shin Min Ah wore a charming dress for her wedding scene in the "Hometown Cha-Ch-Cha". Her look is really timeless, as women in every era would love to wear it. Short puff sleeves with a twisted pearl necklace looks so elegant, and the dress fits perfectly on the actress. And that little purse hanging on the dress is an icing on the cake.
---
4. 'Simple yet Elegant' from Big Mouth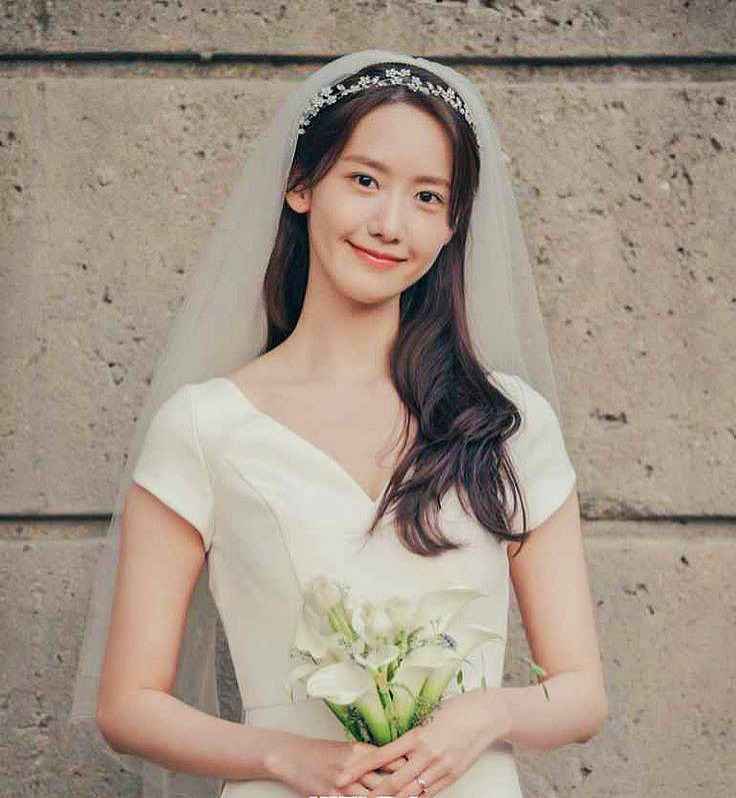 Currently, airing, "Big Mouth" is doing good among viewers, but YoonA's elegant wedding dress caught everyone's attention. The simple wedding dress with a bouquet of lilies and a delicate headband completes her pure and innocent look as meant for the series. The perfect fitting of the dress makes it even more exquisite.
---
5. 'Bold & Beautiful' from Sisyphus: The Myth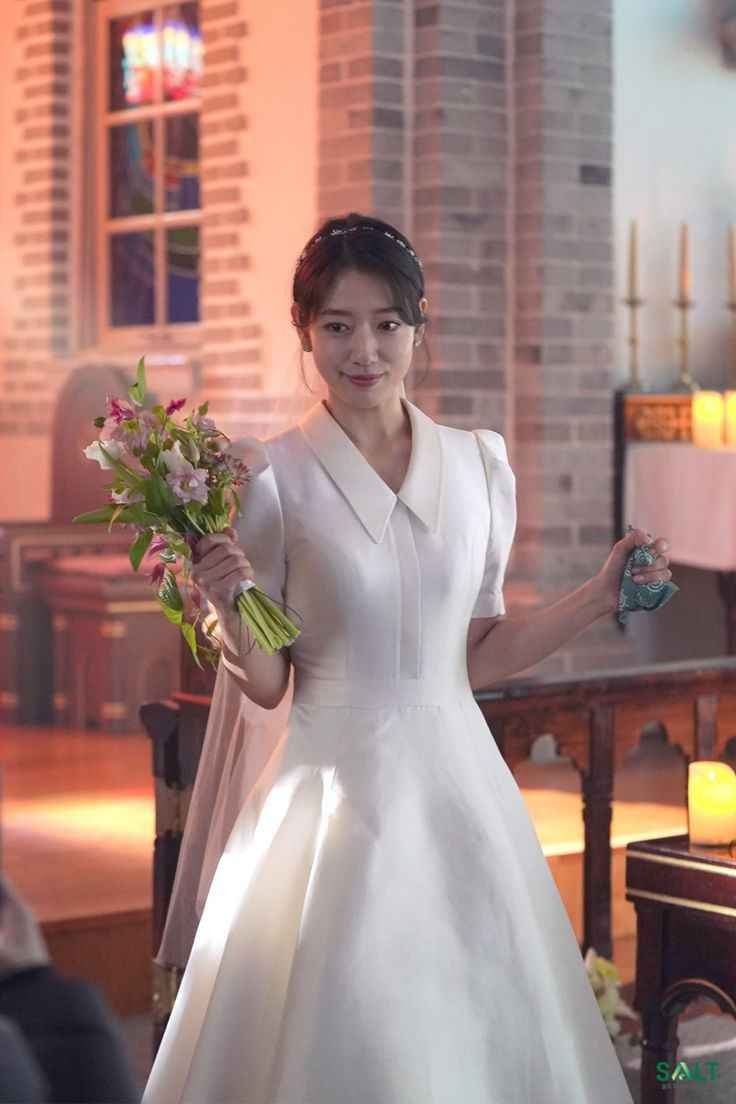 This wedding dress Park Shin Hye wore in Korean drama "Sisyphus: The Myth" gives all the vibes of a bold and beautiful appearance. Her character in the series depicts a bold and strong personality, and the collared neckline dress does justice to it, giving her a unique and alluring look. And that colourful bouquet shows a soft side to it.
---
6. 'Show Stopping' from Full House
This high-low wedding dress worn by Song Hye Kyo in 2004 for her drama "Full House" looks as good as new. The lacy design must have been show-stopping during that time. It perfectly enhances the actress beauty. She is ready to steal anyone's heart. That small crown sitting in the middle part hairstyle is a bold fashion move, but it only makes her look even more cuter.
---
7. 'Strikingly Beautiful' from Operation Proposal
Our favourite Park Eun Bin looks strikingly beautiful in this wedding dress worn by her for drama "Operation Proposal". Her wedding dress gives a vintage vibe with a long veil at the back is all it needed. The dress impeccably reflects the actress' character.
---
8. 'Exquisite' from What's Wrong with Secretary Kim?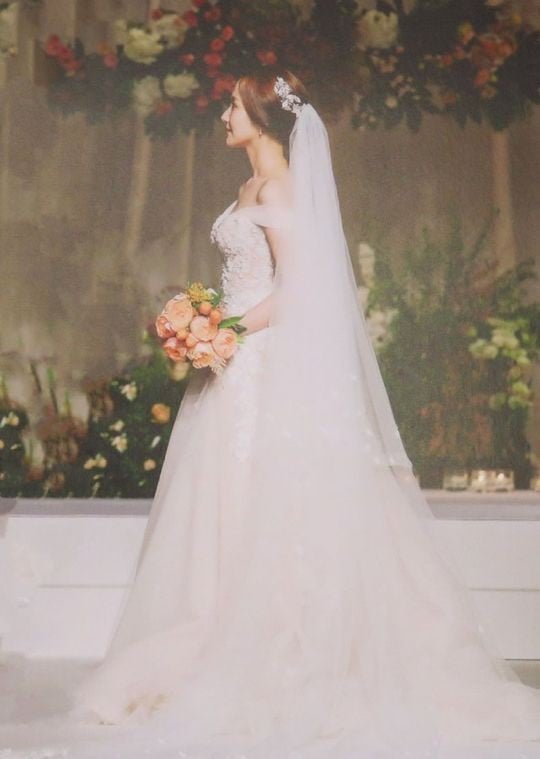 Park Min Young looks so delicate and beautiful in this wedding dress she wore in "What's Wrong with Secretary Kim?". The exquisite flowery details on the top falling down her waist looks so dreamy and delicate. The umbrella wedding gown with a minimalist hair accessory can definitely capture the heart of any.
---
9. 'Like a Queen' from Anna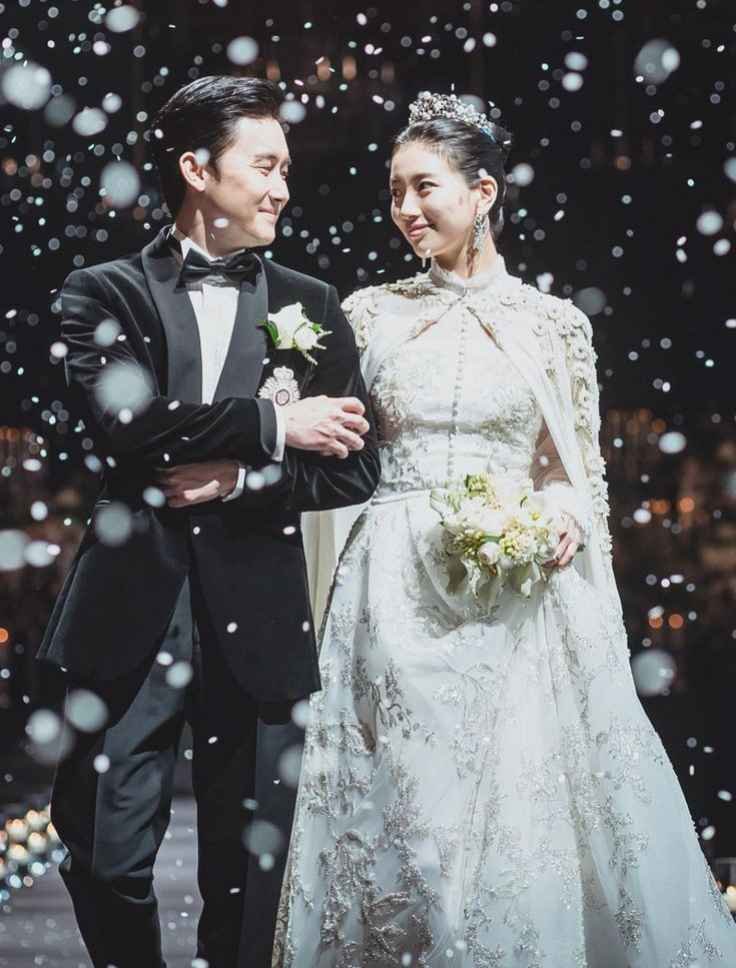 In her latest drama "Anna", Bae Suzy plays the dual role of a mysterious girl, Lee Yu Mi. She literally spins everyone around her. There is also a wedding scene which has to be as strong as her character. And her wedding dress does an absolute justice to it. Her dress catches the eyes of many as she almost looks like a queen. Her head and ear accessories are much too beautiful and perfectly matches the dress.
---
10. 'Modern & Minimalist' from The World of the Married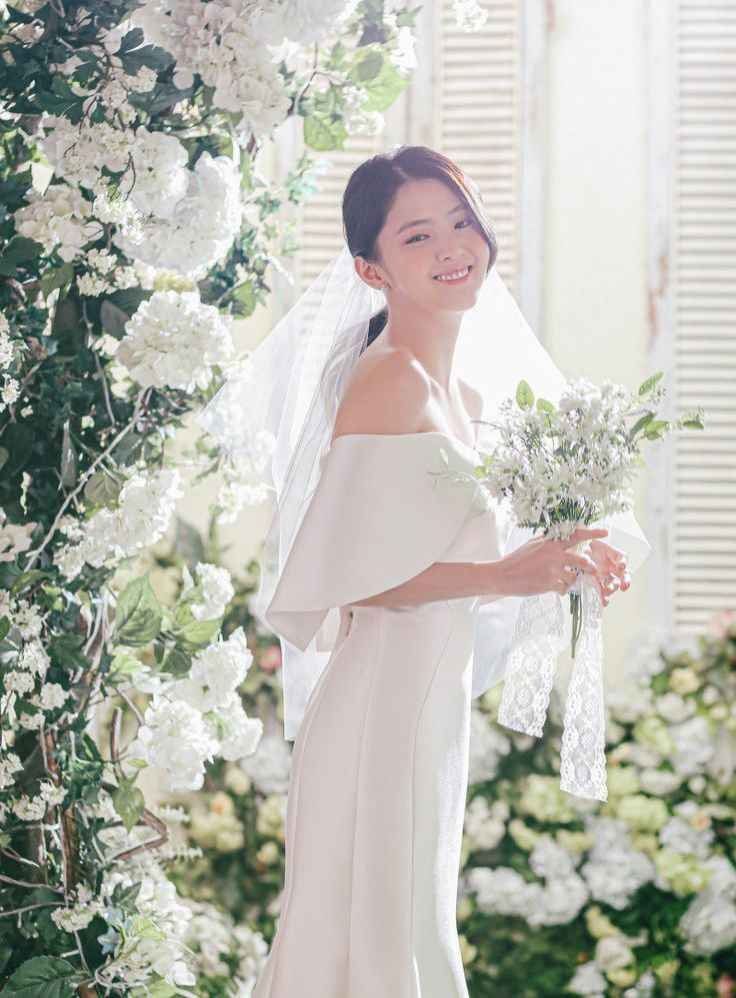 Han So Hee can undoubtedly do with an off shoulder wedding dress that drapes perfectly on her body. That simple hairstyle and small earrings goes well with the dress, and they perfectly illuminates the natural beauty of the actress. Besides keeping, it minimal, she still looks modern and romantic. One word for her dress and overall look would be 'flawless'.
---
11. 'Lovable' from Strong Woman Do Boong Soon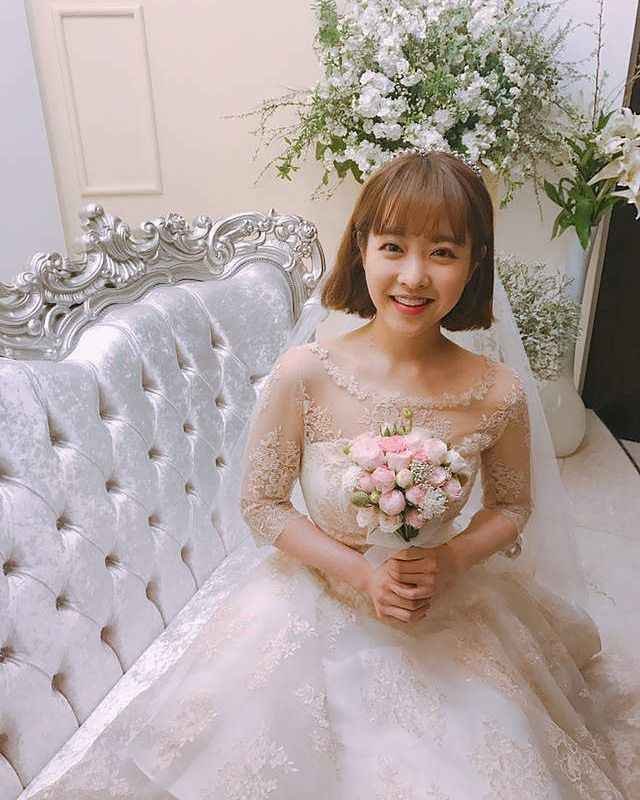 This dress is worn by actress Park Bo Young in her hit drama "Strong Woman Do Boong Soon". Her wedding dress makes her look cute and lovable. You can barely take your eyes off her. Who said brides with short hair won't look good? Park Bo Young shows that a bride with short can look as good as anyone. Her wedding dress shines in the eyes, and it looks very dreamy.
---
12. 'Flattering Mermaid' from Love Rain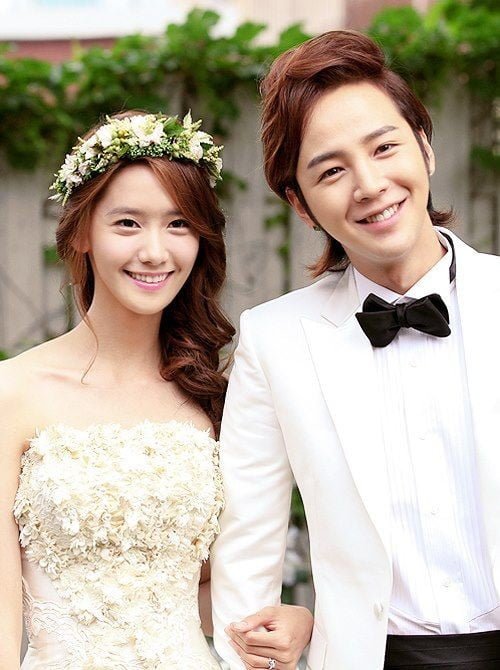 One more wedding dress the Girls Generation YoonA wore makes into the list. This time from her old-time classic Korean drama "Love Rain" in which she wore a mermaid ruffled gown. Her look gives all the vibes of a soft and strong personality. That flower headband on the curly hairstyle makes a show-stopping combo.
---
13. 'Effortlessly Elegant' from The Legend of the Blue Sea
This one-shoulder wedding dress is another timeless dress worn by Jun Ji Hyun in Korean drama "The Legend of the Blue Sea". Her one-shoulder look has a trendy edge that makes her look glamorous and graceful. The bodice of this wedding dress gives a beautiful, elongated shape to the body. And the flowery, dazzling headband sitting on the open hairstyle makes her effortlessly elegant.
---
14. 'Traditionally Romantic' from Jealousy Incarnate
Gong Hyo Jin's wedding dress in the drama "Jealousy Incarnate" makes it feel like the romance is in the air. Her traditional wedding gown looks very romantic, and its delicacy is a living embodiment. Not to forget that the actress Gong Hyo Jin is set to tie the knot with singer Kevin Oh in a private ceremony in October. I hope we get to see her wedding dress. I'm sure she will look even more beautiful than her dramas.
---
15. 'Sparkling Twinkling' from The One and Only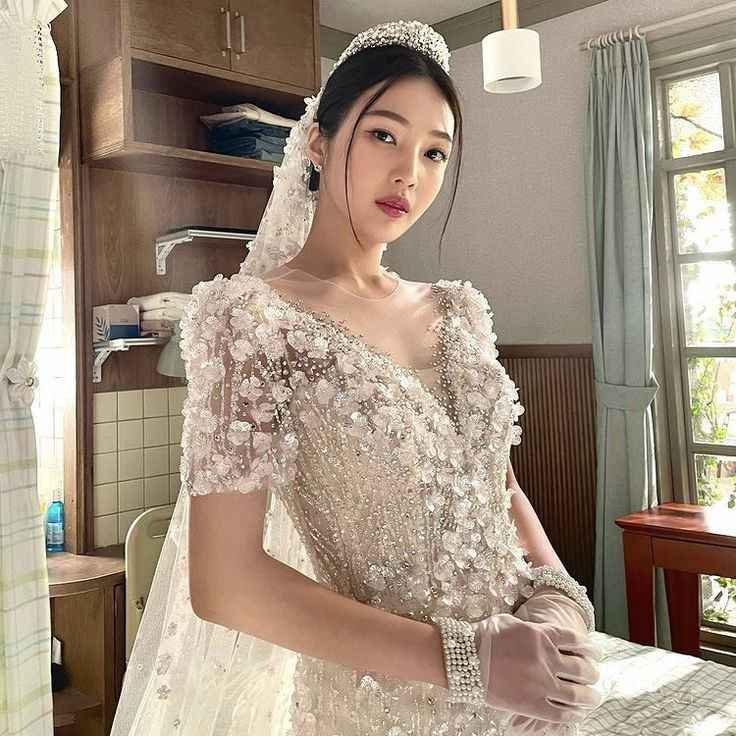 This sparkling wedding dress was worn by Red Velvet's Joy for her drama "The One and Only". It is really a fashion forward wedding dress which makes her look sexy and beautiful. It truly stands out from the rest and is an absolutely statement-making! Detailed with all-over sparkling flower embellishments, this is a design that dazzles. Her crown and the veil matching with the dress makes her look magnificent.
---