Overview: "Perfect Marriage Revenge" Kdrama is an MBN original drama series that released on October 28, 2023. It will tell the story of a woman who reincarnates into past and decides to take revenge on her husband and in-laws. "Perfect Marriage Revenge" stars Sung Hoon, Jung Yoo Min, Jin Ji Hee, Kang Shin Hyo, and Oh Seung Yoon in the main cast. It is available to watch online on streaming platform Viki*.
Table of Contents
Synopsis
"Perfect Marriage Revenge" Korean drama tells the story of Han Yi Joo (Jung Yoo Min), an adopted daughter of a wealthy family who was never loved by her parents or her younger step-sister Han Yoo Ra (Jin Ji Hee). Furthermore, her husband also doesn't love her.
One day, Han Yi Joo witnesses her husband confessing his feelings to her younger step-sister. However, before she can react, she gets into an accident. Hoping for a second chance at life, she unexpectedly reincarnates into the past when she was engaged to her husband. With this new opportunity, she decides to seek revenge on her family and husband and reclaim what she has lost. Seo Do Guk (Sung Hoon), a smart and handsome grandson of the Taeja Group's founder, assists Yi Joo in her revenge. Significantly, Seo Do Guk also happens to be the love interest of her younger sister, Han Yoo Ra.
Genre
Fantasy, Romance, Melodrama
Main Cast & Characters
Sung Hoon as Seo Do Guk
Jung Yoo Min as Han Yi Joo
Jin Ji Hee as Han Yoo Ra
Kang Shin Hyo as Seo Jong Wook (Vice president of Prince Construction and Seo Do Guk's half-brother)
Oh Seung Yoon as Yoo Se Hyuk
Supporting Cast
Yi Joo's family
Jeon No Min as Han Jin Woong (adoptive father)
Lee Min Young as Lee Jung Hye (adoptive mother)
Lee Byung Joon as Han Woon Jae (adoptive grandfather)
Do Guk's family
Kim Eung Soo as Seo Young Kyun (father)
Lee Mi Sook as Cha Yeon Hwa (mother)
Ban Hyo Jung as Lee Tae Ja (grandmother)
Oh Ha Nee as Seo Do Na (sister)
Lee Da Hae as Ahn Soo Jin (cousin/ journalist)
People in Do Guk's company
Lee Myung Hoon as Byun Jae Ho (secretary and Do Na's husband)
Lee Won Hee as Kim Seon Kwon (vice president)
Se Hyuk's family
Kim Ye Ryung as Choi Jae Sook (mother)
Song Sui as Yoo Se Hee (sister)
Others
Byun Jun Seo as Kim Jae Won (Jung Hye's secretary)
Jin Hee Kyung as Jamie
Air Time & Schedule
New Episodes every Saturday and Sunday at 09:50 PM KST.
Episodes & Ratings
Korean drama "Perfect Marriage Revenge" will have a total of 16 episodes.
Still Cuts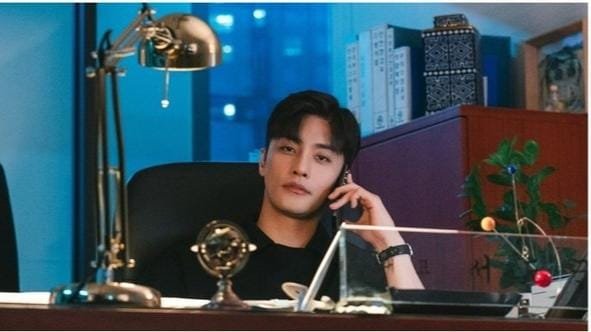 Notes & Facts
Korean drama "Perfect Marriage Revenge" is based on webcomic "The Essence of a Perfect Marriage" written by Young and Lee Beom Bae & illustrated by Jerryball
Sung Hoon earlier starred in Korean drama "Woori The Virgin" (2022).
Jung Yoo Min earlier appeared in Korean drama bbbbb"Celebrity" (2023).
Jin Ji Hee earlier appeared in Korean drama "The Penthouse 3" (2021).
Kang Shin Hyo earlier appeared in Korean drama "Arthdal Chronicles: The Sword of Aramun" (2023).
Oh Seung Yoon earlier appeared in Korean drama "Blind" (2022).
Director: Oh Sang Won
Scriptwriter: Im Seo Ra
Where To Watch Online?
You can watch "Perfect Marriage Revenge" online on Viki here.
Trailers & Clips
Episode 1 short clip
*Drama is subject to regional availability.
---